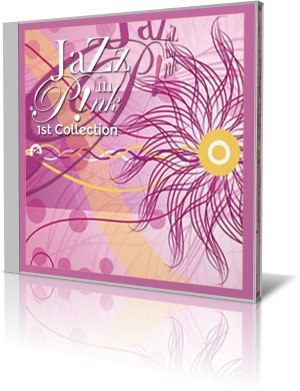 As part of a review one should practice restraint in the use of superlatives. But Jazz in P!nk is a concentrated load of women power. Initiated by keyboardist Gail Jhonson this formation was founded in February 2008.
Jazz in P!nk features Karen Briggs on violin, Althea Rene on flute, Mariea Antoinette on harp, Robin Bramlett on bass and Danielle "Pockett" Brown on drums. Additionally, the live band consists of Darlene Moreno on guitar, and Benita Lewis on drums. Special guests include Los "Lady Mac" McMorris on guitar, Kim Scott on flute, Pamella Elaine on vocals, Kat Dyson on guitar, Tamina Khyrah-joi Johnson on vocals. As well as Nedra Wheeler on bass & Estaire Godinez on percussion.
"Our mission is to promote women in jazz, by providing live performance opportunities showcasing each others music. We endeavor to provide educational opportunities and mentorship to upcoming rising stars.″ In pursuit of this motto, this album offers a variety of guest appearances of further musicians not mentioned above. Gail Jhonson has composed and produced all tracks, in parts with other band members.
The album starts with Pink Symphony offering a colorful dazzling kaleidoscope of instruments. Karen Briggs on violin and Kim Scott on flute bring here the strongest colors into play. With a heartfelt embrace of emotion saxophonist Pamela Williams and flutist Kim Scott present you Sisterness.
Seasons comes as a flattering spring breeze. Vocalist Pamella Elaine sounds refreshing and charming. Gail uses the matching response on synth keys. Katgirl wrappes a jazzy trip within a smooth jazz arrangement. Strings to My Heart features Karen Briggs on violin. Still a rare instrument in the smooth jazz scene.
Got to Be True shows Karen Briggs, flutist Althea Rene and Gail Jhonson in a smooth interaction. Queen presents a new sound experience with Marie Antoinette at the harp and the spherical waves of Gail Jhonson. The cover of Feel Like Makin' Love brings the instrumental side to the foreground.
The group delivers with flute and violin in the instrumentation a special sound structure apart the mainstream on Flowers for Her. Hott sets funky accents. More contemporary jazz is to find on Pink On This.
The tight calendar of the all-female group Jazz in Pink confirms, that the message arrives. The exceptionally strong innovative music is rewarded. Now it's up to the audience to validate this impression with the purchase of the album.




Album Information

Title: 1st Collection
Artist: Jazz In Pink
Year: 2014
Length: 0:53:22
Genre: General Jazz
Label: CDBaby

Tracks:
01 Pink Symphony [4:41]
02 Sisterness [6:16]
03 Seasons [4:34]
04 Katgirl [4:10]
05 Strings to My Heart [4:37]
06 Got to Be True [4:38]
07 Queen [4:00]
08 Feel Like Makin' Love [5:17]
09 Flowers for Her [4:58]
10 Hott [5:00]
11 Pink On This [5:12]