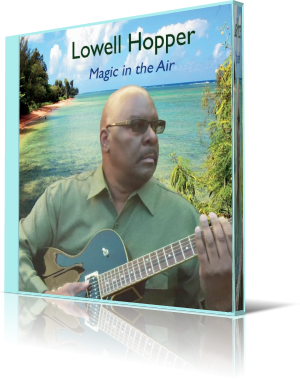 Hailing from Panama City guitarist and multi-instrumentalist Lowell Hopper has started his solo career in 1995 with the album Invisible Touch. Since several years he nearly release every year a new album. His newest project is Magic In The Air (2019).
Lowell plays on this album guitars, basses, keyboards and drum programming. He is supported on selected tracks by Chris Godber (tenor sax), Derek Burrell (electric bass) and G. Vernon Burrell Jr. (additional keyboards). Lowell has composed all tracks with the exception of Tropical Feeling which he has written together with G. Vernon Burrell Jr., who also plays keyboards on this tune.
Lowell Hopper introduces into his new project with Magic In The Air featuring popular riffs and hooks perfectly embedded in a sophisticated instrumental environment. Just Like That compels the listener to finger snipping with his gentle guitar performance.
Still Standing starts bass dominant before the guitar gets free space. Chris Godber's tenor sax becomes the third power in this rhythmic performance. The funky Shine sees Derek Burrell on bass, while Hopper reflects melodically on guitar about the bass given rhythm line.
From Now On delivers a snazzy guitar deliciousness decorated with graceful keyboard sounds. Thoughtful presents a lyrical interplay between electrical and acoustic guitar with soothing qualities. Expression spreads a mood of bliss that can be found in well-known pieces such as Sleepwalk.
Perception is a good example that Lowell Hopper is not just a talented guitarist but can also express the rhythmic and melodic accompaniment in an authentic way. On many releases of the smooth jazz genre today there is at least one piece that spreads Caribbean flair. In this specific case, it is Tropical Feeling that performs this mission perfectly.
Isn't it the task of music to bring joy and relaxation and to free us from our everyday worries?
Leave Your Worries Behind
is the ultimate comforter of souls.
Heart and Soul
closes the album always keeping the level of radio format.
Listening to
Magic In The Air
no doubt remains, Lowell Hopper has all qualities to take off to the top of smooth jazz.





Buy the album in all stores



Album Information



Title: Magic In The Air
Artist: Lowell Hopper
Year: 2019
Genre: Smooth Jazz
Label: Independent

Tracks:

1 Magic in the Air 4:06
2 Just Like That 4:29
3 Still Standing 5:03
4 Shine 5:00
5 From Now On 5:01
6 Thoughtful 3:55
7 Expression 4:55
8 Perception 4:14
9 Tropical Feeling 5:04
10 Leave Your Worries Behind 4:08
11 Heart and Soul 4:12





Further review: