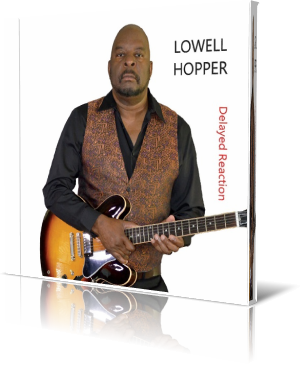 Panama City, Florida based guitarist Lowell Hopper is a bassist, keyboardist, composer, producer and has a lot of music to offer. His solo albums encompass Bay View (1993), Invisible Touch (1995), Live in Panama (1997), Live on the Beach (1999), Sweet Licks (2009), In The Moment (2011), A New Direction (2013), A Touch Of Sunshine (2014), Soulful Feeling (2014), Groove Maker (2015), Early Days Vol. 1 (2016), Between The Lines (2016), Playing It Cool (2016), Forward Motion (2017), and Delayed Reaction (2018).
On his new album Lowell performs guitars, basses, keyboards, and drum programming. He is supported by Derek Burrell, who plays fretless bass on Free and Easy and Just Because. Lowell composed, produced and arranged all songs.
Urban Delight starts with an unusual selection of instruments, bongo and bass. Lowell combines two guitar parts in the overdub creating a sonic consonance. Back to the Basics is a return to the harmonious origins. Lowell develops his guitar fantasies on the consistent sounding basic melody.
Delayed Reaction is an unconventional title for a song that juxtaposes intimate guitar sounds with keyboard harmonies. Warm Fuzzy is the aptly description of a running bass, which forms the basis on which the guitar rises, while the organ is limited to a few chords.
Free and Easy does not break any rules in any way, everything is easy and harmonious to the point. On Just Because a gripping melody crystallizes, which should also please the critical radio presenter. Under the Stars is the aspiration to the firmament of heaven, which is also reflected in the musical notation of the guitars.
No, All Night Long is not the phenomenal hit by Lionel Ritchie. Lowell creates here two melody lines, the one a constant phrase the other the sonic improvisation. You shouldn't have any ulterior motives for the title The First Night, Lowell probably focuses on the romantic component of the song. Destination offers an interesting mélange of acoustic and electric guitars with a captivating and lavishly decorated melody, my personal favorite.
True Love is another gem of sonic beauty. The affective Hold You Tight reveals an unbridled joy of guitar creativity with romance as inner essence. The final Nice and Slow delivers further guitar food for the heart.
Lowell Hopper's album Delayed Reaction is streamlined for lovers of guitar music. Lowell performs on this album Gibson 335 and Yiari CY27 Classical. Fender Strat, Martin D40 and Yiari DY88 are his favorite rhythm guitars.




Buy the album in all stores

Album Information

Title: Delayed Reaction
Artist: Lowell Hopper
Year: 2018
Genre: Smooth Jazz
Label: Independent

1 Urban Delight 4:40
2 Back to the Basics 4:33
3 Delayed Reaction 4:11
4 Warm Fuzzy 4:06
5 Free and Easy 3:56
6 Just Because 4:17
7 Under the Stars 4:02
8 All Night Long 4:23
9 The First Night 4:15
10 Destination 4:35
11 True Love 2:46
12 Hold You Tight 5:04
13 Nice and Slow 5:46