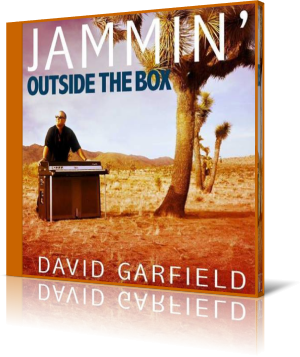 Every musician strives for immortal fame. This can hardly be achieved with public appearances, as the moments are too short. An album is more suitable as a building block. But keyboard player David Garfield thinks ahead. He has already recorded music for four albums for his
Outside The Box Project
and they will all be released.
We are currently in a phase of transition to the tetralogy of his creative urge. After the release of his first album
Jazz - Outside The Box
, David Garfield's vision of straight-ahead jazz, now follows
Jammin' - Outside The Box
, a collection of popular songs performed by an army of noteworthy soloists including George Benson, Ray Parker Jr., Kirk Whalum, Rick Braun, Marcus Miller, Paul Jackson Jr., Eric Marienthal, Tom Scott, Vinnie Colaiuta, Greg Phillinganes, Smokey Robinson, Greg Adams, David Sanborn, Bill Champlin, Phil Perry, Oleta Adams, John Klemmer, Michael McDonald, Kenya Hathaway, Steve Jordan, Freddie Washington, Will Lee, Tony Maiden, Rickey Minor and Lenny Castro. Everyone will know one or the other, but rarely do you experience such a number of exceptional artists on a single album.
The horn powered
Go Home
, a cover of Stevie Wonder's hit single from his album
Square Circle
(1985), is dedicated to late drummer Ricky Lawson. Nick Lane has created the superb horn arrangement staring featured soloist Kirk Whalum on tenor sax.
Chasing Pavements
is a single by Adele from her debut album
Hometown Glory
. The vocal part of the cover is substituted by Rick Braun on flugelhorn and John Klemmer on sax.
Please Don't Go
is the first original by David Garfield featuring vocalists Moon Calhoun and Amanda Maiden as introduction to
Stay
, a remake of the Rufus classic. Richard Moon Calhoun has written the song together with Chaka Khan for the album
Street Player
(1978). Richard was paralyzed in a bike accident 25 years ago but shows that he still can sing. This formidable song also presents stunning solos by George Benson on guitar and David Sanborn on sax.
Lovin' You
was the song which made Minnie Riperton's whistle voice famous. David delivers not only a conversion of the well-known song but adds Latin flavor in the second half. Liliana De Los Reyes, Walfredo de los Reyes & Walfredo Reyes Jr. are the centerpiece of this Cuban explosion, three generations on one recording. Sting has written with
Fragile
from his album
Nothing Like the Sun
(1988) an emotional highlight of music history. David is so fascinated by this song that he presents on this album an instrumental version after he already released a vocal one on the previous album
Jazz - Outside The Box
. Highlights are Diego Figueiredo on acoustic guitar and David on piano. His decision is perfectly understandable.
Garfield has dedicated his personal rendition of Bob Marley's
Jamming
to Tom Petty. So it's not surprising that he invited Tom's longtime guitarist Mike Campbell as interpreter. Saxophonist Brandon Fields however is the main soloist. The love ballad
One Like You
is a collaboration of Garfield and the legendary singer Smokey Robinson, on which Smokey unfolds his typical vocal magic.
Waiting for Your Love
by David Paich and Robert T. Kimball was originally recorded by the group Toto for their album
Toto IV
(1982). Garfield creates in the second half of his interpretation a jazzy bridge before he returns to the original format. The cover is co-arranged and co-produced by David Paich, who also performs organ.
Rainbow Seeker
is the groundbreaking piece on which Joe Sample, one of the pioneers of this instrument, celebrated the Electric Piano. Garfield plays the instrument with such a grandness that he predestines himself as a worthy successor of Sample.
The Highways of My Life
by the Isley Brothers is a further gem of the past. With introducing words by Nathalie Cole and Oleta Adams and Phil Perry as vocalists Garfield achieves the impossible to reach the outstanding quality of the original at the same level. With
Rock Steady
vocal queen Aretha Franklin was in the 70's the measure of all things. Danny Hathaway played on Aretha's single the keyboards. His daughter Kenya Hathaway picks up the torch and brings the funky song back to life. The supporting musicians are first class.
What You Won't Do for Love
was written by Bobby Caldwell with Alfons Kettner, which Caldwell recorded for his eponymous debut album, released in 1978. Lamont Dozier Jr. surpasses with his exquisite voice the original. Garfield also designs this song as a brilliant festival of Latin Jazz in Salsa style. The album concludes with the contemplative
Harvest Time
, a creation by David Garfield, which he dedicated to his late mother.
David Garfield's new album
Jammin' Outside The Box
is a goldmine of musical treasures, as can easily be deduced from the overlong review. As a collective work, it is one of the rare valuables that our music history remains to the true connoisseurs of good music.