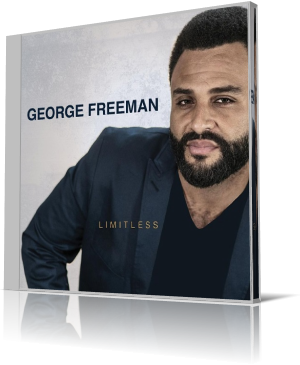 Wilmington, North Carolina based musician George Freeman defines himself not only as a pianist but also as a singer, arranger, musical director, producer and songwriter. George has performed with Pamela Williams, Gail Jhonson, Eric Darius, Karen Briggs, Marcus Johnson, Althea Rene, Marcus Anderson and many more.
He started his career as solo artist with Make It Happen (2015). Limitless is his fresh follow-up (2019). George plays on the new album piano and keyboards. Further musicians are Robert White, Thomas Beard (guitar), Marcus Shaw, Jermone Randall (bass), Ledrik Woods (trumpet), Willie Mintz (trombone), Reggie Codrington (soprano sax), Demetrice Everett (drums), Pamela Williams (alto sax), William Jhonson (percussion).
It is the primal need of every musician to breathe life into his own music. George lives out this need to the full, among the ten pieces there are 7 original compositions. Lifetime is a sensitive and detailed keyboard piece, very jazzy, but also full of ideas, as if the intro should already show everything.
On the Right Track clearly indicates the direction. Melody and rhythm give each other a thriving hand in hand. Robert White underlines this splendid impression with signature guitar riffs. Gonna Be Alright picks a more edgier and funkier attack.
Strut is a structural piece designed to resist pressure in the direction of its length. That was the slow and swaying way, George Duke celebrated the hip hop structured funk. George takes up this style to enrich it harmoniously. Ledrik Woods adds pulsed trumpet vibes for some special pitches. No Doubt continues this melodious somehow melancholic approach.
On Uptown Ride Pamela Williams delivers a solid sax groove to George's luscious and uplifting song. That Day shines with an intoxicating keyboard melody which flows naturally tone by tone of an immaculate composition. Somewhere searches an alternative approach with strong beats and short phrases.
For Sunday Vibe is the word eclectic not far away. The sonic movement of this tune is simple outstanding. Limitless melts a hip hop beat with orchestral harmonies and instrumentation. That way George offers a fresh arrangement outside the beaten paths.
George Freeman's new album Limitless doesn't search the musical comfort zone of fashionable radio tracks. Every tune is a winner.





Buy the album in all stores



Album Information



Title: Limitless
Artist: George Freeman
Year: 2019
Genre: Smooth Jazz
Label: Independent

Tracks:

1 Lifetime 2:09
2 On the Right Track 3:53
3 Gonna Be Alright 3:52
4 Strut 5:04
5 No Doubt 5:52
6 Uptown Ride 3:58
7 That Day 5:25
8 Somewhere 4:28
9 Sunday Vibe 4:12
10 Limitless 4:30





Further review: