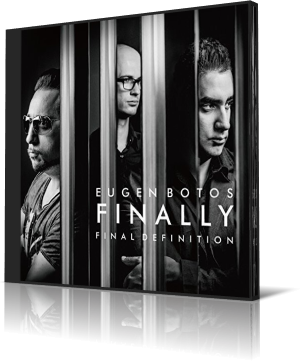 Slovakia based jazz funk trio Finally was founded by Eugen Botos (piano) - leader and composer of the band, Robert Vizvari (bass guitar), Martin Koleda (guitar). In 2008 the trio became the touring band of Eric Marienthal in Europe which gave them some contact with the American contemporary jazz scene. In 2010 they released their debut album My Space.
Final Definition is their sophomore album, which was released in Japan in 2016 and this year in the rest of the world. The album features an incredible variety of top musicians. Among them are famous singers like Brian McKnight, Maysa Leak, Dionne Warwick, Angela Johnson, Sheldon Reynolds, sax player Eric Marienthal, drummers Dave Weckl, Eric Valentine, Oscar Seaton and Ronald Brunner Jr., bass players Marcus Miller and Victor Wooten, keyboardist Jeff Lorber and many more.
Marcus Miller introduces into the theme of Love For Real with his sonorous sounding bass. Featured singer is Sheldon Reynolds, the former singer and guitarist of the groups Sun, The Commodores and Earth, Wind and Fire. The song also offers prominent solos by Marcus Miller and Jeff Lorber on Rhodes.
Supernatural shines with an explosive mixture of R&B and Disco with outstanding contributions by singer Angela Johnson, saxophonist Eric Marienthal and Robert Vizvari on bass. U Need Me is firmly grounded in the jazz fusion realm. The trio dwell within the nucleus of jazz, rock and groove by breathing an aura of freshness into their music.
Anita Soul is the Business Lady, a Slovakian beauty with an attractive voice. She came to the public with the Bailando and Hit Storočia television programs. Beautiful Dreamer is a gentle ballad featuring soul songstress Maysa. The song is composed and produced by Eugen Botos and was originally released on Maysa's album Blue Velvet Soul (2013). LA Funk is a speed-trimmed jazz funk piece, for which Eugen has chosen the two protagonists Victor Wooten and Ronald Brunner Jr., hand-picked virtuosos on their instruments.
With Rhythm Fantastique the band rides a Latin tinged tour-de- force in the style of Carlos Santana with Brian McKnight as spectacular vocalist. Dave Weckl on drums and the EWF horn section with Gary Bias on sax, Reggie Young on trombone and Bobby Burns on trumpet complete the star cast. Travel in Time (Giant Steps) is as much an interpretation as a tribute to John Coltrane's Giant Steps. In its time in 1960 this virtuoso piece was a revelation for all jazz fans. There is much to be said for the trio's perfect playing and Eric Marienthal's ability to overcome the difficulties and challenges that the piece presents to every performer.
Dream Reality are of their meaning two opposites, that doesn't prevent singer Katarina Misakova from bringing her powerful voice into the piece just as dominant as Eric Marienthal his saxophone. Fly is the second collaboration between Eugen Botos and Angela Johnson. This song in a classic attitude is blessed by her characteristic voice.
Symphony of Broken Hearts features soul diva Dionne Warwick, the grand dame and one of the biggest hit maker of the last century. The string orchestra, conducted and recorded by Eugen Botos sr., is a worthy setting for this exceptional vocalist. With Thank You Jeff Eugen Botos and Martin Koloveda create a further melting pot of wistful fusion jazz.
Oh My Love reminds me off the legendary UK group Level 42 especially because of Robert's outstanding bass performance. The tune features singer Rudy Hollywood better known as Rudolf Kosa, a Slovakian singer and keyboardist Jeff Lorber, who has to compete with Eugen Botos. Final tune is a tribute to Weather Report appropriately named after this group. Martin Koleda on acoustic and electric guitar is the figure of light of this piece also featuring saxophonist Eric Marienthal and drummer Eric Valentine.
The Slovakian trio Finally shines on Final Destination with technical brilliance and dazzling artistry. Stylistically wide-ranging this album belongs to the best new discovery of the year 2019.





Buy the album in all stores

Album Information

Title: Final Definition
Artist: Eugen Botos Finally
Year: 2019
Genre: Smooth Jazz
Label: Independent


Tracks:

1) Love For Real feat. Marcus Miller - Sheldon Reynolds (5:51)
2) Supernatural feat. Angela Johnson(4:53)
3) U Need Me (5:24)
4) Business Lady (3:16)
5) Beautiful Dreamer feat. Maysa Leak (3:45)
6) LA Funk feat. Victor Wooten - Ronald Bruner Jr. (5:54)
7) Rhythm Fantastique feat. Brian McKnight - Dave Weckl (4:04)
8) Travel in Time (Giant Steps) feat. Eric Marienthal(6:43)
9) Dream Reality (3:55)
10) Fly feat. Angela Johnson (6:05)
11) Symphony of Broken Hearts feat. Dionne Warwick (6:50)
12) Thank You Jeff (5:05)
13) Oh My Love feat. Jeff Lorber (5:02)
14) Weather Report feat. Eric Valentine - Eric Marienthal (6:11)