| | |
| --- | --- |
| Archive | |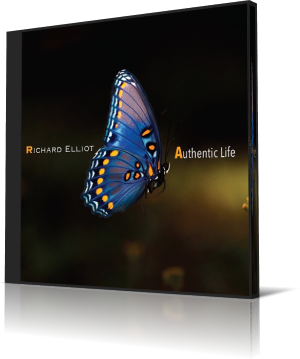 San Diego resident saxophonist Richard Elliot has already had an exemplary musical career that is second to none. Tower of Powers, Natalie Cole, Smokey Robinson and the Temptations were already on his agenda at a young age. In 1986 he released his debut album Trolltown. Since this time he has recorded more than twenty albums. His new album Authentic Life (2021) is the current gauge of his development as a person and artist.

From the list of musicians involved, it's easy to see that a heavyweight of smooth jazz has been invited to record. Richard has rightly recognized that in today's music market you don't have to spill the beans, you have to make a killing if you want to play a significant role in the charts. From the current pandemic, Richard has learned a lesson that mutual inspiration is not only possible in the context of a studio recording, rather an interaction can also take place virtually.
After all, the musicians involved are all professionals and are very familiar and equipped with music production via the Internet. Anyone who uses the title Snapshot has to compete with George Duke. With Rick Braun and David Mann, Richard builds a strong horn trio reminiscent of the old days of Tower Of Power. Add to that Jeff Lorber's staccato synth bass and you're set.

From the energetic to the gently elegant. Walk With Me, while also offering an exquisite horn arrangement, appeals more to the evening flâneur. Right On Time ventures back to the old Motown days, when the Stylistics have sung I Can't Give You Anything.

Authentic Life is Richard's very own expression of his musical personality with a charismatic melody genuinely accompanied by his musical comrade in mind Rick Braun. Move Ahead might be inspired by the songs Sunny and Angela. Richard delivers beautiful memories in the best packaging.

Living Inside Myself is a song by Canadian singer Gino Vannelli released on his seventh album Nightwalker. With its emotional romance, this is a pitch for Richard. Elegant People is Richard's tribute to his audience, the connoisseurs of good music. It envelops them an aura of mystery, Moon Gazer is an unknown species with an unusual affinity for our nearby celestial star. This is their anthem.

Chris 'Big Dog' Davis is a producer known for sophisticated productions with that certain something. With Secrets he shows us what he is all about. Richard has already successfully collaborated with Nathaniel Phillips on the previous album Summer Madness. Boogie succeeds to the grand finale, which turns into a big gala with Dave Koz and Rick Braun. The whole thing has without further ado big band level.
Is there any better proof than Authentic Life? Richard Elliot is the driving force of smooth jazz. When it comes to the saxophone, there is no way around Richard.




Buy the album in all stores

Album Information

Title: Authentic Life
Artist: Richard Elliot
Year: 2021
Genre: Smooth Jazz
Label: Shanachie Entertainment

Tracks:

1) Snapshot (4:18)
2) Walk With Me (4:15)
3) Right On Time (4:26)
4) Authentic Life (4:05)
5) Move Ahead (3:56)
6) Living Inside (4:20)
7) Elegant People (4:22)
8) Moon Gazer (4:44)
9) Secrets (4:11)
10) Boogie (5:38)







Credits:

Richard Elliot (tenor daxophone)
Richard Braun (trumpet, flugelhorn, trombone, keyboards, arrangement)
Jeff Lorber (keyboards, guitar, arrangement)
Gary Novak (drums)
David Mann (saxophones)
Gorden Cambell (drums)
Gerey Johnson (guitar)
Lenny Castro (percussion)
Dave Koz (baritone saxophone)
Eric Valentine (drums)
Randy Jacobs (guitar)
Phillipe Saisse (keyboards, arrangement)
Nathaniel Phillips (bass, keyboards, arrangement)
Jay Williams (drums)
Adam Hawley (guitar)
Ron Reinhardt (keyboards, arrangement)
Tony Pulizzi (guitar)
Chris 'Big Dog' Davis (keyboards, arrangement)




Further reviews:


In The Zone

Summer Madness