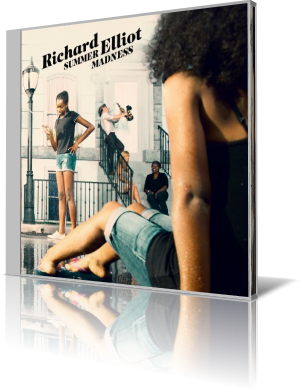 Scottish-born Saxophonist Richard Elliot reflects with Summer Madness (2016) on his musical roots. "When I was growing up in the '70s and first learning to play the saxophone," he comments, "I was mostly attracted to instrumentally based R&B and to jazz that had R&B roots. This record definitely goes down that path, leaning more on the funk side."
Beside Rick Braun, who also produced the album, Richard is joined by baritone saxophonist Curt Waylee, Ron Reinhardt on keys, Randy Jacobs on guitar, Nate Phillips on bass, Third Richardson on drums, and Lenny Castro on percussion.
Cachaça is a distilled spirit made from sugarcane juice. The fiery Latin-American force inspired the interplay of these top notch musicians. With a minimal concept Richard let the participating artists create the powerful excellency in all levels.
Breakin' It Down starts very close to the core of funk with the edgy rhythm guitar of Mr. Funk Randy Jacobs. But the funky look includes some smooth jazz phases which make the funk mouth-friendly.
The cover of Carlos Santana's Europa is delivered so smooth as it can be with a wide range orchestral background, a musical priming coat for these unforgettable nice hours. West Coast Jam optimizes the funky formula with incredible sax energy, vocoderized vocals, and more ingredients of Funkytown.
On Harry the Hipster Richard sets repetitive melody parts in a funky context. That way he has a stunning tapestry and flow basis to improvise on sax, while Ron Reinhardt adds an eclectic jazz journey on keys. Slam-O-Rama is pure and fast sonic fury with a power pack of sax. Back to You lets some smooth emotion come into game.
Ludicrous Speed has an ultra-funky drive which seems to be influenced by Fela Ransome Kuti. Breathtaking fast, passionate and earthy. Summer Madness, originally released on Kool And The Gang's album Light Of The World (1974), is a classic. Richard's rendition perfectly captures the atmosphere of the original, especially is Ron Reinhardt's work on synthesizer out of this world. Mr. Nate's Wild Ride is a kick back to Elliot's Tower of Power time. Richard treats his sax like a James Brown move.
With Summer Madness Richard Elliot serves an iconic piece of funk. This album is a smoking bomb and should be handled with care!




Website


Buy the album in all stores

Album Information

Title: Summer Madness
Artist: Richard Elliot
Year: 2016
Length: 0:46:06
Genre: General Jazz
Label: Heads Up Records


Tracks:

1 Cachaca 4:03
2 Breakin' It Down 4:18
3 Europa (Earth's Cry Heaven's Smile) 4:22
4 West Coast Jam 3:58
5 Harry the Hipster 4:31
6 Slam-O-Rama 4:25
7 Back to You 4:43
8 Ludicrous Speed 5:11
9 Summer Madness 4:08
10 Mr. Nate's Wild Ride 4:26



Chris Mann's review