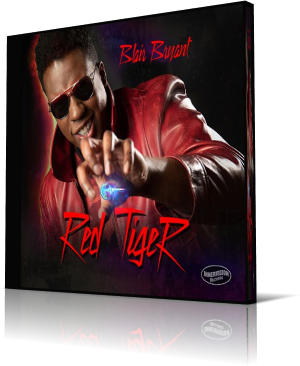 Kansas City born multi-instrumentalist and composer Blair Bryant is inspired by the bass legends Stanley Clarke, Marcus Miller and Wayman Tisdale with whom he is increasingly being compared.
He started his solo career with the album New Colours in 2015. After joining the label Innervision Records he further released the albums Gold (2016) and Cerulean Blue (2018). Now he returns on the same label with the album Red Tiger (2022).
A huge variety of other musicians have participated in his new project, which are listed in the credits. In comparison with the previous album, one recognizes predominantly new musicians who contribute to the success of the album with fresh impulses.
The album opens with Relentless. A title that, chosen in a positive sense, illustrates the stubborn perseverance with which Bryant pursues his musical goal. With the bass as the lead instrument, the concentrated brass power of the Sweet N Smoky Horns forms behind him.
Chocolate For Breakfast delivers sweetness for the first meal of the day with bass and horns as requested. On the soulful Spend The Night, Bryant shows his full range as a multi-instrumentalist with lead bass, guitar, bass, piano, keyboards, drums and programming. Paula Saunders Lewis is the featured vocalist on this tune.
Also on B's Bounce the bass is in the center, perfectly staged by Marqueal Jordan on saxophone and Emanuel Echem on trumpet. Kiss Of Life was originally released by Sade on her album Love Deluxe (1992). A good choice of the first cover, because this song was often played on smooth jazz radio stations. The singer Beth Manley is a worthy replacement.
The piece Amber Glow offers the special feature that two saxophone players, Donald Hayes and Najee, take over the melody part at the same time. The R&B flavored Girls In The Back is a collaboration between Blair and Shawn Kingsberry, a multi-talented singer, songwriter, and producer from Kensington, Maryland and the additional support by the Sweet N Smoky Horns.
On Hello Beautiful Blair meets guitarist Freddie Fox on a romantic ballad with plenty of strings, flutes and further orchestration. Medusa's Mirror kicks funky, while the Sweet N Smoky Horns cite some Soulful Strut.
The title song Red Tiger is completely performed by Bryant in impressively commanding form. That Girl is a song by music genius Stevie Wonder from his album Original Musiquarium I (1981). Blair's reworking presents Jaared Arosemena on alto sax and Emanuel Echem on trumpet with wide ranging accompaniment.
The album ends with Power Up! A title that can be taken quite literally. David Davis excels on the saxophone.
If ever there was a need for proof, this album provides it. The bass guitar can rightly be considered a lead instrument and Blair Bryant is a master of it. The red tiger shows its claws. Roar!





Buy the album in all stores



Album Information



Title: Red Tiger
Artist: Blair Bryant
Year: 2022
Genre: Smooth Jazz
Label: Innervision Records

Tracks:

1) Relentless (4:09)
2) Chocolate For Breakfast (4:54)
3) Spend The Night (4:16)
4) B's Bounce (4:30)
5) Kiss Of Life (4:47)
6) Ember Glow (5:14)
7) Girls In The Back (3:57)
8) Hello Beautiful (4:37)
9) Medusa's Mirror (4:42)
10) Red Tiger (4:06)
11) That Girl (4:19)
12) Power UP! (3:57)



Further review:

Cerulean Blue

Credits:

Blair Bryant – Lead bass/ Moog Bass/Bass/Rhythm Guitar/Piano/Keyboards/Live Drums Strings & Drums programming

Ash Jangda – Rhythm Guitar
Daniel Powell – Drums
Matt Baldwin - Lead Saxophone
Paula Saunders Lewis- Vocals
Marqueal Jordan – Saxophone
Emanuel Echem – Trumpet /Arranger
Montel Jones – Drums
Beth Manley – Vocals
Najee - Saxophone
Shawn Kingsberry- Keyboards/ Guitar/ Vocals/ Drum Programming
Freddie Fox – Lead Guitar
David Davis - Saxophone
Nathan Nall -Trumpet*
Trevor Turla -Trombone*
Brett Jackson- Baritone Saxophone/Clarinet*
Matt Baldwin – Alto & Tenor Saxophone/Flute/Arranger*
Christopher White – Trombone*
Cedric Givens - Percussion
Glenn Douglas Keyboards/Arrangement
Derek "Redfootz" Freeman – Drum programming
Jaared Arosemena – Alto Saxophone
Ryan Strickland – Drums
Travis Johnson - Guitar
Will Holton –Alto Saxophone
Marcus Devine – Vocal arrangement
Donald Hayes - Saxophone


Sweet N Smoky Horns*

Nathan Nall -Trumpet

Trevor Turla -Trombone

Brett Jackson- Bari Saxophone/Clarinet

Matt Baldwin – Alto & Tenor Saxophone/flute/Arranger*

Christopher White – Trombone


Tracks 4 & 12 mixed by Greg Manning

Track 2, mixed by Alan Litten

Tracks 8 & 9 mixed by Phil Magnotti

Tracks 1, 3, 6, 7, 10 & 11 mixed by Dave Darlington

Track 5 mixed & vocal arrangement by Marcus Devine



Produced By Blair Bryant
Executive Producer Damon Bryant
Art Design Eric Houser
CD Design Damon Bryant
Photography Daniel Horner