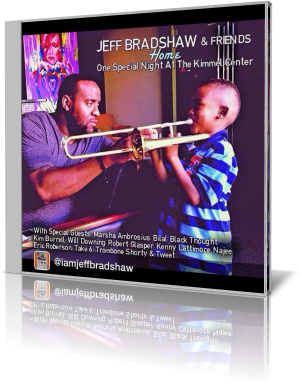 Mr. Magic Slide Jeff Bradshaw is back with his first Live album at Shanachie Entertainment entitled Home. The album was recorded at Philadelphia's premiere arts venue, The Kimmel Center, in May 28, 2014. Jeff's band of 20 members supported guest musicians Robert Glasper, Eric Roberson, Tweet, Marsha Ambrosius, Kim Burrell, Trombone Shorty, Black Thought, Take 6, Bilal, Will Downing, Kenny Lattimore, and Najee. Jeff was boosting his horn-heavy ensemble with a ten-piece string section of members of the Philadelphia Orchestra and other chamber ensembles from the city.
Robert Glasper co­produced the album together with Jeff. Jointly they planned the event and the participating artists, all Jeff's friends. He comments꞉ "I just want people to know that this is the best of me thus far. I believe in my heart that this is the album of the year because it is a collection of brilliance that magnifies my gift. That's what it is. It's a live collection of brilliance that magnifies the gift that God gave me.″
The event starts with the intro Open Your Eyes. It should be better called Open Your Ears Impressing vocals meet Jeff's phenomenal trombone play. Not perfectly timed but that is the raw version of a live concert. Robert Glasper introduces into harmonic ballad All Time Love with a skillful piano solo featuring vocalists Charlene Keys, whose stage name is Tweet and Eric Roberson aka Erro. When Jeff enters the ring, the tune turns wild.
I Do Sincerely presents Marsha Ambroius, former member of Floetry. Marsha's vocals share the slide effect of Jeff's trombone. Challenging for the audience, but well received. Kim Burrell on Love chooses a jazzy and Gospel approach for her interpretation. On New Orleans Groove Jeff Bradshaw shares the stage with Trombone Shorty. "Me and Trombone Shorty are on opposite ends of the spectrum, which made it great to be on stage with him.″ Now learn the difference between both. Break You Off features rapper Black Thought, who likes to jam with jazz players.
All This Love was originally recorded by El Debarge. In 2014 Take 6 delivered background vocals for JC Bentley's cover. On this event they interpret the song together with Jeff. Stunning as usual! Enchantment's Where Do We Go From Here is dominated by Bilal, who is known for his great range of voice and finally by Jeff's trombone. Will Downing turns My Forever into a vivid celebration of soul. Beyond The Stars shows Jeff Bradshaw in the second reunion with Take 6, a vocal highlight of the album.
With Kenny Lattimore on What Must I Do Jeff pulls another joker from his sleeve. This song is from Kenny's album Back To Cool. For Grover is a duet of saxophonist Najee and Jeff Bradshaw with a distinctive string support. A tribute to the late Grover Washington, who will always be an idol for the smooth jazz world. The World Is A Ghetto was published by the band War in 1972. A worthy finishing for a great evening with a bombastic outro. As bonus Jeff adds the studio version of All Time Love, which will also be the first single of the album and is already to seen as video on YouTube.
Jeff Bradshaw's intention is to attract attention with his new album Home and create his breakthrough. With so many big names a success is by all means possible.