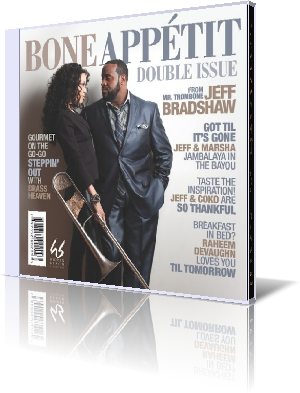 When Jeff Bradshaw plays his trombone you will hear tones, you never heard before. He made the "slide" to a musical art form on trombone. He doesn't plays the notes directly, but approaches them with a trombone own motion. What seems to be difficult to describe, enthuses the audience with magic charm.
Hear it to believe it. Jeff has recorded, toured, and performed with: Michael Jackson, Earth Wind & Fire, Jill Scott, Jay Z, Mary J. Blige, The Roots, Erykah Badu, Kirk Franklin, Floetry, Common, John Legend, Kanye West, Tyler Perry, Dave Chappelle, Jazzy Jeff, Yolanda Adams, Mary Mary, and many more.
But his personal style shines on his solo releases. We were excited, when Jeff released his debut album Bone Deep on Hidden Beach Records in 2003. Music journalist Rob Young described Bone Deep as most definitely one of the coolest joints of 2003! He also lent his trombone on some of Hidden Beach Recordings' very own Unwrapped series.
It took a long time until Jeff released his sophomore album. Bone Appétit is out now and he pleases us with a double issue of 20 songs. The title is an aptly amalgamation of the short term for trombone and the French bon appétit. The following guests are joining the dinner Marsha Ambrosius, Raheem DeVaughn, Kindred the Family Soul, Maysa (Incognito), Coko (SWV), PJ Morton (Cash Money/Maroon 5) and introducing Brass Heaven. Be aware that this double feature album is a limited edition.
An initial greeting from the kitchen sends us Jeff with Searching musically discussing the human quest for love. With the whooping sexy song Til Tomorrow Jeff jumps into the first course featuring Raheem DeVaughn & Ms. Jade. Don't miss the erotic blast at YouTube.
On the irresistible track of acoustic guitar and pulsating percussion we meet Looking For Love. All Day Lovin' features the amazing Kindred the Family Soul, an American R&B, soul, and neo soul duo consisting of the married couple of Fatin Dantzler and Aja Graydon.
Got Til It's Gone is dedicated to the victims of Katalina and an anthem for a rebuilding of New Orleans' devastated districts. Build on Janet Jackson's former hit Marsha Ambrosius & TWyse are delivering the message. All proceeds from Jeff Bradshaw's version will go to The New Orleans Musician's Relief Fund.
Tony! Toni! Toné! released Lay Your Head On My (Pillow) as part of their album Sons of Soul in June, 1993. Jeff plays this cover not just accurately but let it grow on his trombone. Wait Around Love is a good example for Jeff's singing skills. His soft vocals nicely fit into the R&B romance.
I Don't Know How is stylistically an unique song, because it mixes sonorously elements of R&B, smooth jazz and country to an irresistible brew. The swinging waltz So Thankful presents songstress Cheryl Elizabeth "Coko" Clemons, lead singer of R&B group Sisters With Voices and best known by the soundtrack of MIB.
The parade of great female singers continues with I See The Sunshine featuring Natalie "the Floatist" of the group Floetry and Jameelia Drinks, with which Jeff is married in his first year. Umi Says is superficially a song presenting Fatin Dantzler, but most fascinating is the superb horn arrangement in the bridge, which reminds me of Incognito's own style. After the return of Searching Jeff closes the main course with the onomatopoeic Bone Appétit.
With Bone Appétit Vol. 2 [Deuxieme Cours] Bradshaw offers the insatiable gourmets more delights. The funky Steppin' Out introduces Philly's very own Brass Heaven. Lead by Jeff Bradshaw, the group's big jazz, soul, and funk sound has lead them to share stages with names such as Talib Kweli, Mos Def, and Erykah Badu, as well as to perform with the legendary Roots at the Roots Picnic and the 4th of July Jam on the Parkway.
The romantic My Forever gives singer P J Morton a stage. PJ Morton is a Grammy, Dove & Stellar-Award winning writer and producer who has written and produced songs for India, Arie, Musiq Soulchild, Monica, Ruben Studdard, Trin-i-tee 5:7 and many more. Where intelligence meets feelings.
The heavy N.O. Groove brings the horns like ocean waves. Don't miss the Fat Tuesdays at The Blockley with Brass Heaven. So Rare leads to a playful mix of jazz and R & B with soul queen Maysa on the top.
He Is, Jeff's collaboration with Johnnie "Smurf" Smith, adds zestful gospel elements. Another great son of Philadelphia is Frankie Beverly. With the legendary group Maze he debuted and released Maze featuring Frankie Beverly, in 1977. Happy Feelin's is one of the mega-hits of this album now peppered up by Jeff's trombone. Girl, I Love You is Jeff's final gift as shimmering crooner.
Jeff's Bradshaw's Bone Appétit provides a sumptuous meal of many ballads. Jazz fans will deplore the low use of the trombone as lead instrument in purely instrumental pieces. Jeff will hopefully don't wait another nine years for his next album. As living source of musical ideas this might not be a trick.




Website


Buy the album in all stores

Album Information

Title: Bone Appétit Vol. 1 [Main Course]
Artist: Jeff Bradshaw
Year: 2012
Length: 0:50:16
Genre: General Jazz
Label: Hidden Beach Records (US)


Tracks:

01 Searching [Prelude] [1:37]
02 Til Tomorrow [4:18]
03 Looking For Love [The Soundtrack] [5:24]
04 All Day Lovin' [4:19]
05 Got Til It's Gone [4:05]
06 Lay Your Head On My (Pillow) [5:18]
07 Wait Around Love [4:03]
08 I Don't Know How [4:18]
09 So Thankful [4:15]
10 I See The Sunshine [4:33]
11 Umi Says [3:51]
12 Searching [Reprise] [3:10]
13 Bone Appétit [Bonus Outro] [1:05]


Title: Bone Appétit Vol. 2 [Deuxieme Cours]
Artist: Jeff Bradshaw
Year: 2012
Length: 0:34:59
Genre: General Jazz
Label: Hidden Beach Records (US)

Tracks:

01 Steppin' Out [6:57]
02 My Forever [4:38]
03 N.O. Groove [5:40]
04 So Rare [3:29]
05 He Is [4:10]
06 Happy Feelin's [5:31]
07 Girl, I Love You [4:34]


Further review