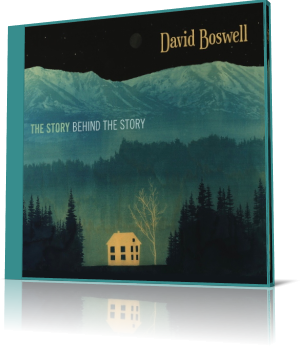 I received my first impression of guitarist David Boswell's music with his album I Like That in 2009. That was his third album after Hold Tight To Your Dreams (2004), and Bridge Of Art (2006). Then his albums Windows (2012) and his trio Storyboard project Hello (2014) followed. Now he returns with his album The Story Behind The Story (2020).

David gathers on his new album again an excellent crew of first-class musicians, Scott Kinsey, Mitchel Forman and Otmaro Ruiz on keyboards, Bart Samolis and Jimmy Haslip on bass, MB Gordy and Gary Novak on drums, and guest tenor-saxophonist Andy Snitzer.
The album begins with Miraculous, an overall harmonic tune which is influenced like his previous works by the guitar style of Pat Metheny. A Los Angeles Minute takes up this stylistic direction and mood, with Andy Snitzer picking up and continuing the melody on his saxophone.
The third track Innocence, is the only tune not written by Boswell but by Jimmy Haslip and Barry Coates. The liner notes speak about David's warm guitar tone. Unfortunately he never mentioned his equipment. Because he is a follower of Pat Metheny's style I assume he is playing like Pat an Ibanez PM100 as his signature guitar.
The title song builds on a special repeating sequence which is alternated in the following part of the tune. Mitch Foreman (Metro) shows his excellence on piano equally mirrored on David's guitar. This piece is obviously dedicated to atmospheric mood and not too much to virtuosity, although none of the participants is stingy with it.
Prayer For The Planet obviously follows David's vision of saving the planet from environmental degradation. David donates two minutes of acoustic guitar music to this project. Alta means in Spanish elevated, big or high-rise, aspiring to higher things overall. Guitar and keyboards sound are strongly aligned by Pat Metheny's style and the dynamic development of the piece also corresponds to the character of his music.
On The Wind in Her Hair David dresses his recitation in Latin American rhythm. Los Olivos (The Olive Trees) once again presents Mitchel Foreman's musical genius in a vibrantly sparkling cascade of piano tones. The Sun and Moon are two celestial bodies that define themselves through their opposites. Here David's melodiousness meets the jazzy freethinking saxophonist Andy Snitzer.
The music of David Boswell circles in a sphere of its own, which chooses Pat Metheny's stylistic elements as its center. Perfect in its execution, it lives from his groundbreaking brilliance.





Buy the album in all stores

Album Information

Title: The Story Behind The Story
Artist: David Boswell
Year: 2020
Genre: Contemporary Jazz
Label: My Quiet Moon Records

Tracks:

1. Miraculous 4:15
2. A Los Angeles Minute 6:21
3. Innocence 6:16
4. The Story Behind the Story 7:28
5. Prayer for the Planet 2:07
6. Alta 5:00
7. The Wind in Her Hair 3:55
8. Los Olivos 5:06
9. The Sun and Moon 6:28




Further review: