David Boswell - I Like That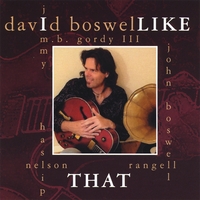 After listening to David Boswell's album I Like That one discovers his affinity to Pat Matheny's music. No wonder, David was influenced by this great musician. After a Pat Metheny concert he decided to start a career as guitarist, attended the Grove School of Music in L.A. and played with various rock bands. He also studied under Pat Metheny, Jack DeJohnette, John Abercrombie and Dave Holland keeping the music of John Coltrane, Keith Jarett and Miles Davis in sight.

His first solo album was Hold Tight To Your Dreams (2004), followed by Bridge Of Art (2006) and in 2009 I Like That. This new album features Jimmy Haslip (bass), Nelson Rangell (saxophone), MB Gordy III and his brother John Boswell on the piano.
David Boswell's style on I Like That is innovative and intensive. He directly captures the spirit of Pat Metheny's music and plays with the sultry and high appealing theme. Yes David, we recognize you. Jimmy Haslip adds his brilliant bass line.
Tightrope features sax legend Nelson Rangell with his remarkable and high energetic performance. The ideal addition to David's furious guitar play.
One also finds contemplative moments on this album like the mellow It's Possible following a melodic path and revealing Nelson's romantic vein. It wouldn't be a David Boswell album, when David and Nelson wouldn't fuse the melody with jazzy elements.
Awaken The Gentle Giant is David's second approach to Pat Metheny's music with great guitar sound and extensive use of the Roland GR-300 and GR-33 guitar synthesizers. I love it!
Some critics say about David Boswell that he uses his guitar like a voice. Did I Tell You is certainly a good example for this assumption. For every musician starts the career with Little Steps On A Long Road. David has certainly reached that degree of mastership all musicians are striving for.
Come And Get Me is a captivating tune with a great potential. The haunting riff will immediately infiltrate your brain and never leave it again. David calls it "a soundtrack to our adventures."
Across The Plains is David's personal soundtrack to the rides he shared with Rikki, an incredible young woman and a talented equestrian. Foremost it's definitely a great song.
In Westward Path David filters the essence of Western romantic. Instrumentation, arrangement and melody cry "Go West!". Shake 'n' Bake is the last extensive and epic tune on this album with all ingredients we love in Pat Metheny's music and now especially in David Boswell's music.
The album closes with radio edits of I Like That and Tightrope reminding us not to take the CD from our player.
Many factors speak well for this excellent album, melodies, guitar sound, arrangement, the nearness to Pat Metheny's music. Simply one of the best guitar albums of this decade.




Title: I Like That
Artist: David Boswell
Year: 2009
Length: 1:03:49
Genre: General Jazz
Label: My Quiet Moon Records

Tracks:

01 I Like That [6:16]
02 Tightrope [5:33]
03 It's Possible [5:24]
04 Awaken The Gentle Giant [6:34]
05 Did I Tell You [5:35]
06 Little Steps On A Long Road [7:13]
07 Come And Get Me [3:03]
08 Across The Plains [4:21]
09 Westward Path [5:12]
10 Shake 'n' Bake [6:59]
11 I Like That (Radio Edit) [4:23]
12 Tightrope (Radio Edit) [3:15]