| | |
| --- | --- |
| Archive | |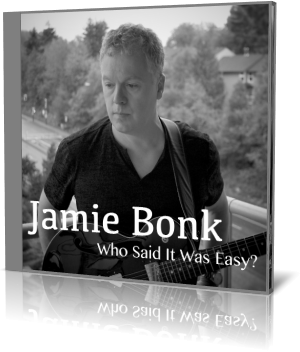 Canadian guitarist and songwriter Jamie Bonk has set up a home studio in Vancouver with a lot of love. The identical love he gives to his albums. All started with his same-named debut album in 1997. Further projects are A Perfect Tomorrow (2000), My World (2004), 5 (2007), St. Joseph Street (2009), Side B (2010) and Necessity (2012).

He left himself some time for his new album Who Said It Was Easy? (2018). He started to write some songs for his new album, when he still lived in Toronto. But properly his album took shape in his home studio in Vancouver, BC. He played in all instruments, that means guitars and keyboards and all the midi-programming. He also engineered and mastered the album. He also did the cover photography, artwork and layout and even made a promo video.

Originally he intended to write lyrics for his songs, he also wrote them, but then recorded the songs purely instrumentally. This definitely had an effect on the way he finally recorded the songs. Jamie: "I was "thinking/playing" the lyrics as I recorded the tunes. Made me truly focus on the meaning/intent of each song." Since the development process turned out to be difficult and complex, it was obvious for him to name his album Who Said It Was Easy?.

His distinct sense for harmony and emotional melodies becomes immediately apparent in the introductory piece The Blessings I Have Known. Jamie is not interested in showing his dexterity or virtuosity, it is only important to him to reach the listener. Me and You is a soulful song of praise for togetherness. The intensity of his melodies is reminiscent of the guitar work of the legendary Cat Stevens.

Who Said It Was Easy? does not give an idea of how difficult the path of creation was, the melody is so easy for him to play. His popular compilation technique consists of linking two melodic strings to form one work of art like on Time to Choose. His musical gems such as Love That Can Be Me are often short, but the melodies are nevertheless emotional and touching.

With No Choice Now you feel at home, because the melody surrounds you like a cuddly blanket on a cold day. Already Said Goodbye comes from the ductus like a good country song. When I mentioned at the beginning of the review that Jamie had already written lyrics for his songs, this is especially noticeable in the song Back on Your Life.

For This One Time includes in a few notes what is so incredibly precious to us. We do not always reach our goal immediately. Sometimes we need to practice patience. Waiting has to be learned. What's more desirable than finding her? That's You is the musical expression of enchantment. All We Can Be, if we just want it and try with a grain of luck.

Let's Go Home is Jamie's invitation to loosen up and feel at home with his music. The final curtain falls with My Getaway Jamie's musical idea of the ideal retreat.

Stylistically, Jamie Bonk's album Who Said It Was Easy? is as if made of one mold. If you love his short captivating melodies, you'll be over the fact that the whole album seems to have been recorded with a single guitar. My recommendation, turn it on, dream and listen until the end.


Buy the album in all stores

Album Information

Title: Who Said It Was Easy?
Artist: Jamie Bonk
Year: 2018
Genre: Smooth Jazz
Label: Bonk Productions

Tracks:

1 The Blessings I Have Known 3:37
2 Me and You 2:47
3 Who Said It Was Easy? 2:45
4 Time to Choose 3:14
5 Love That Can Be Me 2:51
6 No Choice Now 4:08
7 Already Said Goodbye 3:18
8 Back on Your Life 4:00
9 For This One Time 2:34
10 Waiting 3:37
11 That's You 3:07
12 All We Can Be 2:55
13 Let's Go Home 3:10
14 My Getaway 4:20



Further reviews:

St. Joseph Street

My World

Necessity