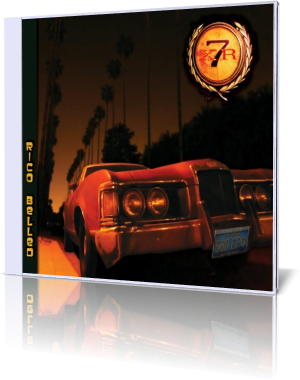 Born in the Netherlands Rico Belled performed since 1992 in the L.A. scene as bassist and keyboardist. Don Randi and the house band, Leslie Paula's "Latin Soul Band", and finally The Rippingtons are the bands he is connected with.
Rico became popular in the jazz community with his solo debut The Pursuit Of Comfort (2010) and with numerous contributions to other artists like Keiko Matsui, Marc Antoine, Chris Standring, Perla Batalla, Leslie Paula, Sound Assembly, Dino Soldo, Scott Grimes and Jeff Robinson.
Rico Belled's newest project is called XR7 after his 1973 Mercury Cougar XR7, Rico has driven for almost 15 years. Among the musicians joining the recordings I discovered Dave Karasony (drums), Rodney Lee (Rhodes), Jeff Kashiwa (EWI, sax), Katisse Buckingham (flute, sax), Bill Heller (synth, piano) and many more.
Whilst the introduction to Chester sounds like something from the time of Shaft and Move On Up, syncopated beats bring a quick return into the modern age of contemporary jazz. Fast paced phrases exchange with long-lasting modulations building a vivid tension.
Between all the meticulousness and virtuosity develops a yearning for the beautiful melody, which discharges convulsively and dynamically in Hooka. The epic sound of Ode To Miss Fairlane unfolds a complexity that searches the nearness to Pat Metheny's music.
The title indicates it already. Flexibility is an amalgam of different styles brought together in one harmony line. Five Of Eight kicks off with a drum/percussion/bass session in which the keyboard takes hold and Scheila Gonzales' sax runs wild. After this tornado of sound gives the calm A Thousand Leaves relief.
Song For Buster is in the light of the foregoing songs amazingly melodic. Jeff Kashiwa's soprano sax exudes a graceful composure. With Blue Son Herb Rico relies on contrasts. An influential piece of contemporary jazz with an excellent Andy Langham on piano.
The Robot Song plays in full from the experimental. Greetings to Kraftwerk. Jazz Party reaches out far beyond the limits of the known jazz styles and can be hardly defined.
Rico Belled's XR7 is ambitious and aimed at the patient listener, who is able to accept the unusual.