Rico Belled The Pursuit Of Comfort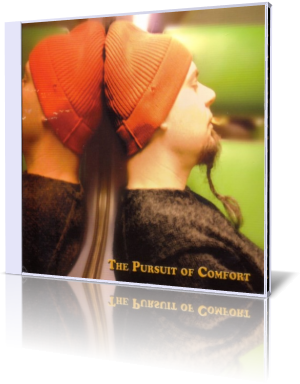 After his migration to the States in 1992 Rico Belled played with several L.A. based groups as keyboardist and bassist. Don Randi and the house band, Leslie Paula's "Latin Soul Band", and finally The Rippingtons are his musical stations.
He also performed with Keiko Matsui, Marc Antoine, Chris Standring, Perla Batalla, Leslie Paula, Sound Assembly, Dino Soldo, Scott Grimes and Jeff Robinson. He left his marks on several records of these and many more artists.
Inevitable a reason to say "Hello" to the audience with his debut album The Pursuit Of Comfort (2010). Rico is very popular in the community of jazz musicians especially because of his diverse contributions for other artists. So it wasn't difficult for him to assemble numerous musicians for his first project.
Rico has written all songs for his album himself except the fifth title, which was composed by Rico's brother Manuel Belled. Characterizing the introducing song Funky Cha Cha with one word, I would choose the attribute "sophisticated". The song is groovy but also complex. Rico keeps the interest of the audience by changes in melody structure and tempi. He performs the Fender Rhodes with fluffy elegance. Jeff Kashiwa (sax) and Tim Keehn (trombone) boosts the energy to a high level.
Mike Faue and Ronnie Gutierrez show on Major Minor, Sir their spectacular art work Real percussionists can play a lot better than any programmed loops. That's for sure. Take for example Mouse Trap. Mike Faue's rhythm drives the whole group into a joyful and jazzy mood. The best starting point for the horn section presenting Anne King, trumpet; Ira Nepus, trombone; Robert Kyle, tenor sax and Scheila Gonzalez, alto sax in multiple solos.
The Pursuit is a fiery ride into Latin Jazz with splendid flutist Katisse Buckingham and Jonathan Dresel on drums speeding up to a breathtaking pace. Manuel Belled's After Dinner Tango shining in the tradition of classic guitar grants minutes of contemplation.
After the first tracks I was wondering about this album of a bass player, which doesn't expose the bass player himself. But Arkad is the point of no return. Although Jeff Babko takes the lead again on Rhodes piano, Rico demonstrates some of his bass magic. Absolutely excellent guest-musician Dino Soldo on harmonica.
Give me some Salsa and a pinch of Funk. Shake it carefully and you get El Pollo Loco Funk. David Crozier introduces into the track with his magic flute and then the band jams like hell. Friends of the Samba will like the Unseen Rain featuring the brilliant Jeff Bako on Fender Rhodes.
If you ever had the chance to visit Rio, walk along the beaches of Ipanema or Copacabana. Let the green-blue water cool your feet, drink your favorite cocktail, watch the other visitors and enjoy your day listening to Summer Cha Cha. And when you are in the right mood filling your lungs with the clear air, then listen further to Song For Comfort. Divine music for your best time in life.
Rico Belled created with The Pursuit Of Comfort his unique interpretation of music. Premier contemporary jazz with a great dose of finest Latin jazz. Tension and entertainment from the first to the last note.




Album Information

Title: The Pursuit Of Comfort
Artist: Ricardo Belled
Year: 2010
Length: 0:52:24
Genre: General Jazz

Tracks:

01 Funky Cha Cha [4:47]
02 Major Minor, Sir [4:35]
03 Mouse Trap [6:52]
04 The Pursuit [5:19]
05 After Dinner Tango [2:51]
06 Arkad [7:23]
07 El Pollo Loco Funk [5:34]
08 Unseen Rain [3:54]
09 Summer Cha Cha [3:36]
10 Song For Comfort [7:34]