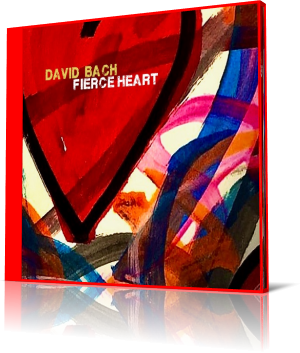 From my recent review of David Bach's collection album Perficiendi I quote the following overview of David's solo albums: Window On The West (1998), 5Thousand Words (2001), A Deep Breath (2005), Live at Baker Park (2008), Otherworld (2013) and Perficiendi (2020). His newest album Fierce Heart is already available on bandcamp, the official release date is July 17, 2020.
The album contains seven originals written by David and three covers. The album involves a large number of musicians, who are listed in detail below in the album information. Fierce Heart puts the listener in the right mood for David Bach's new album, with slow tempo he wins the hearts of the fans. The piece has the impression of the soundtrack of a film with historical references.
Gymnopedie is the name for a nude dance or festival in ancient Greek. French composer and pianist Erik Satie has written three compositions of this theme. David Bach has chosen Gymnopedie No. 1, but makes out of more tranquil piece a vivid lively cover featuring Brian Falkowski on flute given the tune a Latin touch to the end.
On Strike the Note saxophonist Al Williams reflects about a revolving theme, while David expands his flourishing fantasies on the piano. Serenade is a piece of music sung or played in the open air, typically by a man at night under the window of his beloved. While David excels on piano, the languishing is internalized by numerous musicians like singer Michele Bowman and Carla Chisholm and David Marq on tenor saxophone.
Mood Swing spreads a rare mixture of synthesizer bliss and world music. The song Roxanne was written by Sting and was released in 1978 as a single from their debut album Outlandos d'Amour. In David Bach's version, the originally wild song is tamed and becomes a soft pearly melody.

Mandalay is the second largest city (after Yangon), and a former capital of Myanmar. The city's eye-catchers are the sacred Mandalay Hill and the Grand Royal Palace. The city also offers some very prestigious pagodas known beyond its borders. However, David refuses a romantic acoustic representation but chooses a rock symbolism.
Most people will remember the hit of the group Queens We Are The Champions in vivid memory. David transforms the piece into a chamber music-like jazz presentation. The title Trickle Up aptly describes the dynamic increase of tension in David's next piece featuring trumpet player Rob Zinn and saxophonist David Marq. Taylor closes David Bach's album with a swinging melody whose tenderness is enhanced by Al Williams' flute.
David Bach is certainly less interested in the positioning in the urban smooth jazz market with his album Fierce Heart instead he takes a different, more lyrical approach to instrumental music.





Buy the album in all stores

Album Information

Title: Fierce Heart
Artist: David Bach
Year: 2020
Genre: Smooth Jazz
Label: Integrity Music

Tracks:

1. Fierce Heart - 5:05 - david bach
2. Gymnopedie - 3:49 - Satie
3. Strike the Note - 4:48 - david bach
4. Serenade - 4:18 - david bach
5. Mood Swing - 4:45 - david bach
6. Roxanne - 3.32 - Sting
7. Mandalay - 4:33 - david bach
8. We are the Champions - 4:53 - Freddie Mercury
9. Trickle Up - 4:34 - david bach
10.Taylor - 3:43 - david bach

Players:

David Bach - all keys, including synthesizers, Yamaha Grand, Rhodes Piano, Hammond Organ, finger snaps, claps, voice
Al Williams - sax 3 flute 5, 10
Rob Zinn - trumpet 1, 6, 9
Lorenzo Sands - bass guitar 1, 3, 6, 8
Mark Prince - drums 1, 2, 3, 4, 5, 6, 7, 8, 9,10
David Marq - soprano sax 2 tenor sax 1, 4, 5, 7, 8, 9
Brian Falkowski - flute 2 bass clarinet 7
Jimmy Charlsen - bass guitar 2, 4, 5, 7
Leonard Stevens - guitar 1, 3, 5, 7, 8 nylon guitar 6
Jeff Reed - Upright bass 9, 10
Ekendra Das - percussion 1, 2, 3, 4, 5, 6, 8, 9, 10 congos - 1, 2, 5, 6, 8 tablas 6
Edgar Montalvo - percussion 2, 3, 5, 6, 7congos - 7 udu - 4
Jenny Langer - voice 1, 5
Michele Bowman - voice 1, 4
Karla Chisholm - voice 4

Further review: