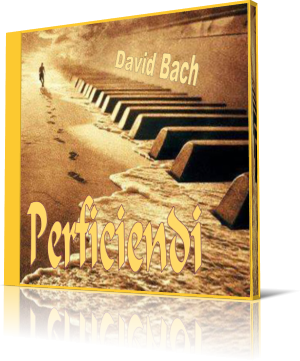 Keyboardist David Bach will not be known to most readers. With his official biography, which is peppered with many references to awards and recognitions like 2016 Maryland Music Awards Best Jazz Artist, Maryland State Art Performance Award and a Maryland State Art Composition Award he does not make it easier to come across his real career.
However, I like him already by the fact that he worked with Crystal Waters, the Basement Boys, Exodus Quartet, Thievery Corporation, Everything but the Girl, Fishbelly Black and Enrique Eglesias. This musician therefore disposes of a healthy mixture of intuition for the elitist and financial stability. The one does not always exclude the other.
More about his releases is to find in his discography. Window On The West (1998), 5Thousand Words (2001), A Deep Breath (2005), Live at Baker Park (2008), Otherworld (2013) are listed as his solo records. His newest project Perficiendi (2020) is just released on Polyphemus Records.
To understand the title of the album Perficiendi, it already requires a certain amount of education. Translated from Latin, it roughly means "the ones to be completed". The album is overloaded with fourteen tracks, with a total length of almost 1:07:40. The David Bach connoisseur soon realizes that this album is a compilation of his earlier works. At this point I make an exception to my usual practice of introducing the musicians of each track.
The album opens with Chill, the first single of this collection, which came out on May 22, 2020. This track was originally released on David's album 5Thousand Words. When a critic compares the music on his album with releases on the Windham Hill and GRP labels, it quickly becomes evident that we listen to pure full-bodied smooth jazz from these earlier years.
Sweet Spot is taken from the album Otherworld. Saxophonist Jeff Antoniuk ensures with his jazzy improvisations that the piece has earned a secure place in the field of contemporary jazz. Maybe One Day is an insightful tune from the album A Deep Breath (2005).
All In (Other World) conveys parallels to groups like The Rippingtons with their powerful horn inserts. Sky Blue (A Deep Breath) follows the narrative approach, which creates an overall painting through the implementation of various instruments. Desert Eyes from the same album spreads cheerfulness with relaxed playing.

With Or Without You was originally recorded by the Irish band U2 for their album The Joshua Tree (1987). David Bach captures the wonderful colorfulness of the original melody and presents it like a rainbow of numerous notes. Across The Miles (A Deep Breath) revels in the atmospheric. While Rite or Wrong (Other World) bring the rock-like into play.
The title Invention 13 in A-minor sounds like a classic Sebastian Bach tune, and indeed Dirk merges elements of pop and classic music. As Night Falls (5Thousand Words) has cinematic characteristics. Night Moves from the same album builds up story-telling moments of tension.
Final tunes of this collection are Morning After and the Santana cover Oye Como Va taken from his album Live at Baker Park.
David Bach's compilation album Perficiendi provides a good overview and introduction to his life's work so far. His brand-new album Fierce Heart which has just been released on bandcamp, did not make it into this compilation though. In the end, however, this would have blown up the size of the compilation or made a double album necessary.




Biography

Website


Buy the album in all stores

Album Information

Title: Perficiendi
Artist: Dirk Bach
Year: 2020
Genre: Smooth Jazz
Label: Polyphemus Records


Tracks:

1) Chill (5:17)
2) Sweet Spot (4:38)
3) Maybe One Day (4:23)
4) All In (5:05)
5) Sky Blue (5:19)
6) Desert Eyes (3:02)
7) With Or Without You (4:36)
8) Across The Miles (2:25)
9) Rite or Wrong (4:28)
10) Invention 13 in A-minor (3:51)
11) As Night Falls (2:18)
12) Night Moves (5:11)
13) Morning After (Live) (7:21)
14) Oye Como Va (Live) (9:40)