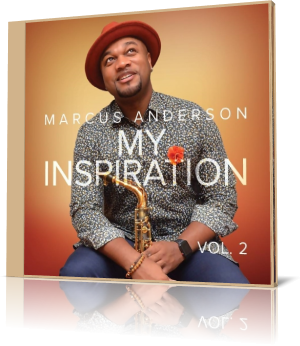 Marcus Anderson's peak musical collaboration was certainly his time with the legend Prince. Even today, Marcus presents on many of his performances preciosities from his repertoire. In the meantime he has already released eleven studio albums, which have settled in the area of gospel and smooth jazz.
Marcus has like Kirk Whalum a gospel side. My Inspiration Vol. 1 was released in 2016. Now Marcus returns with the second edition aptly titled My Inspiration Vol. 2 (2019). Marcus' aim is to make gospel music even more popular by incorporating elements of jazz, soul, pop and urban adult contemporary.
In addition to saxophonist Marcus, the following musicians are involved in this worship project Demetrice Everette, AJ Gamble (drums), Antwon Timmons, AJ Brown (bass), Jordan Love, Damell Taylor, Nemo Miller (guitar), Ashley Mimieweather, Josh Cisell, Tamala Hairston, Marcus Cole, Diamond Smith, Cheylaine Perkins (vocals), Lio Saiz (trumpet), Jonathan Butler (acoustic guitar and vocals), Chris Adams, Bertron Curtis (organ), Derrick Adams (Rhodes), Nicholas Cole, Aarik Duncan (keyboards). Marcus performs alto, tenor, baritone sax and flute, Nile Hargrove keys, organ, guitar and programming.
Marcus introduces into his new project with Let The Praise Begin. This song was originally composed by famous gospel singer Fred Hammond for his album Pages of Life: Chapters 1 and 2. The album is a collaboration with vocalists and musicians of the group Radical For Christ. Marcus' version sounds bombastic, as if Prince himself had been involved in the recording.
Jon Owens created Bless The Lord for his album ARIZE LIVE (2006). Marcus transfers this powerful worship song into a Latin enhanced style always faithful to the religious context and nucleus of the song. The smooth Psalm 42 is melting the loveliness of Ashley Mimieweather's vocals with the uniqueness of Marcus' horn arrangement. I Surrender All is a Christian hymn, with words by Judson W. Van DeVenter and music by Winfield S. Weeden. Jonathan Butler makes the song in in his typical way to a South African festival of religious devotion.
Addictive Love was released by the gospel duo BeBe & CeCe Winans from their album Different Lifestyles (1991). Memories of R&B ballads from the 90s are inevitable due to the authentic instrumentation. He Lives was written by North Carolina's Aarik Duncan who also plays keyboards. Under the influence of Fred Hammond, Gungor, Marcus Cole, LeCrae his vocals shape the ultimate worship.
Your Will by Marcus Anderson features the duo Josh Cisell and Tamala Hairston, two blessed vocal interprets under God's sun. Clean Heart is the second song on this album by Fred Hammond created during his period with Radical For Christ for his album Purpose by Design (2000). Marcus' excellent rendition surpasses the original with a fuller rounded and richer instrumentalized sound. Tasha Cobbs Leonard was the original singer and composer of For Your Glory (2013). On Marcus' interpretation are singing Diamond Smith, Cheylaine Perkins and Josh Cisell accompanying Marcus exceptional performance.
Open the Eyes of My Heart features lead vocalist Marcus Cole in a divine duet with saxophonist Marcus Cole revealing an abundance of musical talent and artistic exceptionality. This is My Prayer is written and sung by Marcel Anderson on his album Road To Recovery (2018). Marcus plays the flute adding some lightness to the harmony.
Marcus Anderson's My Inspiration Vol. 2 is an awesome collection full of glowing enthusiasm and ardent passion.





Buy the album in all stores

Album Information

Title: My Inspiration Vol. 2
Artist: Marcus Anderson
Year: 2019
Genre: Smooth Jazz
Label: Anderson Music

Tracks:

1) Let The Praise Begin (3:58)
2) Bless The Lord (4:48)
3) Psalm 42 (2:28)
4) I Surrender All (5:58)
5) Addictive Love (5:23)
6) He Lives (3:46)
7) Your Will (5:51)
8) Clean Heart (6:28)
9) For Your Glory (5:12)
10) Open the Eyes of My Heart (5:16)
11) This is My Prayer (4:52)




Further reviews: