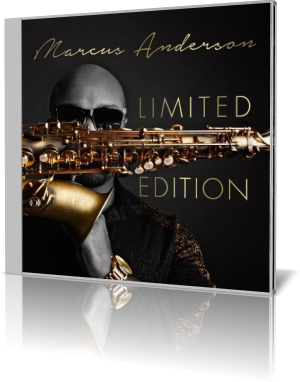 What has Marcus Anderson in common with Candy Dulfer and Maceo Parker? He was like the previous mentioned artists one of late Prince's saxophonists. His fully packed tour schedule confirms his enduring popularity.
On his new album Limited Edition (2017) he teams up with some of the best talents in smooth jazz such as pianists and keyboardists Brian Culbertson and Nicholas Cole, bass guitarist Ashley A Luv Doe, and guitarists Adam Hawley and Darnell Showcase Taylor.
The album kicks off with the powered-up title song enhanced by producer Steven J. Collins with energizing auto-tuned vocals. Backseat Drivers continues the hype with vital energy and a big dose of overdubbed sax featuring guitarist Adam Hawley.
Dime the lights and listen to Will Power. A soft version of Marcus Anderson in a mesmerizing duet with his chosen bass player. To combine Kalimba sound with an orchestral sax arrangement is the stroke of genius on Can I Come Over.
The impressive musical presence of keyboardist Brian Culbertson is an enrichment for every song. Understanding makes no difference. Marcus offers a fleet of saxophones, while Brian is relying on the magic of his piano playing. The interlude Don't Stray Away mirrors the day of a songwriter's every day life and tied it up skillfully to a melodic vehicle.
Nicholas Cole is one of the new discoveries of smooth jazz. With his modern approach to the keys on Let's Not Wait he really fits to Marcus Anderson. The spherical interlude What If? features singer Tyra Scott. That Feelin' shows more of the new direction, Marcus is operating now. A collaboration with bassist Ashley A Luv Doe with a modern appeal.
The Art of Gold features guitarist Darnell Showcase Taylor, who is soon releasing his debut solo album Turning Point. Both rock with a firm grip condensing the bursting electrical energy in powerful notes. Dandelion meanders between several styles before the song finally reach the reggae zone.
Stalker! presents with evocative vigor Marcus as vocalist. Fans of smooth jazz will look out for Mel-ow Mood. Marcus embraces the genre with this stirring melody. The intro of Give Love will remind insiders of Prince's Time. The song features Anthony Saunders who justifiably tagged himself as singer/songwriter with a limitless imagination.
The motto "Never change a running system" does not count in music. Movement is everywhere. Marcus Anderson's album Limited Edition maps evolutionary music development in a time grid.




Buy the album in all stores

Album Information

Title: Limited Edition
Artist: Marcus Anderson
Year: 2017
Genre: Smooth Jazz
Label: Independent

1 Limited Edition (feat. Steven J. Collins ) 4:30
2 Backseat Drivers (feat. Adam Hawley) 4:18
3 Will Power 3:37
4 Can I Come Over 3:38
5 Understanding (feat. Brian Culbertson) 4:42
6 Don't Stray Away (Interlude) 1:42
7 Let's Not Wait (feat. Nicholas Cole) 5:27
8 What If? (interlude) [feat. Tyra Scott] 1:30
9 That Feelin' (feat. Aluv) 6:26
10 The Art of Gold (feat. Showcase) 3:23
11 Dandelion 5:28
12 Stalker! 4:39
13 Mel-ow Mood 3:33
14 Give Love (feat. Anthony Saunders) 6:41
15 Just Go with It (Bonus Track) 3:10