So the music events, organized by him and his staff, stand out for an exquisite combination of top groups of the music scene. As a connoisseur of Smooth Jazz , I can appreciate the muscians he has invited. I have their albums, made reviews about their music and keep in touch with them by email. But nothing compares to a live show of my favorite musicians. It's rather like a musical paradise. Those who often attend Smooth Jazz concerts in the states can identify with my emotions.
The Wave Music festival took place in the ruins of an old castle in Kaiserswerth nearby Düsseldorf - or as the Americans say Dusseldorf - on Friday 25 August. It was a wonderful atmosphere perfected by serving delicious meals like tomato slices on Italian Mozarella or shrimp salads with lettuce.The sunshiny and warm weather brightened the mood of every visitor. One could sample sun-matured Californian wine, German beer or other drinks, relax and listen to the music. Scott Wilkie confirmed that he had never played in such beautiful sourroundings. He delivered greetings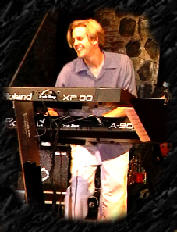 from Joan Lynch, he had met on the Maui-Festival this year and we spoke about this and that. Scott was a little bit under pressure, because he couldn't begin the sound check until very late. But Scott is a professional muscian and so he soon relaxed again and put on a great show.
Scott Wilkie and his group (Matthew von Doran - guitar, Nathan (Nate) Brown, bass, Ken Ross, trumpet and David Derge, drums) were the starter and first highlight of this festival. I have often listened to his albums Boundles and More Than You Know.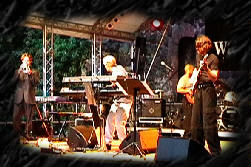 As Todd Ague from Atlanta comments "unlike many top performers, Scott is also very accomplished in the technical arena. A MIDI/digital production virtuoso with extensive background as a Roland Keyboards product specialist, he produces and assists in the mixdown of all his material - recorded over a two year period at his own state-of-the-art facility and other L.A. area studios". But I could realize for the first time how incredibly masterfull his keyboard play is, when he showcased his life performance. His first tune was Sign Of The Times from his album More Than You Know. He tortured his Roland keyboards with his racy and fierce attacks on the keys, playing like a young Ludwig van Beethoven. Follow ups were Sticks and Stones, Sailcat (Boundless), In Comes The Ausgang.
Scott Wilkie took a mobile sythesizer guitar on which he had collected scatting jazz voice samples and played like a demon. His lifeappearance was so spectacular that the televison cameramen were running to the front of the stage to get the right pictures of this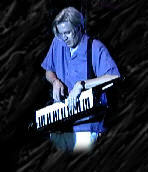 moment and the televisonproducer went on the deep end at the drop of the hat.
Further tunes on Scott's playlist were Caught In The Current, Back From the Beach, Serious Pants, Whale Song and Water Ballons. So he played some pieces which cannot be found on either album. Scott Wilkie is also a master of modest tones as he manifests in his romantic tune Whale Song. The audience mixed by Smooth Jazz experts and newcomers was hollering and whooping.
Anthony Weedon, a CSR-star, was the next highlight of this outstanding event. He presented his wellknown songs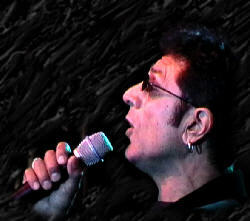 Why Gone, Gunfighter, Real Love, Visions and I do from his album Visons. This was a very important event for Anthony, so he was a little nervous before his appearance reading his cribs to memorize his text. Covering his stage-fright by cracking jokes. But then onstage he delivered a firework of energy and that sent sparks through the audience. With his rough voice reminiscent of Chris Rea, he captivated everyone present..
Well, Michael van Droff himself exhibited his talent as a brilliant singer too. Sorry Michael, I was not nearby the stage at this time, because I was having a lively conversation with Nathan Brown, the bassist of Scott Wilkie's group at this time. Nathan told me that he had already played with a lot greats of the Smooth Jazz scene among others like Bob James (Bob, when will we finally see you in Germany?), Kirk Whalum, Alexander Zonjic and more. Nathan promised me to send his biography for my book of artists, a growing collection of biographies of all artists of the Smooth Jazz community. I told him about my dream to attend the Maui-festival and the Smooth Jazz cruising tour. You have to know that the Maui-festival is promoted by the Rozenbergs and to my surprise he remarked that Mr. Rozenberg is his manager. You can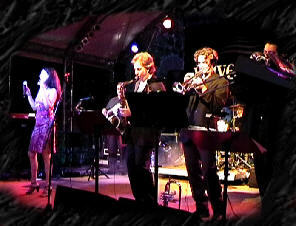 also hear Nathan as a guest-star of the group Hemisphere as I know by Max Zape, the keyboardist of this group. Nathan is working on a solo-project too.
Gabriela Anders & Latin Band enthralled the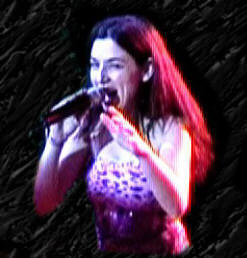 audience with fascinating Latin Jazz. Gabriela Anders 's first album is called Wanting. Her music is a mixture of Vocal Jazz in the tradition of Sade or Basia with a lot of Latin influences. Under the art supervision of Hector Martignon, a blessed Columbian keyboardist, who played in a virtuous manner, Gabriela and her Latin Band presented Navfragio and pieces from her album like Wanting, Girl from Ipanema, Fire Of Love and Basileira. Final cut was De Madrugada. Those who are familiar with her music and her biography will know, that Gabriela is not a beginner. Before signing with Warner Brothers Records she had played in Japan, where she released her first album Fantasia (under the name Beleza) on Alpha Music. Gabriela 's perfomance was incredible vivid, she caresses every note of her songs with great gestures. Outstanding were her brass section consisting of Ken Russ (trumpet), Cliff Lyons (sax) and Louis Bonilla (trombone).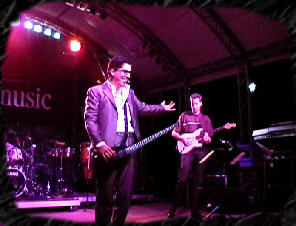 Crowning conclusion of the evening was to late hour the CSR-star Slim Man professionally accompagnied by the California Sunset Band (Ismael Diallo, sax, Lutz Deterra, keyboards, Kai Koschig, guitar, Lars Koßler, bass, Andy Pilger, drums and Renis Mendoza, percussion). One must know that the entry of the event was at 6:00 pm and so by this time we had already been there for 6 hours. Nevertheless Slim Man tickled out the last energy from the exhausted audience. He filled the listeners with enthusiasm with his mesmerizing pieces like There For You, Secret Rendezvous, Weeping Willow, Overdose Of You, Faith In Us and Low Rider. Before his appearance Slim invited me to join his late-night new album party in the Hotel Vier Jahreszeiten (Four seasons). But after his grandiose show at 1:00 am, my wife and I had aching backs and feet and were totally powered out.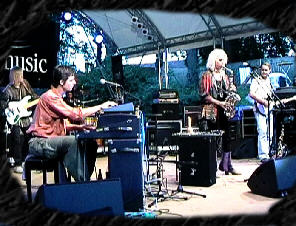 Nevertheless we were attracted by the event at the following day on 26 August. The first group was Yulara, which means "howling of the dingoes". It is also the name of an Australian village near Ayers Rock, full of primordial and spiritual connotations, which is just what Annie Hilsberg and Robert Matt bring out in their music. Member of the appearing group were Annie Hilsberg (sax, flute, shakers), Christian Barder (guitar), Robert Matt (vocals, keyboard), Simon Pauli (bass), Andrew McGuiness (drums) and Minas Suluyan (percussion). They experimented with electronic rhythm tracks, over which Hilsberg improvised on sax and flute, taking samples of sounds that carried spiritual depth to them, and weaving them into the mix. They played Deep Hop, Out Of The Deep, Moon in 44, Horizon, Uno Domini, Rain On Fire, Connecting To Dreamtime, Banemai and finally Namah Shivaya. The music isn't easy to describe and very unique. It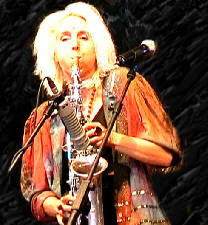 sounds like a mix of world music from Australian aboriginies to Buddhistic monk songs blended with Smooth Jazz elements on a background of African and Hip-Hop rhythm. This rhythm makes the music danceable and accessible.
After their appearance Annie told me that a new album will be coming out soon called Future Tribe. Guest-stars on this new album will be Brian Hughes and Angelique Kidjo. Brian Hughes 's music sounds like a smooth blended Pat Metheny. Angelique Kidjo is well-known through albums such as Ayé or Oremi. She sings African songs from Benin with groovy Hip-Hop and jazzy elements. So we can await an interesting multifaceted album.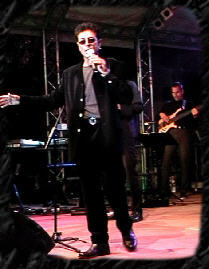 Anthony Weedon was the next performer. His presentation was professional and the audience was fascinated by his rough voice again. Anthony is working on a new album, which will probably have the title "Julie says". Remarkable were besides the above mentioned accompanying CSR-Band also the background-singers Josef Götz and Kathrin Mander. A surprise was his encore Knock On Wood, which he had studied in with the California Sunset Band behind the stage some minutes before.
A short interlude was presented by Michael van Droff, who sang his Nature Boy. Michael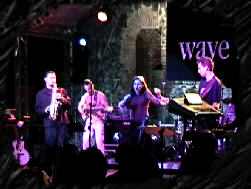 has a perfect intonation and a long breath as Josef Götz also remarked.
To the special pleasure of the audience we had a new appearance of Gabriela Anders, who liked the sourroundings and therefore decided to have a second show this evening. Gabriela presented some of her pieces of the last evening accompagnied by the CSR Band and partially by her maestro Hector Martignon on keyboard, who delivered heavy jazzy solos.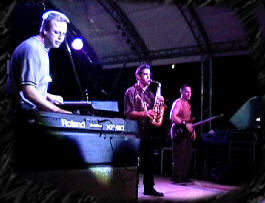 Then the event passed on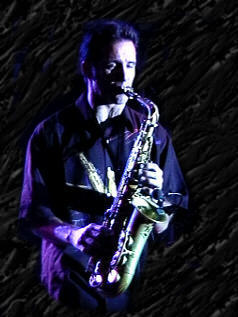 to the final highlight of this festival: Eric Marienthal and his group Rob Mullins (keyboards), Vail Johnson (bass) and Joel Taylor (drums). They played Street Dance, One For James, Mercy, Mercy, Mercy, What's Goin' On, Lets Stay Together, Here In My Heart, Easy Street and for an encore Come Together and Kid's Stuff. Their show was like a revelation. Especially Eric is an expert in including the people as he portrayed on K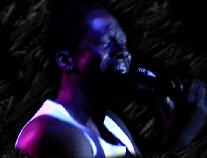 id's Stuff. He understands how to play upbeat tunes at a sizzling speed like Street Dance and to search the sensible tones as in the #1 Smooth Jazz hit Here In My Heart. Rob Mullins, Vail Johnson and Joe Taylor also jammed in racy solos. On What's Goin' On, Let's Stay Together and Come together Art Madison joined the band with his soulful voice. The audience was really impressed by their music. After the event, the band was celebrated by a huge group of fans buying autographed albums. The best way to win new fans: just play like a God. Isn't it easy? What more can I wish for? A new festival next year!
© HBH