The weather God was good to us. Bright shining sunrays flooded through the glass building of the Kurhaus Göggingen in Augsburg. On Friday, September 16, 2011, started the 4th annual Smooth Jazz Festival. We already arrived at the venue in the afternoon to meet Jessy J and Paul Brown for a small talk after the rehearsal in the inner courtyard of the Kurhaus. Peter Hoeld (GrooveFM) conducted the interviews, we hope to present you soon.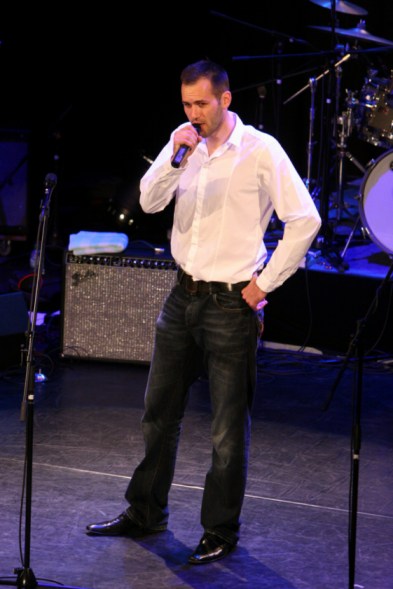 Promoter of this event was Christian Bößner, who lives in Augsburg and organizes since several years Smooth Jazz Festivals in Europe. This year was special, because Christian already promoted the Smooth Jazz In The Cube 2011, a festival in the Austrian mountains May 20-22, 2011 at CUBE Biberwier-Lermoos. The event featured Nils, Brian Culbertson, Jackiem Joyner and Nick Colionne, who thrilled the international audience with their exceptional performances.

Christian shows an admirable staying power and ability to assert the triumphal march of Smooth Jazz in Europe. Against all odds he makes it possible to host a great event with many International stars of the Smooth Jazz scene and this every year.

We remember the time, when Christian started his endeavor with the Smooth Jazz Festival in Bregenz in 2008. He was not discouraged by the poor attendance and promoted the 2nd Annual Smooth Jazz Festival in Munich. The 3rd Festival in Augsburg in 2010 was the economic breakthrough. Since then these events become more and more popular.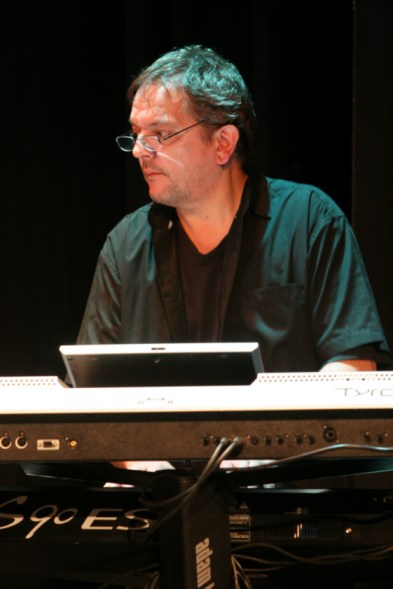 Musical backbone of this festival was a German band consisting of keyboardist Lutz Deterra, bassist Günter Asbeck, drummer Andy Pilger and guitarist Martin Weiss.
In 1999 Deterra became musical director of the California Sunset Records Allstar Band and toured through Europe with Stars of the U.S. jazz scene like Nelson Rangell, Nathan East, Rick Braun, Peter White, Eric Marienthal and Gabriela Anders. He also performed with Dave Grusin, Nathan East, Jennifer Rush, Pete York and Christoph Spendel.
Lutz has his own studio in his little hometown of Hattingen where he produces commercial material and enjoys composing and arranging his own music – as long as his busy schedule allows.
At Friday night the attractive tenor saxophonist Jessy J opened the festival with Remember The Night. This song is inspired by the music of soul singer D'Angelo. Fine urban beat and smooth guitar loops create the right environment for Jessy's sophisticated sax show.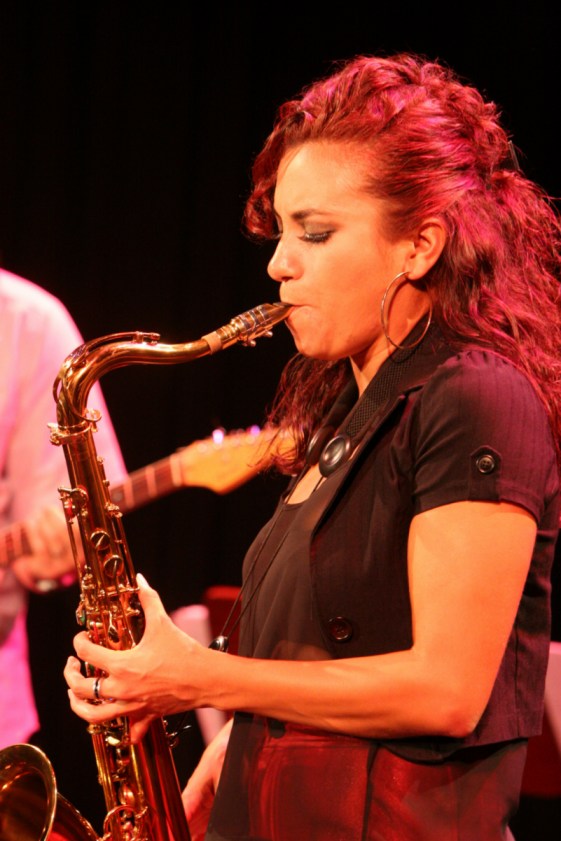 Next tune was Rio Grande, also taken from her new album Hot Sauce (2011). Jessy showcased her Latin heritage integrating Mexican chords into her saxophone interpretation. "I'm really proud to be a Latina role model. It's such a rich culture, and I have an affinity to music from both sides of the border."
Morning Of The Carnival from Black Orpheus is a famous theme of the movie Black Orpheus (1959) by French director Marcel Camus. The score was composed by Antonio Carlos Jobim and became a huge success. This cover is from her album True Love (2009). On the show Jessy revealed her fresh and unspent vocals in combination with her sax skills.
The muddy atmosphere of Tropical Rain was well produced onstage. While the band grooved in the Samba rhythm Jessy gave her sax a mellow blow.
Mas Que Nada is a very popular song in Germany due to numerous covers in German TV shows. Mas Que Nada was originally written and performed by Jorge Ben in 1963, and later widely known by a cover of Sérgio Mendes. Jessy J's rendition fascinates with a warm young voice full of tenderness.
On Sin ti Lutz Deterra intertwined with Jessy J to a dreamy sax/keyboards duet. A first highlight of the festival was without any doubt the title song of Jessy's new album Hot Sauce. Visitors of the previous Smooth Jazz Festival will certainly remember Steve Oliver's Chips and Salsa. Jessy served Latin flavors in the same jazzy way.
With the title song of her debut album Tequila Moon Jessy spell bounded anew the audience. Baila is the Portuguese invitation to dance and that was the character of the following song indeed. The audience was already dancing and swaying. In the last part of her performance Jessy was also accompanied by Swedish keyboardist Jonathan Fritzén and guitarist and mentor Paul Brown.
Jessy finished her show with Conga, Gloria Estefan's megahit from the album Primitive Love (1985), topped by the encore, Tito Puente's Oye commo va, a popular song since Carlos Santana's driving, cranked-up version.
Headliner of the evening was legendary guitarist Paul Brown. He centered the stage with his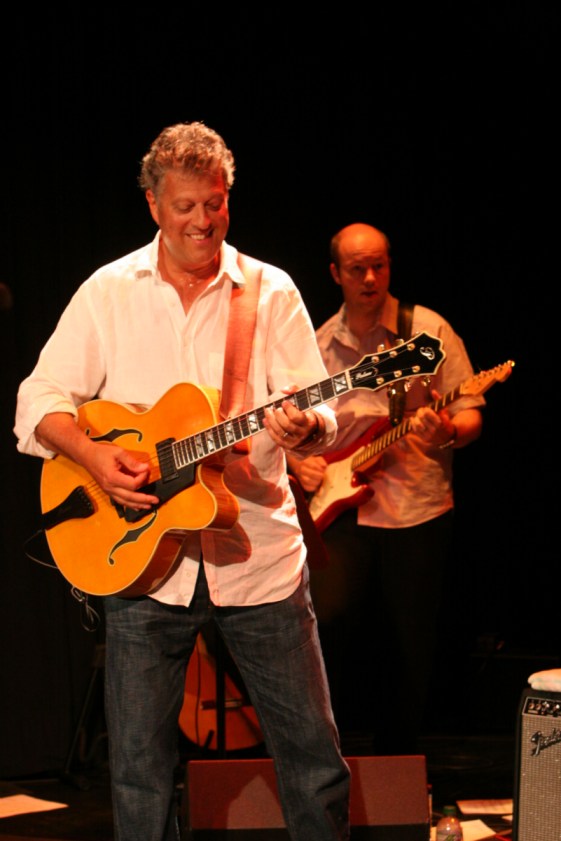 beloved Gibson L-5 guitar. He started his show with some tributes to famous musicians. His first tune was Grover Washington's Winelight. This song transcends Grover's phenomenal talent for improvisation and melody. Winelight (1980) was the album, which catapulted Grover into a status of a megastar shining over the whole contemporary jazz scene.
Next in row was the tune Brother Earl from Paul's collaboration with Marc Antoine Foreign Exchange (2009). The song is an homage to recently departed legendary session drummer Earl Palmer. The straight melody was enriched with sophisticated insert keys. Martin Weiss on acoustic guitar took over Marc's guitar part shining the show with great respect.
The City from the same-titled album (2005) showcased Paul Brown's vocal prowess. The relaxed Ol Schoolin from his album White Sands (2007) cooked the stage.
The ballade Love You Found Me, title song of latest release, shows anew his prominent role as singer. It was really easy for Paul Brown to wrote this song. He is married with the wonderful beauty Jacqui Brown.
On the bluesy Sugar Fish Jessy J shared the stage with Paul Brown. A relaxed finger snapping melody with a hooking aura Paul has co-written with Jeff Carruthers. Did I mention that the whole audience was snapping?
A further pleasure was his interpretation of Van Morrison's song Moondance continuing the jazzy snapping mood. On the final songs Cosmic Monkey and 24/7 keyboardist Jonathan Fritzén and Italian sax player Rocco Ventrella joined the party. The audience expressed their thanks with a thunderous ovation.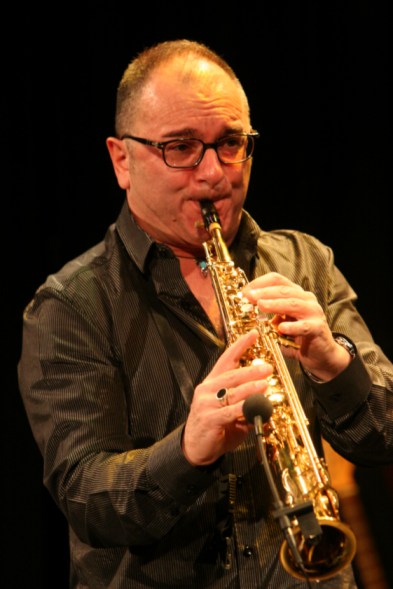 Bari, Italy born sax player Rocco Ventrella opened the Saturday event. From 1983 until 2005 Ventrella played in the Big Band "J.S.O." of Bari where he appeared with an impressive list of artists. His first solo project was Tribute To Grover Washington, Jr. (2005). With Give Me The Groove (2006) he offered his second seductive album. From this album he presented the cover Soulful Strut, a very popular song and often interpreted by Grover Washington Jr., George Benson, Kim Waters or Nick Colionne.

Italian Pop singer Pino Daniele had recorded Alleria for his album Nero a Metŕ (1980). Rocco Ventrella arranged this song new for his album with intro, bridges and some awesome variations.

Rocco continued with the song Il Bacio della Farfalla (Butterfly Kiss). Probably a song of his upcoming third album.

On his final tune Let It Flow, a rendition taken from Grover Washington's album Winelight, he was supported by Paul Brown on guitar. The modest and simpatico musician Rocco Ventrella is a real enrichment for every festival.
Second player of this evening was Stockholm-born multi-instrumentalist and composer Jonathan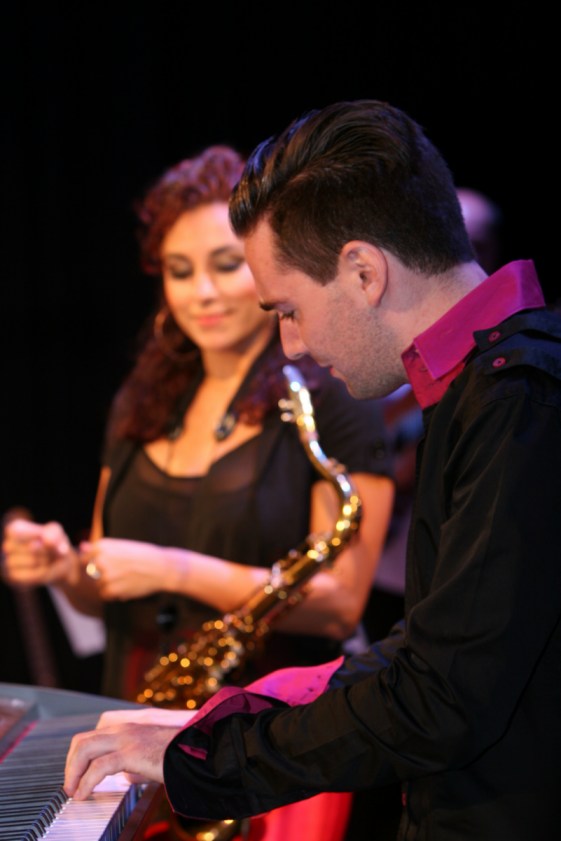 Fritzén. He started his career in an age of only 25 years with the album Love Birds (2008). He soon followed with further releases like VIP (2009) and Diamonds (2010). To give you a compass, Jonathan's music is comparable with artists like Alex Bugnon, Nate Harasim or the early Rick Kelly (Soul Ballet). His piano touch is of a graceful ease and elegance. His signature gesture is his right-hand 'roll' he does on piano and keyboards.

His starter was the title song from his newest album Diamonds. A must for all radio-djs of the smooth jazz genre. With Undercover he picked up speed into the funky sea.

Midnight Secrets was very sexy, especially the intro with its layers of keyboard textures and then an insistent bass-driven groove with that lovely piano sound floating over the top. Next in line was a slow Blues song.

Jonathan served the melody of VIP with ease and conjured an uplifting summer mood. Also superb his duet with the guitarist.

On Fly Away Jessy J shared stage with Jonathan. Both performed on this festival for the first time together and it was ideal, that is was exactly this tune, Jessy had previously recorded with Jonathan for his album by sending her part via internet. Both created an atmosphere of timeless magnificence.

His next song Friday Night is a brand-new single, Jonathan has recorded for Woodward Avenue Records and probably part of his upcoming album. Jonathan took his Micro X, a compact and portable music Korg synthesizer walking into the audience to their great pleasure.

Final piece of his show was Dance With Me, Jonathan's invitation to a dreamy dance and swing. The whole crowd didn't need a second invitation.
Gerald Albright as headliner of the Saturday Night event was Christian Bößner 's real stroke of genius. Gerald is a frequent performer on many festivals like the Santa Clarita Jazz Festival, the Selby Ave JazzFest, the Rehoboth Beach Jazz Festival, the Low Country Jazz Festival and many more. His brilliant presence and dynamics is enthralling, stirring and appealing. Gerald knows to entertain and understands that heart and soul of the event is its audience.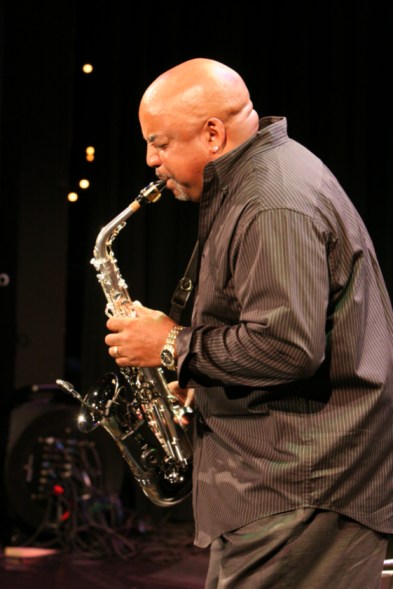 Gerald has a legendary signature sound, which contrasts him favorably from any other contemporary musician. He is Mr. Groove of R&B, contemporary and straight-ahead jazz. Since the '80s Albright is a highly requested session musician and his busy tour schedule speaks for his unbroken popularity.

His recent albums are Groovology (2002), Kickin' It Up (2004), New Beginnings (2008), Sax for Stax (2009). His newest album Pushing The Envelope was released in 2010 on Heads Up International.
Gerald started his gig with To The Max from his album Kickin' It Up. Very funky and completely inspiring. Then he went back in time with Bermuda Nights from the same-titled album (1990). His saxy tone with the crystal clear Yamaha Synth sound is just divine.
Ear Tune is more dream stuff. You get goose bumps every time he hits those high notes. So Amazing was Gerald's very first hit from his album Just Between Us (1987), the time he paired with Luther Vandross.
Babyface Edmonds wrote the hit My My My for Johnny Gill. Since his album Dream Come True (1990) this song is part of Gerald's repertoire. Live At Birdland West (1991) is one of Gerald's rare straight-ahead jazz albums. From this album he presented John Coltrane's Impressions revealing his chops as jazz musician.
Burt Bacharach and Hal David wrote the song Close To You, which became popular by The Carpenters. Gerald featured his own interpretation from his latest album Pushing The Envelope. Gerald finished the show with the two classics Georgia On My Mind and Grover Washington's Winelight, which he recorded for Jason Miles' tribute album To Grover With Love.
Gerald Albright is one of the smooth jazz genre's most accomplished artists. When he tiptoes to the highest tones, that is pure show. At the end of his event Jessy J, Rocco Ventrella and Paul Brown joined the stage for a final highlight.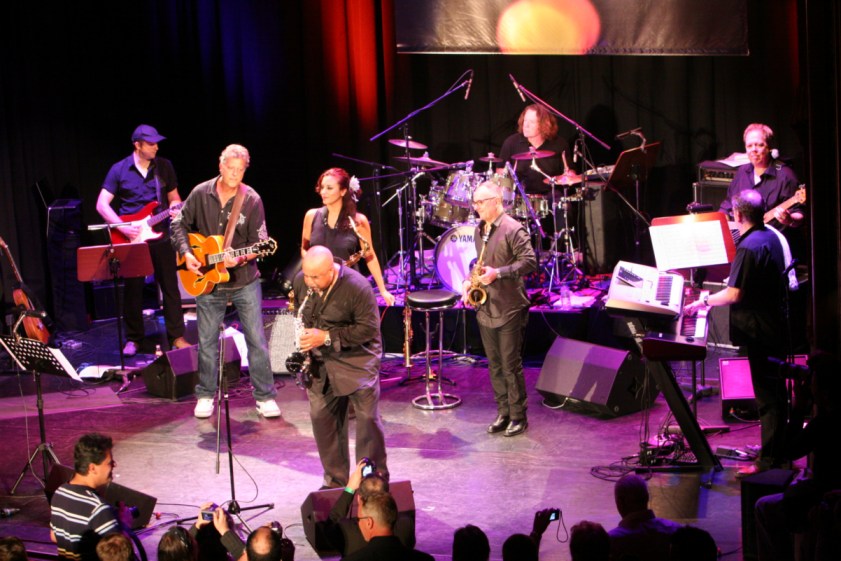 After this event DJ Ralph "Jazzcrusader" Schulz created like on Friday night a perfect after show party with Soul, RnB, Funk, Smooth Jazz, Nu-Jazz, Fusion, Wave & Lounge Music for those, who couldn't part from the festival.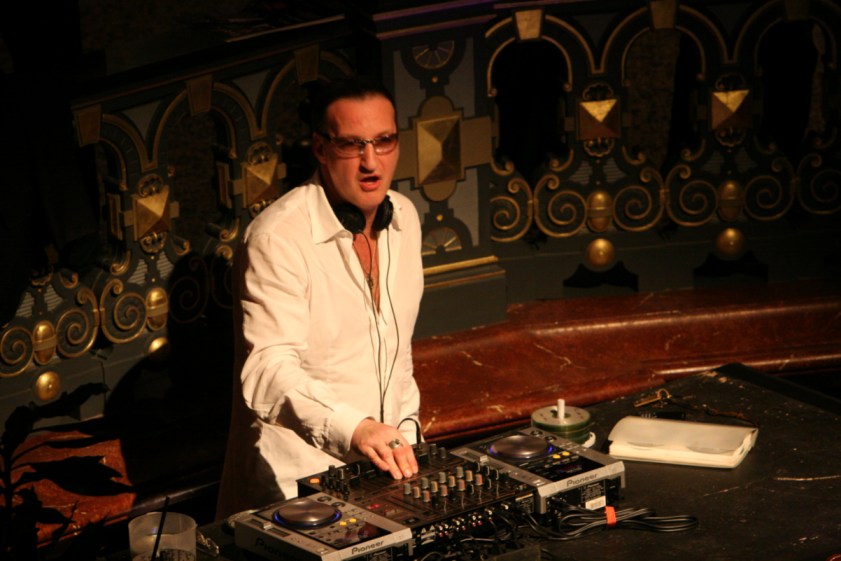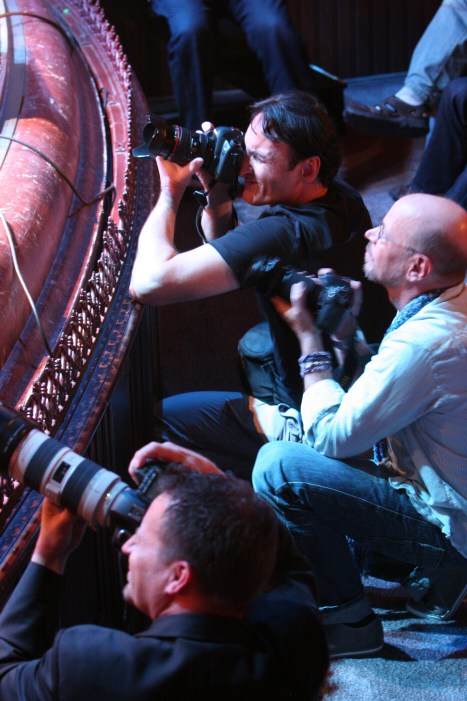 We should also mention the audience especially the numerous photographs buzzing around during the whole event. Many of their photos are already to see at Facebook, Flickr and elsewhere. Christian, Dirk and Markus, you know who you are.
The festival reached its comfortable finale on Sunday with the Martin Ehlers Trio featuring trumpet player Ingolf Burkhardt. The trio are Martin Ehlers, piano, Thomas Biller, bass, Derek Scherzer, drums. The pianist reflects with his trio cuts from a number of private life, love, death. The result is lyrical, melodic, supported by elegant attack. The peace of mind is imbued in their tunes, sometimes in contrast.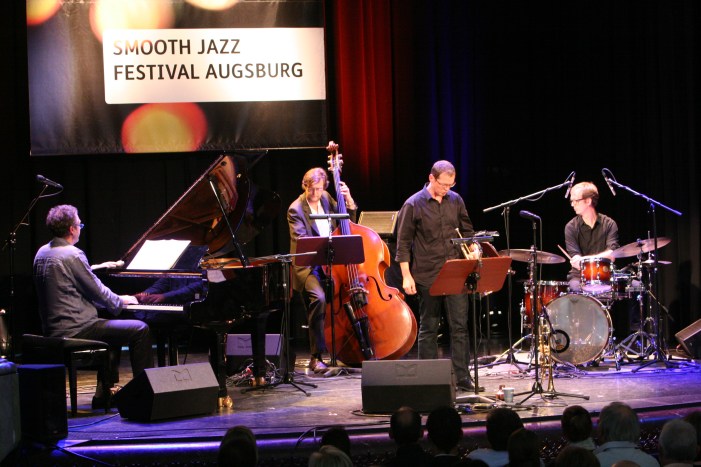 A great thank you to Christian Bößner for his great efforts to make the Smooth Jazz Festival 2011 a full success. Mark your calendar for the Smooth Jazz Festival 2012 on Sept 14-16, 2012 in the same venue.