Sambada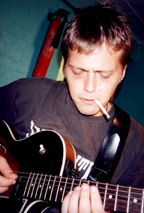 The second offering on Chris Bangs' newly formed Thin Air
Productions (TAPR) label comes from Sambada, aka guitarist
Nigel Wallace-Price, who has previously featured on Big Cheese
and Beechwood releases and has also worked with Mr Bangs on
material by the Quiet Boys, Yada Yada, Mr Electric Triangle and
The 13th Sign.

Wallace-Price excels on this well polished long-player, one
moreover that fuses cool laid back jazz grooves and Latin rhythms
with straight ahead dancefloor beats to very good effect. After the
opening "Rush Hour" that features some quality saxes from Hugo
Harido, the equally pleasing "Street Walk" sets in and again
includes Harido's soulful sax but this time it is the guitar rhythms
from Wallace-Price (very much in the same mould of Pat
Metheny) that standout.

Other highlights include the excellent "Livewire"; the hammond led
beauty that is called "City Nights" and the truly sumptuous closing
cut entitled "Story Teller" which for me summed up the whole
Sambada vibe.

© Benjamin Mynott
REVIEW - BLUES AND SOUL MAGAZINE
Update:
Sambada's second album is called Flame and available since October 2001.
Reviews about this album are to find here: