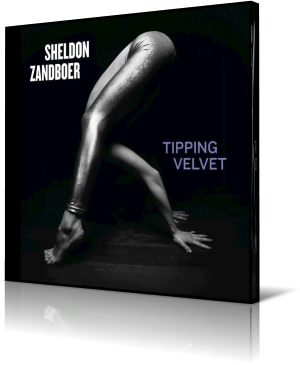 A native of Edmonton, Alberta, Canada, a student at the University of Calgary and at the Humber College of the Applied Arts in Toronto Sheldon Zandboer came to be a respected music director, staff arranger and keyboardist at numerous musicals and shows.

He was member of the bands the Soul Providers and YoMoZo. In 1999 he became jazz piano/arranging/ensemble instructor on the faculty of jazz at Mount Royal University. He also worked as audio designer for some famous clients. He is currently working as a vocal coach/music director at Central Memorial High School of Arts.
Tipping Velvet (2018) is Sheldon's first solo project. The album was recorded live off the floor at OCL Studios, Calgary, AB. Keyboardist Sheldon Zandboer is joined by George Koller on acoustic bass, Bob Tildesley on trumpet/flugelhorn, Andy Ericson on drums and singer Johanna Sillanpaa featured on I Will Wait. Sheldon has composed all tunes.
Bequia Rain is inspired by the Caribbean island characterized by originality and lush vegetation. Everyone makes his own ideas in the interplay of flugelhorn and piano. Barcelonely is an artificial word made up of Barcelona and lonely. Sheldon performs the piano with spatial grandeur creating an atmosphere of solitude in the big Catalan city.
Snakes and Liars hisses into the region of bebop. Straight ahead jazz exploring different and highly divergent sonic paths. Bob Tildesley walks the Miles Davis street on muted trumpet. George Koller on acoustic bass shines with an eclectic approach to the free jazz style.
Kat's Soul captures the idea of a human being explored in a harmonically adventurous jazzy way. Fran is a sensitive dialogue between Sheldon's piano and Koller's acoustic bass, dreamily lost and melodiously sustained.
On Cat and Moose Sheldon embraces his jazz heritage with open-mindedness for the input of his fellow musicians. Tear in a Smile choses the melodic way again in chromatic variations and dynamical acceleration. I Will Wait features Swedish-born vocalist Johanna Sillanpaa in a longing role.
With the uptempo Tossa de Mar Sheldon brings back memories of his childhood, when he travelled to the Costa Brava. If the piece makes a hasty impression, it is due to the lack of certain notes in memory of a bike with a missing sprocket that Sheldon was driving at the time.
Rue de Saule is a street in Montmatre, Paris. Sheldon captures the French flair humming along Bob's trumpet. On Tipping the Velvet Sheldon expands on solo piano in a lyrical flow and fills in all with a harmonic depth and character, that makes his journey to the ultimate reverie.
Sheldon Zandboer charges the jazz genre with new energy. Tipping Velvet is multi-layered and also gives harmony a chance.




Buy the album in all stores

Album Information

Title: Tipping Velvet
Artist: Sheldon Zandboer
Year: 2018
Genre: Smooth Jazz
Label: Chronograph Records

1 Bequia Rain 1:24
2 Barcelonely 6:36
3 Snakes and Liars 4:54
4 Kat's Soul 7:04
5 Fran 4:18
6 Cat and Moose 5:00
7 Tear in a Smile 5:03
8 I Will Wait (feat. Johanna Sillanpaa) 5:29
9 Tossa de Mar 4:36
10 Rue de Saule 5:24
11 Tipping the Velvet 9:37