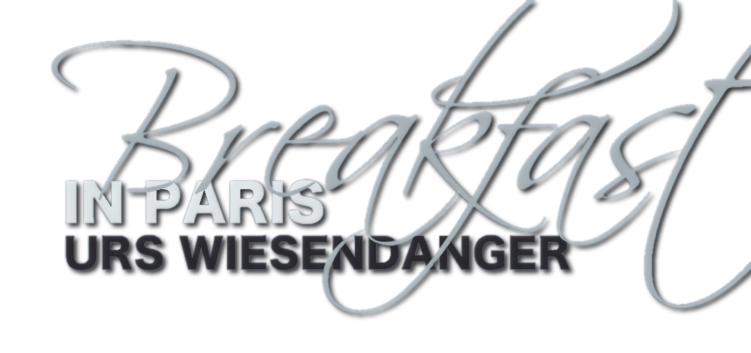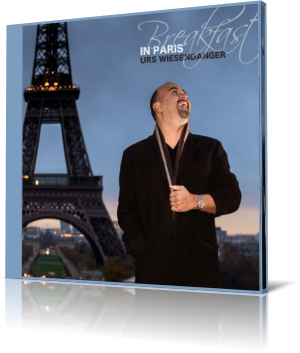 Urs Wiesendanger developed in young years his passion for drums. At the age of 12, he toured with the DRS Big Band of Swiss national television and was soon regarded as one of the greatest young Swiss talents in the music scene.
Since then, Urs has worked for renowned Swiss artists such as DJ Bobo, Nubya or Carmen Fenk. Urs is considered one of the most gifted arrangers and producers in Europe and does not need to shy away from comparison with the US industry. He has worked extensively in Los Angeles with highly gifted musicians such as keyboardist Jeff Lorber, saxophonists Dave Koz and Warren Hill, producer Mickey Petralia, drummer John Robinson, guitarists Chris Camozzi, Michael Landau and Dean Parks, singer Warren Wiebe and many more.
On his new album Breakfast In Paris (2018) Urs performs keyboards, bass, percussion, drum-programming, vocals, grand piano and strings. He is joined on selected tracks by Bruno Amatruda, Dominic Ruegg, Claudio Servino, Michael Thompson (guitars), Thierry Condor, Dhenibe Romea, Sabina Stokes (background vocals), John Robinson, Jay Graydon (drums), Bernhard Schoch (trumpet, trombone), Daniel Küffer, Tom Beek (sax), and Ramon Stagnaro (acoustic guitar).
Don't await the usual kind of smooth jazz, one is used to hear. Breakfast In Paris is a mélange of funk in the spirit of 10cc. The message is less important, more the fun. The soft-melting voice of Dhenibe Romea sweetens Bring Me Back To Life well surrounded by a sophisticated horn arrangement.
The romantic ballad Remembrance features saxophonist Roland Graf who performs under his artist name G-sax in various formations mainly in Switzerland. Dear George is dedicated to late keyboard legend George Duke. The style of the song is based on the funky grooves of the 80s in the flair of Cameo, Johnson Brothers or GAP Band.
The predominantly instrumentally designed Traveling Heart turns out to be a gold piece of smooth jazz. On Love Is All We Have Urs Wiesendanger showcases his qualities as composer and lead singer with a defined expressive voice sensitively supported by the American guitarist Michael Thompson.
Driving To L.A is featuring vocalist Thierry Condor, who already delivered a work of prove of his singing skills on his solo projects Stuff Like That (2013) and So Close (2016) in the section Sunshine Pop or California Pop, which he seamlessly transfers to Urs' album. Carlton Hotel features Naples, Italy born guitarist Claudio Servino who practices an edgier Pacific coast style.
You Can Turn It Around presents a wonderful mellifluous duet with Urs Wiesendanger and Dhenibe Romea as lead vocalists. The great soul singer Frank McComb released the song Deed To My Heart in 2010 on his album A New Beginning. Urs' rendition is harmoniously tuned to the finest and saxophonist Tom Beek rejuvenates the song with an overall mellow tone.

The album closes with a cover of the song Grace originally composed and performed by Christian singer and songwriter Laura Story for her album Great God Who Saves (2008). Orchestral supported by Urs singing miracle Dhenibe Romea unfolds the beauty of the song in all its splendor.

Music genius Urs Wiesendanger's Breakfast In Paris is a multi-faceted album with emphasis on vocal gems who do not have to shy away from comparison with the projects of established vocal stars.




Biography

Website


Buy the album in all stores

Album Information

Title: Breakfast In Paris
Artist: Urs Wiesendanger
Year: 2018
Genre: Smooth Jazz
Label: NiRo Music


Tracks:

1. Breakfast In Paris 4:13
2. Bring Me Back To Life feat. Dhenibe Romea 3:48
3. Remembrance feat. G-Sax 4:30
4. Dear George 3:39
5. Traveling Heart 4:42
6. Love Is All We Have 4:46
7. Driving To L.A. feat. Thierry Condor 4:05
8. Carlton Hotel feat. Claudio Cervino 4:42
9. You Can Turn It Around feat. Dhenibe Romea 4:11
10. Deed To My Heart feat. Tom Beek 4:36
11. Grace feat. Dhenibe Romea 5:16