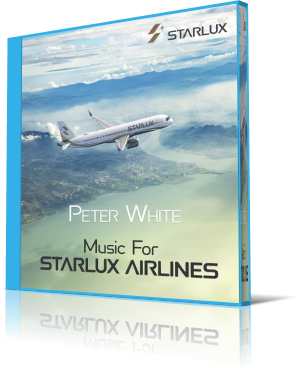 Guitar hero Peter White is the uncrowned king of smooth jazz. He enriches a myriad of events every year and can already look back on a veritable number of solo albums. He is breaking new ground with his new album Music For STARLUX AIRLINES (2019).
STARLUX AIRLINES is a luxury airline based in Taiwan which will start operation in January 2020. Peter was commissioned by this aviation company to produce his own music for the future board program. This album contains six tunes all over seven minutes long for a runtime of 44 minutes.
Peter performs on this album guitar, keyboards, harmonica, accordion, programming, D.C. additional programming, Peter's daughter Charlotte viola on Homeward Bound. Peter has written, produced and mixed all songs.
The album takes off with Flying High, an amazing accessible theme with a steady flow that evokes an insatiable need to explore distant lands and enjoy life to the full.
Island Getaway associates the excursion into the Caribbean Sea with xylophone and guitar sounds accompanied by accordion. Stellar harmonies that remind me of Abba's Fernando. Peaceful sets a calm pole of relaxation. While the keyboard sounds swell and subside like the sea waves, guitar and harmonica lose themselves in dreamy realms.
On Fun in the Sun Peter White gives the accordion a greater role, which bestows the piece with a certain French flair, while the acoustic guitar adds a touch of Spanish. Even if the album is a commissioned work and its purpose suggests a certain limitation of the musical scope, Peter remains true to his style, which is especially expressed on the piece Adventure. Finesse and artistic liberty are the main characteristics of this song, which doubtless belongs to Peter's best.
If you take the emotional component and beauty of the melody as a yardstick, Homeward Bound certainly ends up at the upper limit. When the passengers of the new airline get to hear Peter's marvelous melodies, his album will go from an insider tip to an absolute hit. His fans treasure this album even now.




Buy the album in all stores

Album Information

Title: Music For Starlux Airlines
Artist: Peter White
Year: 2019
Genre: Smooth Jazz
Label: Lobster Inc.

1 Flying High 7:03
2 Island Getaway 7:08
3 Peaceful 7:53
4 Fun in the Sun 7:24
5 Adventure 7:24
6 Homeward Bound (feat. Charlotte White) 7:18