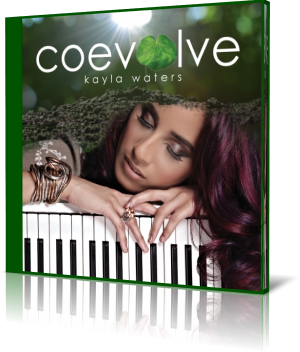 With Apogee pianist and composer Kayla Waters, introduced by her famous dad saxophonist Kim Waters, had her first surprise success. This year we can admire her following album Coevolve.
As on the previous album Kayla was supported by her father. Further artists on the new album are guitarists Freddie Fox and Nick Colionne, bassist Mel Brown, and vocalist Shacara Rogers.
Kayla's perfectly developed sense for fine harmonies finds its expression in the starting tune Zephyr. It's the name of the Greek god of the west winds. The lightness of the wind can be discovered in Kayla's emotional keystrokes.
Those who have associated Black Cove with rum or pirates will achieve with this tune an attractive and elegant alternative. Lil' Mustard Seed has in the small sharpness and taste. This is a true musical equivalent.
With Obsidian Rain we approaches the lovely shores of New Age. Heaven Said So reflects a multitude of Kayla's qualities like outstanding mastery of the instruments, compositional skill and perfect arrangement, but also an enchanting voice, which she uses superiorly.
Eden's Gold allures with a compelling peaceful piano melody embedded in rich keyboard harmonies. Cocoa Earth brings the flute into the forefront with timeless grace accompanied by Kayla's radiant keyboard chords.
Agape is considered to be the love originating from God or Christ for mankind. With Sweet Agape Kayla is hollering this divine relationship. Further treasures of this exquisite album are Signs and Wonders, Kiss Away, Full Bloom and Coevolve.
Kayla Waters arrives with a rich and expensive collection of catchy melodies and harmonies and makes it clear that the future of smooth jazz belongs to the young generation.




Buy the album in all stores

Album Information

Title: Coevolve
Artist: Kayla Waters
Year: 2018
Genre: Smooth Jazz
Label: Trippin N' Rhythm Records

1 Zephyr 4:53
2 Black Cove 4:21
3 Lil' Mustard Seed 5:00
4 Obsidian Rain 4:07
5 Heaven Said So 5:06
6 Eden's Gold 4:46
7 Cocoa Earth 4:29
8 Sweet Agape 6:02
9 Signs and Wonders 3:14
10 Kiss Away 4:55
11 Full Bloom 4:09
12 Coevolve 3:30



Further review