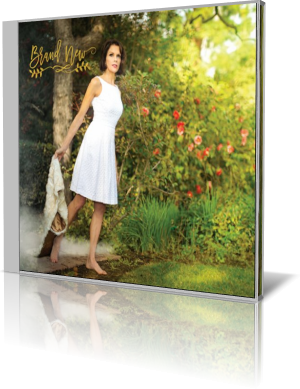 Classically trained singer Anne Walsh reveals the spectrum of her work through her stylistically diverse releases. She started her career with Baby Mine - Lullabies From Around The World (2003), soothing vocals and beautiful orchestral arrangements of classic lullabies, followed by Be Still My Soul (2006), classic hymns in a meditative feel.
Her albums Pretty World (2009) and Go (2011) offer an eclectic soundscape of groove oriented Bossa Nova, standards and "lyricized" versions of classic instrumental jazz pieces. Brazilian jazz music is also the center of her album this year's album Brand New (2016).
The style is themed in the first song Amazon River. The song was composed by Brazilian singer Dorival Tostes "Dori" Caymmi for his album Brasilian Serenata. Anne Walsh has written the lyrics for her own interpretation of the piece. Her intonation is perfect and the orchestral instrumentation superb.
Brand New walks on the path of Antônio Carlos Brasileiro de Almeida Jobim with a swaying Samba rhythm and an orchestral overhead. Here, There and Everywhere is a song written by Paul McCartney, released on the Beatles' 1966 album Revolver. Walsh's recitation comes in a classical attire.
Batuque is the name for a rhythmically syncopated dance which was danced by slaves in Brazil and accompanied by percussion music. Walsh delivers with The Beat (Batuque) her very own energizer. I Say a Little Prayer is a song written by Burt Bacharach and Hal David for Dionne Warwick also covered by Aretha Franklin. Anne hasn't to hide behind these vocal greats, her own voice is impeccable.
On Coisas Do Amor she duets with bassist Ebinho Cardoso, who has originally composed this tune for his album Cerrado (2010). Georges Boulanger composed Avant de mourir, which became popular as My Prayer with lyrics by Jimmy Kennedy. Anne Walsh adapts this song with her own personality.
The Writings On The Wall (Nao Bate O Coracao) is an interpretation of Astrud Gilberto's original from her album Beach Samba (1967). Windmills of Your Mind is a song by French composer Michel Legrand covered by hundreds of artists. Walsh chooses a jazzy approach to this classic composition.
To Sir With Love is a song for the same titled film with Sidney Poitier (1967). Walsh treats the melody like time wouldn't have changed in 40 years. Salta Sea appears on the album Crystal Illusions by Sérgio Mendes & Brasil '66 (1969). Singer of the song was Leni Hall. Walsh brings this little gem back to sunlight. Nature Boy by Eden Ahbez, originally performed by Nat King Cole in 1948, is also a popular jazz standard immaculately rendered by Walsh.
Anne Walsh is generous with the charm of her enchanting voice on her just released album Brand New. The compositional genius she leaves others. However, she blesses us abundantly with her gifted transformations.




Website

Biography

Buy the album in all stores

Album Information

Title: Brand New
Artist: Anne Walsh
Year: 2016
Length: 0:51:17
Genre: General Jazz
Label: Independent


Tracks:
01 Amazon River [5:04]
02 Brand New [4:38]
03 Here There And Everywhere [4:10]
04 The Beat (Batuque) [3:48]
05 I Say A Little Prayer [4:43]
06 Coisas Do Amor [4:35]
07 My Prayer [4:43]
08 The Writings On The Wall (Nao Bate O Coracao) [3:07]
09 Windmills Of Your Mind [5:18]
10 To Sir With Love [4:46]
11 Salt Sea [3:49]
12 Nature Boy [2:36]