Ian Villafana Epiphany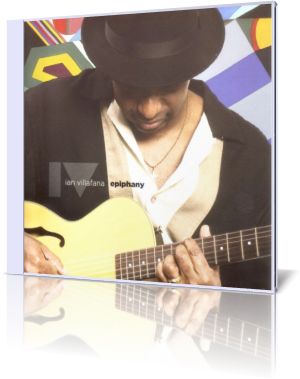 Epiphany is a usually sudden manifestation or perception of the essential nature, an illuminating discovery, realization, or disclosure. A strong title for an album and Villafana's promise.
Trinidad born Villafana grew up in a musical family. As a young man he found surrounded by many talented musicians in the island. In 1981 he moved to Louisiana, where he met his mentor and saxophonist Quintin Gerard W, who is known by his albums Fnkysax (2004) and Perseverance (2006). He inspired Villafana to record his debut album and also produced, engineered and mixed it.
Villafana has composed, arranged and performed all songs. He received great support by Quintin Gerard W (acoustic piano, sax, strings, synth, flute, percussion, drum programming), Larry Allen (bass), Eric Nicholas (electric piano) and Jada B (background vocals).
Villafana introduces into his musical life with the ballade Asil. He has a clear sense for structured melodies, which he impressively performs on his acoustic guitar backed by a wall of strings.
With Klueless he presents a song in the smooth jazz realm due to Quintin's soprano sax interference. Tavion open your ears for Villafana's romantic vein. On Caribbean Lights Villafana's album begins to shine. The hooking melody reminds of Jonathan Butler's early music and steel pans serve the Caribbean flavor.
Villafana's guitar mastery is only surpassed by his musical creativity as composer. The awesome melody of Epiphany gives evidence for that fact. Lovers Come, Lovers Go displays the fusion of R&B and smooth jazz featuring singer Jada B and Villafana on electric acoustic guitar. He treats this guitar like Norman Brown.
The peace and spirit of a special day time is marvelously captured in Sunday Morning Love. This relaxing mood continues on the final Lazy In Love.
Epiphany is your favorite album for the romantic hours. The music for an undisturbed dinner with delicious cuisine and a magnificent view.




Album Information

Title: Epiphany
Artist: Ian Villafana
Year: 2010
Length: 0:29:41
Genre: General Jazz

Tracks:

01 Asil [3:29]
02 Klueless [3:22]
03 Tavion [3:45]
04 Caribbean Lights [3:50]
05 Epiphany [4:03]
06 Lovers Come, Lovers Go [4:02]
07 Sunday Morning Love [4:12]
08 Lazy In Love [2:58]