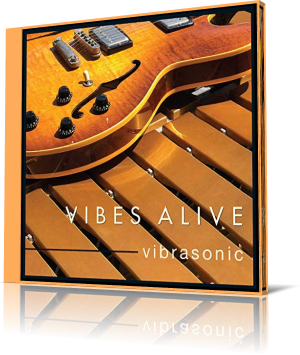 Vibes Alive is a collaboration of vibist Dirk Richter and guitarist Randall Crissman. The name of the duo is taken from the title of their debut album Vibes Alive (1997). In 2008 followed their second album After Hours. Vibrasonic (2020) is their third project.
With the new album the duo celebrates a reunion with the well-known musicians Jeff Lorber (Rhodes, Minimoog, synthesizers, piano), Jimmy Johnson (bass), Luis Conte (percussion), and Vinnie Colaiuta (drums).
The album opens with Sweet Vibes, a homogeneous and dynamic musical event, which shows Jeff Lorber, Dirk Richter and Randall Crissman in an inimitable vibrant unity.
The title song is a composite word made up of vibraphone and sonic. Randal Crissman works as a film composer and his passion for dreamlike film melodies is transparent in this piece.

Windchime is a type of percussion instrument constructed from suspended tubes, rods, bells or other objects that are often made of metal or wood. This instrument plays a subordinate role here, since our matadors naturally play their usual instruments.
Earthtones are generally used to describe the earth colors such as pure-neutral colors include black, white, and all grays and near-neutral hues include browns, tan, and darker colors. For the group, they are the equivalent of their music, which in this case develops in a jazzy-fusion-like explosive way. Vinnie Colaiuta delivers a battle on drums with the vibes of Dirk Richter.
Waterfall is a picturesque natural spectacle in which myriads of water drops fall from an elevated level. Like this nature wonder, a cascade of tones pours over the inclined listener in a wonderful harmonic flow.
One associates the most pleasant feelings of familiarity with one's own home, and after a long journey a feeling of happiness overcomes you when you are back in your own four walls. Going Home picks up this emotional moment and gives it not only a melodic but also a jazzy face.
Daydream is the instant when your thoughts drift away and into imaginary realms. This is how this music theme behaves, which touches on many areas and takes up different thoughts.
Usually the Rainy Days are those moments when the mood becomes cloudy. In modern times, they are with the many periods of drought, the phases of recovery. The duo also follows this positive inspiration musically.
Spy imitates the spirit of old James Bond movies with its rapid tempo, choice of instruments and swing style. Jeff Lorber on organ is fully in the zeitgeist of this epoch.
Guitar Noir is inspired by the movie score of the films noir, those films of the classical era usually characterized by a picture composition dominated by strong light-dark contrasts, alienated or embittered protagonists and urban settings.
Contemporary jazz or smooth jazz, in which the vibraphone plays a major role, is rarely encountered. When it is played in such a high quality, as by Vibe Alive, one can justifiably speak of a stroke of luck.




Biography

Website


Buy the album in all stores

Album Information

Title: Vibrasonic
Artist: Vibes Alive
Year: 2020
Genre: Smooth Jazz
Label: Swing Ding Music


Tracks:

1 Sweet Vibes 04:03
2 Vibrasonic 04:03
3 Windchime 04:34
4 Earthtones 04:46
5 Waterfall 04:06
6 Going Home 04:43
7 Daydream 04:21
8 Rainy Day 04:02
9 Spy 05:10
10 Guitar Noir 03:50


Further review:


After Hours