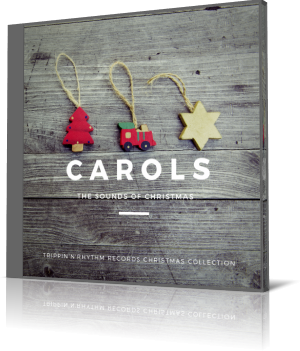 At the beginning of autumn the first copies of the Christmas albums arrive. That's as sure as falling autumn leaves. Some people who are already well equipped with Christmas albums ask themselves about the sense of buying another album. This can only be answered by saying that you should listen to the album first.
On Carols - The Sounds Of Christmas (2019) the label Trippin' N' Rhythm has inspired their best musicians to reinterpret well-known Christmas tunes. With Michael Broening, Nick Colionne, Nicholas Cole, Julian Vaughn, Kayla Waters, Skinny Hightower, Chieli Minucci as the main interpreters, the label has again succeeded in making a successful selection.
This label has already released The Very Best of Christmas in 2009 with other well-known artists of the smooth jazz scene. From the song material hardly overlaps another alternative for the collector.
The new album starts with Santa Claus Is Coming To Town written by John Frederick Coots and Haven Gillespie in 1934. The ultra-popular, thousand fold covered song presents in this version the good natured guitarist Nick Colionne. Oh Come All Ye Faithful is a historic Christmas carol whose origin is not certain. The blessed pianist Skinny Hightower delivers a sophisticated rendition with a lot esprit.
Hot Chocolate was written by Glen Ballard & Alan Silvestri and interpreted for the first time by Tom Hanks in the movie The Polar Express (2004). The new rendition is produced and arranged by Michael Broening, who also performs piano, Rhodes, organ, keyboard & drum programming together with bassist Mel Brown, guitarist Freddie Fox, trumpet player Lin Rountree and saxophonist Gary Honor. A real blast in Big Band style.
Silent Night is a popular Christmas carol, composed in 1818 by Franz Xaver Gruber to lyrics by Joseph Mohr. Bassist Julian Vaughn shows his skills in an enchanting new reinterpretation. O Come, O Come Emanuel is often linked with the 12th century. Keyboardist Kayla Waters brilliantly manages the balancing act between traditional and modern.
Let It Snow is a song written by lyricist Sammy Cahn and composer Jule Styne in July 1945. Nicholas Cole creates a wonderful rendition, that can be listened to at any time. The Little Drummer Boy (originally known as "Carol of the Drum") is a popular Christmas song written by the American classical music composer and teacher Katherine Kennicott Davis in 1941. What guitarist Chieli Minucci creates with Little Drummer Boy's Dream is out of this world. Breathtaking beautiful.
We Three Kings, original title Three Kings of Orient, also known as We Three Kings of Orient Are or The Quest of the Magi, is a Christmas carol that was written by John Henry Hopkins Jr. in 1857. Nick Colionne shows his jazzy qualities on his rendition. O Christmas Tree is a German Christmas song. Based on a traditional folk song, it became associated with the traditional Christmas tree by the early 20th century and sung as a Christmas carol. Bassist Julian Vaughn battles on the cover with a saxophonist.
This Christmas is a song by American soul musician Donny Hathaway released in 1970 by Atco Records. The JT Project is featured on the new interpretation.
Carols - The Sounds Of Christmas is shining the light with a brilliant collection of rare quality that only surfaces once in a while.




Buy the album in all stores

Album Information

Title: Carols - The Sounds Of Christmas
Artist: Various Artists
Year: 2019
Genre: Smooth Jazz
Label: Trippin 'N Rhythm

1 Santa Claus Is Coming To Town 00:04:02
2 Oh Come All Ye Faithful 00:04:16
3 Hot Chocolate 00:04:39
4 Silent Night 00:03:50
5 O Come, O Come Emanuel 00:04:28
6 Let It Snow 00:03:27
7 Little Drummer Boy's Dream 00:04:57
8 We Three Kings 00:05:15
9 O Christmas Tree 00:03:29
10 This Christmas 00:03:26