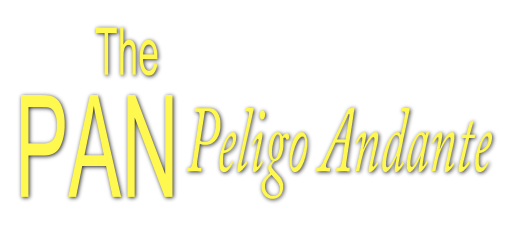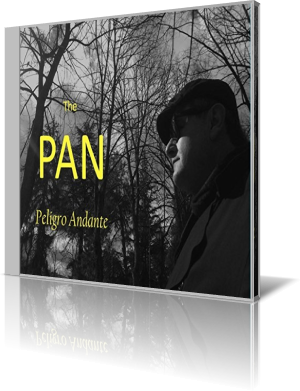 Calgary, Canada based bass guitarist Pan Sciore is The Pan. Pan plays all sorts of bass (electric 4, 5, 6 string, fretted, fretless, and upright acoustic), along with a little guitar, accordion, piano, and a variety of percussion instruments. A classical multi-instrumentalist.
His new album is entitled Peligro Andante (2016). The Pan explains: "The meaning behind is more that the danger ('peligro') you will encounter is yours, you have nothing to fear, so keep on going along ('andante')."
Pan describes his music as an inter-mix of instrumental world, flamenco, light jazz, easy listening and a bit of funk. Pan recorded this album with Miles Jackson as recording engineer, who also contributed keyboards and percussion on selected tracks.
Pan opens the album with Presidio. This means in English a fortified military settlement. Pan, however, thinks less militarily. On the contrary, his music is extremely peaceful. This acoustic guitar piece is a cross continental sonic excursion between North and South America.
Flowers for Francesca comes just in time for Valentine's Day. Melodious acoustic guitars harmonize with the deep sound of the bass. Fret Me Do I Bleed is an exotic mélange of Indian Tablas and a variation of bass guitars which are played similar Sitars. Peligro Andante cultivates by the musical motif the Spanish School. It's no coincidence that the Gypsy Kings or Jesse Cook are role models for Pan.
Backlash is often defined as a counter-movement. In concrete terms, this piece of music seems to be more than free-spirited. Hi Test Latte does not understand itself as a virtuoso proof of musical ability. More important for Pan is the musical consonance of guitars, bass and organ. The fact that musical passion is soothing to the soul at the same time is not a goal-directed act but inevitability.
D-Funk'd has little in common with Funk. Walk On The Wild Side might be the force behind the bass treatment. Requiem Linus is located in the traditional association of flamenco guitar and accordion. Pan's robust yet highly emotive tones capture a classic moment in time, which is still vivid in Spanish music. The Way Home spreads a Bohemian vibe with vigor and infectious cheerfulness. This tune stays in mind.
With the clear emphasis on acoustic guitar music of Spanish provenance and lived positive musicality shines The Pan's Peligro Andante as a world music gem with a special characteristic style.




Website


Buy the album in all stores

Album Information

Title: Peligro Andante
Artist: The Pan
Year: 2016
Genre: Smooth Jazz
Label: Independent


Tracks:

1 Presidio 1:14
2 Flowers for Francesca 3:45
3 Fret Me Do I Bleed 3:10
4 Peligro Andante 3:59
5 Backlash 3:09
6 Hi Test Latte 2:47
7 D-Funk'd 3:07
8 Requiem Linus 4:35
9 The Way Home 3:52