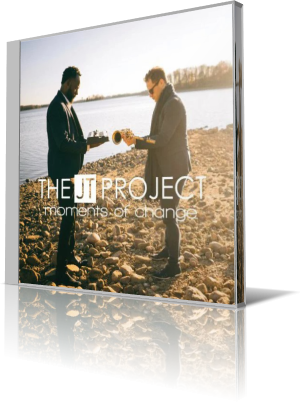 Jacob Webb (keyboards/bass) and Todd Schefflin (saxophone) are The JT Project. Coming from Kansas keyboardist Webb now lives in New York, where he joined Philadelphia native saxophonist and multi-instrumentalist Todd Schefflin.
Both have previously performed with an array of known artists. The JT Project has already released the four albums Love Passion Correspondence Vol. 1 (2009), Love Passion Correspondence Vol. 2 (2012), Love Passion Correspondence Vol. 3 (2013), and Under The Covers (2014).
For their fifth album Moments Of Change (2016) the group has partnered with record label Trippin N' Rhythm. The duo is supported on selected tracks by guitarist Sony Dumarsais, drummer Nathan Webb and Kevin Bowden, bassist Mo "The Show" and flugelhorn player/vocalist S.O.A.R..
The album takes speed on with Overdrive. This fast paced tune sets the bar high for great entertainment. Nw Style is the synonym for North West style and one of the hottest contemporary mode. This music follows the trend.
Talk About It flies into a magical world of harmony. Good Ole' Jim stands in the tradition of Herb Alpert or Tom Browne featuring S.O.A.R. on flugelhorn and Todd Schefflin on sax. The title Limbo is somewhat misleading. This piece is a message of everlasting gospel. The theme song of the album hauntingly and delicately presents the sax as main instrument.
On Holding on to Love the duo flawlessly creates a chorus effect of sax and strings. S.O.A.R. shines anew with his crystal clear flugelhorn accompanied by sax and guitar. Daddy / Miss You appeals with emotional impact. The flashing Don't Blink grows with a funky rhythm placing saxophonist Todd Schefflin in the center of interest.
The moody Love Passion Correspondence from the same titled album reveals another side of this interesting formation. The melodious Talia drifts into the contemporary jazz realm and offers with more than seven minutes live atmosphere. Song for Kg has that certain affective swing. A piece of serene loosing and a maximum of detachedness.
The J.T. Project already climbed the top position of Billboard charts. It's not surprising in view of the wide variety of this group.



Website

Biography

Buy the album in all stores

Album Information

Title: Moments of Change
Artist: The JT Project
Year: 2016
Length: 0:54:57
Genre: General Jazz
Label: Trippin' N Rhythm Records


Tracks:
01 Overdrive [4:03]
02 Nw Style [3:55]
03 Talk About It [4:22]
04 Good Ole' Jim (Featuring S.O.A.R.) [4:23]
05 Limbo [3:38]
06 Moments of Change [3:44]
07 Holding on to Love (Featuring S.O.A.R.) [3:56]
08 Daddy / Miss You [4:11]
09 Don't Blink [3:41]
10 Love Passion Correspondence [4:09]
11 Missed Call [0:50]
12 Talia [7:07]
13 Song for Kg [6:56]