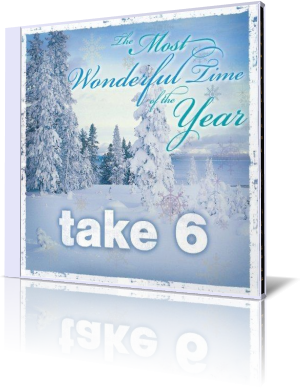 10-time GRAMMY awarded A cappella group Take 6 are the singers Mark Kibble, Claude V. McKnight III, Dr. Cedric Dent, David Thomas, Alvin Chea and Joey Kibble.
The group set the standard for vocal contemporary jazz and contemporary soul gospel. The group had their greatest success at Warner Brothers label, but left the label after their album Beautiful World (2002) and founded their own one.
In 2008 the group released their jazz album The Standard joining Heads Up International, a division of Concord Music Group. Their second album on this label is The Most Wonderful Time Of The Year (2010), their third Holiday album after He Is Christmas (1991) and We Wish You a Merry Christmas (1999).
Mark Kibble comments: "The basic idea was to just let the Christmas melody ring through, and present it in a way that's interesting but still familiar," he says.
"You shouldn't have to bend your ear too hard to enjoy a Christmas song. It should take you right back to those early Christmases when you were a child."
The group intonates It's The Most Wonderful Time Of The Year, a popular Christmas song written in 1963 by Eddie Pola and George Wyle for pop singer Andy Williams. After two Christmas albums they had to take a more sophisticated choice of Christmas songs, because the most popular ones were already interpreted in the previous albums. They reached their aim with a splendid mixture of traditional and modern hymns always true to their own A Capella style, tenor and bass vocals in perfect harmony.
Berlin's historic song White Christmas is dressed in a modern-fashioned interpretation. They pepped up the song with beat boxing elements and decorated it with a final Latin jazz twist.
Albert Hague wrote the music for the TV musical cartoon, How the Grinch Stole Christmas. In their modern adaption You're A Mean One, Mr. Grinch Take 6 expose their bass vocalists Claude V. McKnight and Alvin Chea.
Leroy Anderson's Sleigh Ride finds its vocal equivalent in Take 6's harmonic interpretation. Since Bill Crosby's version I'll Be Home For Christmas became a holiday musical tradition in the United States. More than 60 years later Take 6 add their own version still in the habit of this great Christmas song.
Edmund Sears' Christmas carol It Came Upon A Midnight Clear reveals the full range of the group and perhaps even Angels might be attracted by their allurement. The Sugarplum Dance is a song from Tchaikovsky's The Nutcracker Suite. Duke Ellington and Billy Strayhorn composed the first jazz interpretations of pieces from Tchaikovsky's score. Take 6 choose this jazzy approach for their treat.
The popular carol I Saw Three Ships is newly arranged by Cedric Dent, who introduces scat singing elements into the melody. On their rendition of the most famous American Christmas song Jingle Bells Take 6 combines two styles and tempos to a memorable song.
The final tune Christmas Time Is Here features the one and only guest singer Shealea Frazier. She also worked with the group on their album The Standard. A real enrichement.
With The Most Wonderful Time Of The Year Take 6 deliver anew their authentic view of Christmas songs some in the traditional, some in a more contemporary attitude. The multi-layered harmony makes every song to a real acoustic pleasure.




Website


Buy the album in all stores

Album Information

Title: The Most Wonderful Time Of The Year
Artist: Take 6
Year: 2010
Length: 0:33:55
Genre: General Jazz
Label: Heads Up International

Tracks:

01 It's The Most Wonderful Time Of The Year [3:05]
02 White Christmas [3:21]
03 Grinch Introduction / The Grinch / "You're A Mean One, Mr. Grinch" [4:16]
04 Sleigh Ride [3:21]
05 I'll Be Home For Christmas [3:40]
06 It Came Upon A Midnight Clear [2:38]
07 The Sugarplum Dance (Dance Of The Sugarplum Fairy) [3:57]
08 I Saw Three Ships [3:18]
09 Jingle Bells [3:29]
10 Christmas Time Is Here [2:51]

Further Review: