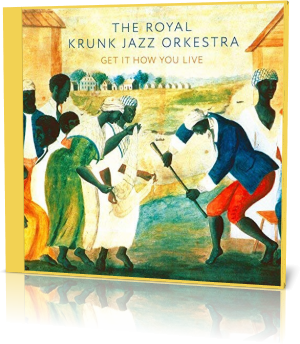 How diverse the term jazz is interpreted, is only revealed in the confrontation with the music of new artists. The Royal Krunk Jazz Orkestra gives us with Get It How You Live (2018) a new approach to that elitist style of music that is revitalized by renewal.
The trumpeter Russell Gunn is the spiritus rector of this formation, which has its own identity through the term Orkestra. The Atlanta Georgia based Big Band is not just a onetime project for recording but shows constancy with regular live events. Russell Gunn is producer, conductor, arranger, composer of this debut album.
A great formation deserves a pompous introduction by Dashill Smith on Get It How You Live (Intro). Sybil's Blues is an integral part of Russell's repertoire. The piece was originally recorded on his album Ethnomusicology Volume 1 (1999), with the four albums of this series, he showed his highly personal mixture of jazz and hip hop.
If I Ever Fall in Love is an acappella song by R&B quartet Shai from 1992. The conversion of this song into a horn arrangement is simply ingenious. Russell Gun's performance on the solo trumpet impresses. Dionne Farris sets powerful accents on Fair with her vocal expressiveness.
The Critic's Song digs deep into the history of music when horns still had a signal effect. Alto sax player Brian Hogans leads the formation into the wildest depths of free improvisation. Dashill Smith's recitations are accompanied with tremendous atonality.
Dionne Farris contributes to the success of the album with a vocal pearl from her musical treasure chest. Hopeless from the album Love Jones was a soundtrack of the 1997 same named movie. On her new interpretation Dionne expands this captivating song to a masterpiece of vocal art.
Lyne's Joint is another melodious island in the rough sea of contemporary jazz to hear in the other parts of the album. The Switch Medley is divided in the three parts There'll Never Be / A Brighter Tomorrow / I Call Your Name, three unique vocal songs featuring Dionne Farris embedded in the orchestral horn sound of The Royal Krunk Jazz Orkestra.
Dionne spreads on the final Ballad of the Sad Young Men the melancholy and loneliness of men wasting their time in bars, growing old and trying not to drown. Roberta Flacks set a monument of music history with the original. Many prominent singers like Rickie Lee Jones, Boz Scaggs or Shirley Bassey made their kudos to her work. But with such an orchestral environment Dionne creates a new peak.
The Royal Krunk Jazz Orkestra delivers with Get It How You Live Big Band sound in a new context. While the wild excursions into contemporary jazz will reach the eclectic jazz community, is the vocal part of the album a crowd pleaser with a stronger potential of commercial success. The best for two worlds in one album.




Buy the album in all stores

Album Information

Title: Get It How You Live
Artist: The Royal Krunk Jazz Orkestra
Year: 2018
Genre: Jazz
Label: Ropeadope LLC

1 Get It How You Live (Intro) 1:45
2 Sybil's Blues (feat. Theo Croker) 4:47
3 If I Ever Fall in Love 3:35
4 Fair 11:34
5 The Critic's Song 5:02
6 Hopeless 6:59
7 Lyne's Joint 6:06
8 Switch Medley (There'll Never Be / A Brighter Tomorrow / I Call Your Name) 10:38
9 Ballad of the Sad Young Men 6:27



The Big Band:

Russell Gunn – producer, conductor, arranger, composer, trumpet
Wes Funderburk – arranger
Trumpets - Curtis Watson, Lee King, Melvin Jones, Daniel Harper, Ali Barr, Darren English
Saxophones - Akeem Marable (A), Brian Hogans (A), Mike Walton (T), Jamel Mitchell (T), Eric Fontaine (B) (alto clarinet), James Robertson (A)
Trombones - Saunders Sermons, Derrick Jackson, Derrick White, Tom Gibson
Vocals - Dionne Farris, Dashill Smith
Rhythm Section - Che Marshall (Drums), Tabari Lake (Bass), Phil Davis (Keys), Rod Harris Jr. (Guitar), Ali Barr (Percussion) Featured Soloists Dionne Farris (vocals) – Fair, Hopeless, Switch Medley, Ballad Of The Sad Young Men
Dashill Smith (vocals) – Intro, The Critic's Song
Darren English (trumpet) – Intro
Eric Fontaine (alto clarinet) - Intro
Brian Hogans (alto sax) – The Critic's Song, Fair
Theo Croker (trumpet) – Sybil's Blues
Phil Davis (keys breath controller) – Fair, Hopeless, Lyne's Joint
Mike Walton (tenor sax) – The Critic's Song
Melvin Jones (trumpet) – Lyne's Joint, Ballad Of The Sad Young Men
Saunders Sermons (trombone) – Sybil's Blues
Russell Gunn (trumpet) – If I Ever Fall In Love