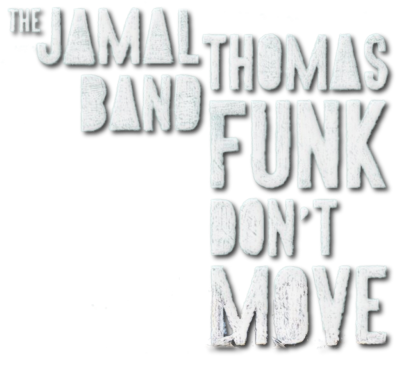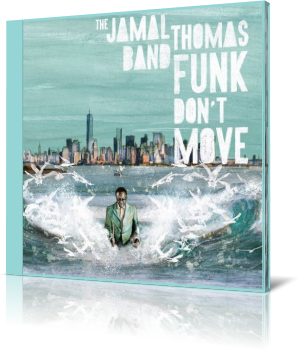 Jamal Thomas is an excellent drummer with more than 30 years performance experience. He played with Maceo Parker, the SOS Band and the producer duo Jimmy Jam & Terry Lewis.
His solo debut was Family, a vocal album. His newest project is the Jamal Thomas Band, a loose formation with changing members. This band was founded in 2009. The first album was Future in 2013. Funk Don't Move (2017) is the sophomore album.
The band consists of Jamal Thomas (drums & lead vocals), Maya Lisa (lead & backing vocals), Alex Bernath (drums & rap), Daniel Lottersberger (bass), Coen Molenaar (keys & synth bass), Frank Deruytter ( sax & backing vocals) and Guy Nikkels (guitar). Guest musicians on selected tracks are Chuck Leavell ( piano, Hammond) and Rodney "Skeet" Curtis (bass).
The album starts with A Man's Gonna Do. A pure-blooded Funk tune with heavy horns, could be penned by James Brown personally. Funk Don't Move (It Grooves) increases the pressure on the mills of the Funk. A high-density rhythm rug studded with horn inserts and vocal inlays.
No, it's no Country music what you can await on Country Boy. It's a mixture of Rolling Stones and Tina Turner on ecstasy. Going Home comes fast paced and hard snaring in the style of Cameo (She's Strange) featuring Jamal and Maya as dream vocalists. Over Again is an emotional ballade with a duet of both singers showcasing their impressing talents.
The up-tempo Searching featuring singer Maya Lisa allures with an attractive Incognito style. The more edgier Keep On Walkin' reminds of Evon Geffries & Stand. In Love reunites Jamal and Maya to the next soulful high quality R&B song.
Trouble is a theme, with which many composer are dealing. Jamal however is a gifted and talented composer who fills it with life. Feel Good is great in bringing an unbelievable live atmosphere into game. I Believe opens the gate to the world of Gospel music. Don't Let Nothing shows a further nuance of this fascinating group. Keep On Walkin' (The Story) is a rap reprise of the previous version.
Jamal Thomas is a passionate musician and the audible joy to perform leaps from this album with each tune. This album is for all listeners sharing his excitement in Soul, Funk and R&B.




Biography

Website


Buy the album in all stores

Album Information

Title: Funk Don't Move
Artist: The Jamal Thomas Band
Year: 2017
Genre: Funk
Label: Mocher Music


Tracks:

1 A Man's Gonna Do 04:04
2 Funk Don't Move (It Grooves) 03:39
3 Country Boy 04:33
4 Going Home 03:18
5 Over Again 03:20
6 Searching 04:16
7 Keep On Walkin' 02:58
8 In Love 03:44
9 Trouble 03:00
10 Feel Good 03:00
11 I Believe (feat. Chuck Leavell) 03:45
12 Don't Let Nothing 04:04
13 Keep On Walkin' (The Story) 03:08