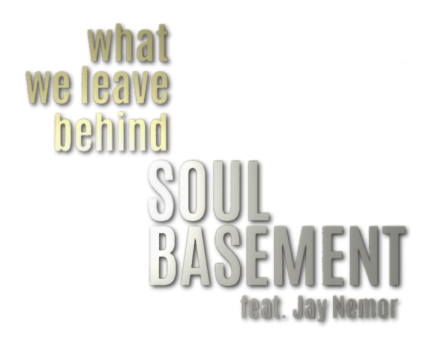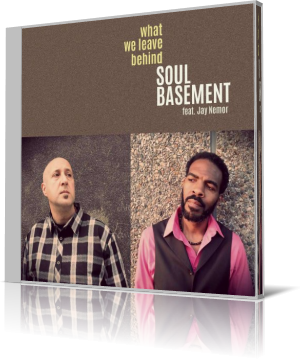 Internationally renowned musician and producer Fabio Puglisi acknowledged by his professional name Soul Basement has released in 2016 the album What We Leave Behind, a collaboration with one of the best American vocalists, Jay Nemor.
The album gives a first impression of Jay Nemor's great phrasing and virtually flawless technique with I'm Doing Fine. His timbre combines the elegance of Jon Lucien with the roughness of Gil Scott-Heron, while the style reminds of the vocal and instrumental appearance of Incognito.
Noise Pollution tackles one of the critical issues of our time, the overburdening of people through political noise. In this way, the piece is in line and tradition with other social-critical songs such as Marvin Gaye's What's Going On or Donny Hathaway's The Ghetto. Vocal quality does not displace the depth of social criticism on the one hand or the entertainment factor on the other.
Lovers of acoustic sound will appreciate the vibrating sound of the bass, rubbing against Jay's sonorous voice on With You. We owe recognition to Italy and Croatia-domiciled Fabio Puglisi, who gives Jay's fascinating voice the appropriate instrumental framework, always at the same level but never obtrusive.
Thematically Jay also takes references on everyday things like interpersonal relationship with Love Will Find You. Although Fabio enthusiastically absorbs elements of the 70's in his choice of instrumentation (Fender Rhodes, piano or horn), he stays firmly in the contemporary sound. There are massive differences especially in the recording technique and use of modern rhythm patterns.
Even with self-reflection, Jay is addicted to the love theme on The Joy Inside. The recitative as a stylistic method has no self-purpose, but is placed perfectly and intended. The sexiness of Jay's vocals finds an impeccable stage on Angel Of Mine. This is an acoustic honey pot for all sort of lovers.
It's Time develops into a monologue, which is accentuated only by percussion, while other instruments remain in the background. Future Reminiscence is a self-contradictory term that unifies recollection and the future. A vocal experiment with tangible bass and Nemor's saxophone, which explores further melodic ranks.
All songs are Puglisi's compositions and were recorded live in studios in Italy, Sweden and Norway. With Jay Nemor he has found a congenial partner. The whole creation is so elitist that it needs to look for its audience which discovers its exceptional quality.




Buy the album in all stores

Album Information

Title: What We Leave Behind
Artist: Soul Basement
Year: 2016
Genre: Soul
Label: ITI Records


1 I'm Doing Fine 4:14
2 Noise Pollution 4:28
3 With You 4:33
4 Love Will Find You 5:09
5 The Joy Inside 4:04
6 Angel Of Mine 4:29
7 It's Time 4:47
8 Future Reminiscence 4:25