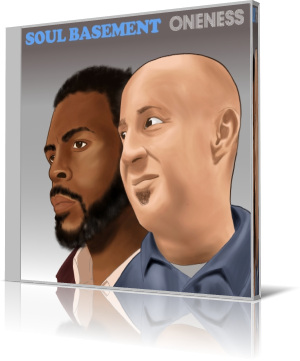 Soul Basement are Italian multi-instrumentalist and producer Fabio Puglisi (keys, bass, drums) and Texan soul singer Jay Nemor (vocals, sax). In 2016 they released the album What We Leave Behind, now followed by the sophomore album Oneness (2018).
Originally founded by Puglisi in 1997 as a four piece ensemble the formation has been undergoing some major changes. Hopefully the band stabilizes itself by the expected success. The concept of the new album is identical to his predecessor with eight new songs of the above mentioned musicians.
Blessed by nature with a voice like Gil Scott-Heron singer Jay Nemor sets anew the dominant accent with his characteristic vocals. Confident looking to the future, the group starts with Better Days. A song that revolves around an everyday relationship story. More important is the beautiful voice and the exquisite professionally placed accompanying music.
Love to the People is already trying to offer more content and spreading a message. Similarities to Gil's The Bottle are probably intended. On S.O.U.L. Jay deals with the principles and characteristics of life, gender, religions, origins, races and more.
On Slowly Jay Nemor shows more of his tenderness in a gentle love ballad. Hang on in There has the potential for a major hit combining elements of soul and jazz. Fabio's Fender Rhodes solo is superb and underlines the atmosphere of the song. To Truly Be Free generates as admonishers for human values, social justice and liberation. In fact the ideal combination of message and soul.
Fabio comments: "Most people today think of music as a way to have some temporary fun, but there's way more to it than just mere pleasure. A good song can also make you reflect on the many aspects of life, of the world we live in, sometimes it can give you the reason that you've been missing, and in some cases even awaken you."
Who Really Knows jumps right into a narration capturing the listener by the storyteller. Especially when Jay is reflecting about his own biography. Sometimes like on Count on Me, the message is said in one sentence and that is absolutely sufficient.
Soul Basement has conjured up with Oneness a brilliant blend of soul and jazz with a glimmer of optimism for a better world.




Buy the album in all stores

Album Information

Title: Oneness
Artist: Soul Basement
Year: 2018
Genre: Soul
Label: ITI Records


1 Better Days 3:54
2 Love to the People 3:05
3 S.O.U.L. 4:27
4 Slowly 5:29
5 Hang on in There 4:46
6 To Truly Be Free 3:56
7 Who Really Knows 4:02
8 Count on Me 4:16