Soul Ballet – 2019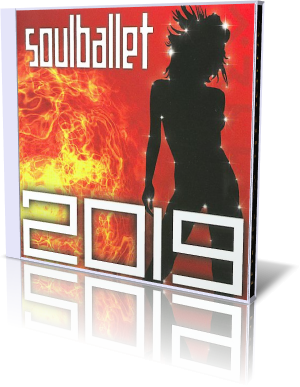 Las Vegas born Rick Kelly, the mastermind behind the project Soul Ballet, is a glamorous person. He is known as actor in TV episodes like Cold Case, CSI: Miami and movies like Tail Sting. As musician he started his project Soul Ballet with the self-titled debut (1996). Classified by All Music Guide as smooth contemporary jazz with pulsating electronic beat his chill-out music found soon a constant place in the smooth jazz charts.
His second album Trip The Night Fantastic (1998) exposed trumpet player Ken Ross and sax players Wanselius and Billy Oilen giving his tunes a more instrumental touch. The third album Vibe Cinema (2000) features sax player Sonny Simmons and has a great affinity to smooth jazz. The follow-up Dial It In (2002) renewed Kelly's collaboration with Ken Ross and presents furthermore Caroline Kafer on sax and vocalist Sera Lynn. Attractive smooth jazz with world music and electronica ornamentation.
In 2004 Rick released the 2-CD-set Dream Beat Dream supported by vocalists Sera Lynn and Trina Dye furthermore flugelhorn player Ken Ross. Rick toyed with many electronic effects although the piano lines were still a dominant factor. The typical mixture of smooth jazz and electronica is also to find on the album Lavish (2007) featuring prominent trumpet player Rick Braun and sax players Richard Elliot and Paul "Shilts" Weimar among others.
With his new album 2019 Rick Kelly leaves his reliable receipt and creates a pure electronica album with strong techno elements. He proudly announces that the complete album was composed, produced, programmed, recorded and mixed on his MAC Intel Core Duo OS running Logic 7.23 and a shitload of pluginz! Techno-craziness replaces natural instruments.
Boom! It's On! presents fat electronics of Rick's sampling collections and groovy VST-synths. The trumpet and sax sound were taken from samplemodeling.com as virtual plug-ins. Techno fans will be pleased. This track is an invitation for techno discos and dance floors.
Synthesizers and FX pads shall also be your companions on Sly Girl. Welcome in the virtual techno world. The title tune rents vocals of Ariah Firefly, whose vocal talent expands on her debut album Brooklyn Dreams (2006). The stomping pulsing beats are synth-generated or drum-programmed.
She Is Infinite is more or less a reminiscence to Rick's previous albums citing his earlier piano lines and synth harmonies but aggressive synthesizer entries disturb the romantic effect.
Girl X reminds me at Kraftwerk's Music Non Stop. TR-909-beats, choir voice pads, trumpet samples and synths are main ingredients of the song. SwaggaTron mixes elements of hip-hop and electronica to a funky hypnotic tune. Rick dives in the world of flangers, phasers, ring modulators, compressors, beatslicers, pitch shifters and other VST. There is no exit for smooth jazz fans.
On Gravity Pole Rick demonstrates how to permanently pitch-bend trumpet and sax samples. It's undeniable that R.K. is a gifted user of the program Logic. Incredible what kind of effects he can create on Supa Sexy Star and Party Dollz. The album ends with the bombastic Her Tears Transform U, certainly a first class Techno buster.
With 2019 Rick Kelly will win a great Techno community. The smooth jazz genre has to say Good Bye to a great composer.




Buy the album




Album Information

Title: 2019
Artist: Soul Ballet
Year: 2009
Length: 0:46:00
Genre: Electronica/Techno
Label: Nu Groove


Tracks:

01 Boom! It's On! [3:05]
02 Sly Girl [4:26]
03 2019 [3:42]
04 She Is Infinite [4:11]
05 Girl X [6:18]
06 SwaggaTron [5:10]
07 Gravity Pole [5:52]
08 Supa Sexy Star [3:22]
09 Party Dollz [4:18]
10 Her Tears Transform U [5:36]