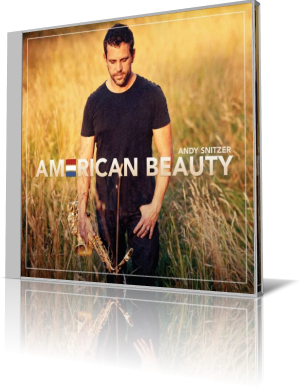 Saxophonist Andy Snitzer is an in demand sideman performing with famous musicians like Paul Simon, Sting, The Rolling Stones and others. His solo projects shine however brighter꞉ Some Quiet Place (2006), Traveler (2011), The Rhythm (2013) and this year American Beauty.
On his newest album he is supported by David Mann (additional production, keys/synths/MIDI, saxophones, flutes), pianist Alain Mallet, bassist Tim Lefebvre, drummers Karl Latham, Clint de Ganon and Gary Novak, the horn section of Kent Smith (trumpet) and Michael Davis (trombone), Carl Fischer (trumpet, flugelhorn, trombone and tenor sounds), guitarist Chuck Loeb, and trumpet player Rick Braun.
The album starts with September Ď79, the time, when Andy visited his high school. He celebrates his sweet memories with a lush sax sound full of emotional tones.
The title song amplifies the touching vibrations by using a soulful horn section. That reminds me of Metheny's This Is Not America with equal intense horn improvement. On She Loves Me Rick Braun joins Andy with a divine performance on Flugelhorn. Both instruments complement each other ideally to a homogeneous whole.
Andy has an incredible talent to transpose his feelings in his instrument. Next To You is a perfect example for this gift. On Daddy-O he gives his jazz affinity run wild with plenty of improvisation beyond the melody. With Montreal Snitzer features an atmospheric image of the Canadian metropolis. Willow spreads from smooth jazz to contemporary jazz while the theme stays in constant repeat.
Mondays at Gertís spreads the story about jams at Gert's Lounge, whenever or wherever it is. Soothing and elevating simmer flute, sax and Chuck Loeb's guitar the musical motif. With On And On Andy ticks all the overdubs. A perfect piano interplay rounds up the good impression. Final masterpiece of this album is the moody tune Rain. Brilliant like an iconic film score, very impressionistic and underlined with a great string arrangement.
Andy Snitzer doesn't follow the typical smooth jazz formula, but creates with American Beauty his very own style melting all his passion into a groundbreaking work.






Website

Biography


Buy the album in all stores

Album Information

Title: American Beauty
Artist: Andy Snitzer
Year: 2015
Genre: General Jazz
Label: Goose Song Music

Tracks:

1. September Ď79
2. American Beauty
3. She Loves Me
4. Next to You
5. Daddy-O
6. Montreal
7. Willow
8. Mondays at Gertís
9. On and On
10. Rain