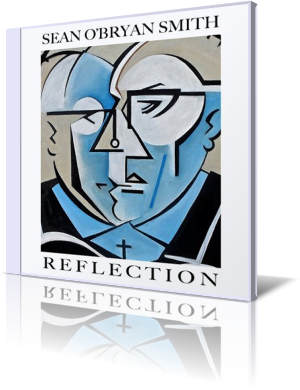 Sean O'Bryan Smith is one of the rare bassists, who can live as a professional session musician. Those, which are not familiar with his name, I can inform about his collaboration with Darius Rucker, Billy Currington, Lady Antebellum, Rascal Flatts, Kenny Rogers, Wynonna, and more. Friends of jazz will know him by his performance with Michael Brecker, Roy Haynes, Kevin Mahogany, Eddie Palmieri, Fattburger, and Jamie Cullum.
He started his solo career with the album Tapestry (2011). His sophomore album Reflection was released July 17th on Groove Therapy Records. Among the team of musical supporters we find guitarist Chuck Loeb, saxophonist Tommy Ogle and pianist-songwriter Jeff Franzel.
When evaluating the selection of his songs for Sean, the first song speaks a lot for a religious background. How Great Thou Art is a Christian hymn based on a Swedish poem written by Carl Gustav Boberg. The melody is a Swedish folk song. On the other hand Sean approaches the song from a popular side with a jazzy bridge, which has in the overall context more the character of an intruder.
Blessed Assurance is also a well-known Christian hymn. The advantage of such songs is the fact that they have been deeply imprinted in the minds of the people. With the bass as lead instrument Sean gives us a new insight into this song.
Mighty To Save was originally recorded by Ben Fielding and Reuben Morgan from the Album Vineyard Community Church: Experience Live Worship From the Vineyard. With guitarist Chuck Loeb on his side Sean created something very special.
Redman's Blessed Be Your Name gets a refined instrumental touch with a remarkable bass solo. Me Without You by Jeff Franzel features songstress Lisa Hearns in a heartfelt ballade. Will The Circle Be Unbroken was originally re-arranged by A. P. Carter and interpreted by the Nitty Gritty Dirt Band. Bassist Sean takes the lead on the first part, followed by Frank Catalano on sax and accompanied by Jack Pearson with great country feeling.
Called presents with Gerald Albright on sax a prominent musician. This song was composed by Sean himself and offers a blend of contemporary and smooth jazz. Jeremy Camp's Give Me Jesus from his album Beyond Measure is perfectly interpreted by Randy Brecker's spiritualized trumpet.
The Blood Will Never Lose Its Power, best known by Andrae Crouch's blessed vocals, finds an instrumental echo on Sean's four-string bass. Frank Catalano adds his flavored bass before singers Calvin Novelle and Chloe McGoogin deliver a glorious end.
If you like romantic ballades, then Yes You Have featuring splendid singer Gary A. Brown, is definitely your first choice. Julia Ward Howe's Battle Hymn Of The Republic experiences a triumphant rebirth. Especially the snare drums make the hymn contemporary and vivid. Reflection transcends Sean's contemplative bass play with spoken words of Malcolm-Jamal Warner.
Sean O'Bryan Smith had to fight hard in order to release his album against the restrictions of the record industry. Fortunately he has found an investor to back his label to the pleasure and enjoyment of all friends of bass.




Biography

Website


Buy the album in all stores

Album Information

Title: Reflection
Artist: Sean O'Bryan Smith
Year: 2012
Length: 0:48:59
Genre: General Jazz
Label: Groove Therapy Records

Tracks:

01 How Great Thou Art [3:12]
02 Blessed Assurance [3:33]
03 Mighty To Save [4:13]
04 Blessed Be Your Name [4:03]
05 Me Without You [4:17]
06 Will The Circle Be Unbroken [4:06]
07 Called [3:38]
08 Give Me Jesus [3:34]
09 The Blood [5:07]
10 Yes You Have [5:21]
11 Battle Hymn Of The Republic [2:53]
12 Reflection [5:06]