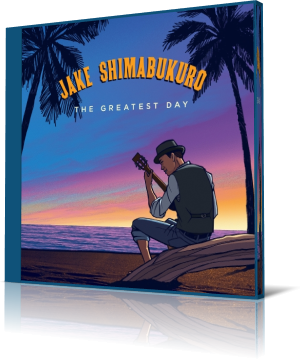 It is a unique characteristic to play an instrument that is rare in the smooth jazz field. Hawaiian Jake Shimabukuro's favorite instrument is the Ukulele. With his Ukulele, he has already achieved a degree of popularity that has enabled him to collaborate with such well-known artists as Yo-Yo Ma, Jimmy Buffett, Bette Midler, Cyndi Lauper, Jack Johnson, Ziggy Marley, Dave Koz, Michael McDonald, Bela Fleck and the Flecktones, Tommy Emmanuel, and Marty Friedman.
His new album The Greatest Day (2018) is a colorful bouquet of familiar melodies, which get their own tinge from Jake's instrument. The album also contains original compositions, of course, in which Jake also proves his creativity as a songwriter. Besides the producer R.S. Field, bassist Nolan Verner and drummer Evan Hutchings, he also invited guitarist Dave Preston for his new project.
The actual album contains twelve tracks, but these have been expanded to 17 tracks in the '18 Live version. Time of the Season is a song by the British rock band the Zombies, featured on their 1968 album Odessey and Oracle. Jake's cover conveys the soft rock character of the original in an unadulterated way.
That Jake can keep up with this pearl of soft rock, he shows with his own composition The Greatest Day, which has already been broadcast on numerous radio stations. The Beatles song Eleanor Rigby was released on their album Revolver in 1966. Although Jake cites the melody he remodels the song to a Country tune with great guitar and Ukulele inlays.
A Pangram or holoalphabetic sentence is a sentence using every letter of a given alphabet at least once. Transferred to the musical element it's based on a chromatic scale that utilizes all the notes in the Western music scale. Like The Flight of the Bumblebee by Nikolai Rimsky-Korsakov a prime example of virtuosity.
Bizarre Love Triangle is a self-contained piece with a rich instrumentalization and female vocal interlude. Straight A's was inspired by the A string on the Ukulele. Jake comments: "I wanted to write something where the 'A' note could ring out through the entire song." If 6 Was 9 is a rock piece by guitar legend Jimi Hendrix, that Jake includes on his album as stylistic counterpoint.
Ed Sheeran's dancehall infused Shape of You (2017) is perfectly instrumented by Jake, whereby the ukulele is ideally suited for this piece due to its short and precise tones. The mellow Go for Broke is another collaboration with guitarist Dave Preston, who masterly performs the slide guitar technic. Little Echoes is a short interlude expressing a compact but catchy melody.
It was in 1962 that John Wayne came to Kauai to star in the movie Donavan's Reef. Mahalo John Wayne is Jake's tribute to this great movie hero, the favorite actor of Jake's dad. A natural implementation is the orchestral approach. Hallelujah is Leonard Cohen's legacy to the music world. A song that even Jake cannot overlook and that he made the glorious finale of his album.
Jake offers in addition five songs as digital bonus tracks. Kawika, a tribute to King David Kalakaua. Kawika means David in Hawaiian. The song was originally played by the Sunday Manoa Band featuring the legendary Peter Moon on ukulele. A demanding challenge for every ukulele player. Blue Roses Falling is from Jake's album Live (2009). A lyrical piece that he recorded live with the South Korean cellist Meena Sho.
Use Me features guitarist Dave Preston in an expressive interpretation of Bill Wither's song. Dragon is from Jake's fourth same named US album (2005), while the rendition of George Harrison's While My Guitar Gently Weeps also was taken from Jake's album Live.
With The Greatest Day, Jake Shimabukuro has found a niche in the market that he fills with great presence and dominance. In addition there is the high sympathy factor, which makes his person and music irresistible.




Buy the album in all stores

Album Information

Title: The Greatest Day
Artist: Jake Shimabukuro
Year: 2018
Genre: Smooth Jazz
Label: JS Records

1 Time of the Season 3:40
2 The Greatest Day 3:43
3 Eleanor Rigby 4:08
4 Pangram 3:15
5 Bizarre Love Triangle 4:19
6 Straight A's 4:05
7 If 6 Was 9 7:13
8 Shape of You 3:09
9 Go for Broke 4:24
10 Little Echoes 2:27
11 Mahalo John Wayne 4:17
12 Hallelujah 4:10
13 Kawika ('18 Live) 5:29
14 Blue Roses Falling (feat. Meena Cho) ['18 Live] 5:05
15 Use Me (feat. Dave Preston) ['18 Live] 8:11
16 Dragon ('18 Live) 6:06
17 While My Guitar Gently Weeps ('18 Live) 12:25