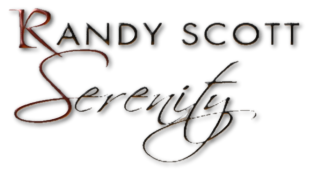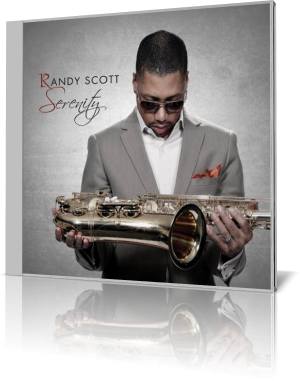 Saxophonist and composer Randy Scott is since a longtime in music business. His instruments are the tenor, alto, soprano sax and the EWI. In the music scene of Detroit he is maintaining his own recording studio.
He released as solo artist the albums Randy Scott (1994), Future (1999), Words Unspoken (2002), Breathe (2007), and 90 Degrees at Midnight (2011). Serenity is his sixth album and his second on the label Trippin N Rhythm Records.
Randy is supported by a plethora of musicians like Terrance Palmer and Robert Skinner (bass), Ron Otis (drums), Gary Johnson and Darryl Dixon (guitar), Kris Johnson (trumpet), Vincent Chandler (trombone), and a lot more as listed under album information.
The first track Cabo combines a captivating melody, perfect brass arrangement and dedicated musicians. An excellent mastery of the saxophone stands beyond question. T.G.I.F., the acronym for "Thank God it's Friday", expresses musically the weekend feelings.
On Potion #9 Randy invites a groovy guitar following on his sax path. With Funky Enough! he dives into the powerful dialogue with several sax layers. Randy Scott is influenced by his mentor Grover Washington Jr.. When it comes to the emotional impact like on You're My Joy is this influence significant.
Copacetic shows a predominant groove. A solid ground for Lin Rountree to expand his solo on trumpet. Guitarist Tim Bowman and Randy have already collaborated on several projects like on Tim's album Tim Bowman (2007). The perfect interplay carries out on Heaven Sent, a lovely melody.
The loveliness is surpassed with Mellow Flow. For Smoothness of course the soprano saxophone is the first choice. Serenity is the state of being serene, calmness, peacefulness. The theme track is something fascinating and evoking. Music with a high reminder potential.
Side Steppin' offers sax harmony as it is extremely popular in the smooth jazz genre. Randy approaches with Jade Mountain the atmospheric style of Marion Meadows. A solid piece of classical character. Make Me Over stands out from the overall context of the album. Randy changes the role to a Gospel singer and that with enormous success. Great vocal arrangement and composition.
I really value about Serenity, that Randy Scott avoids the usual platitudes of the genre and shows authenticity and artistic independence. All worth listening to!




Buy the album in all stores

Album Information

Title: Serenity
Artist: Randy Scott
Year: 2015
Genre: Smooth Jazz
Label: Trippin & Rhythm


Tracks:

1 Cabo 4:08
2 T.G.I.F. 3:54
3 Potion #9 3:49
4 Funky Enough! 5:26
5 You're My Joy 3:37
6 Copacetic 4:30
7 Heaven Sent 4:29
8 Mellow Flow 4:11
9 Serenity 4:50
10 Side Steppin' 3:42
11 Jade Mountain 4:46
12 Make Me Over 4:34

(1)
Cabo
Written by Randy Scott
(Scott Jam Publishing ASCAP)
Produced by Randy Scott
Bass – Terrance Palmer
Drums – Ron Otis
Guitar – Gary Johnson
Trumpet – Kris Johnson
Trombone – Vincent Chandler
All other instruments – Randy Scott

(2)
T.G.I.F.
Written by Randy Scott
(Scott Jam Publishing ASCAP)
Produced by Randy Scott
Guitar – Darryl Dixon
All other instruments – Randy Scott

(3)
Potion #9
Written by Randy Scott
(Scott Jam Publishing ASCAP)
Produced by Randy Scott
Bass – Terrance Palmer
Guitar – Darryl Dixon
All other instruments – Randy Scott

(4)
Funky Enough!
Written by Randy Scott
(Scott Jam Publishing ASCAP)
Produced by Randy Scott
Bass – Robert Skinner
Drums – Dana Davis
Guitar – Darryl Dixon
Rhodes – Krayon
All other instruments – Randy Scott

(5)
You're My Joy
Written by Randy Scott
(Scott Jam Publishing ASCAP)
Produced by Randy Scott
Bass – Terrance Palmer
Drums – Nate Winn
Guitar – Gary Johnson
All other instruments – Randy Scott

(6)
Copacetic (featuring Lin Rountree)
Written Demetrius "Krayon" Nabors & Randy Scott
(Mek2Music ASCAP / Scott Jam Publishing ASCAP)
Produced by Randy Scott & Krayon
Keyboards, Organ & Programming – Krayon
Bass – Terrance Palmer
Drums – Nate Winn
Guitar – Darryl Dixon
Trumpet – Lin Rountree
Saxophone – Randy Scott

(7)
Heaven Sent
Written by Tim Bowman & Randy Scott
(Tim Bowman Music BMI / Scott Jam Publishing ASCAP)
Produced by Randy Scott
Guitar – Brett Farkas
Piano – Krayon
All other instruments – Randy Scott

(8)
Mellow Flow
Written by Jeremy S. King, Demetrius "Krayon" Nabors & Randy Scott
(Jeremy King Music ASCAP / Mek2Music ASCAP / Scott Jam Publishing ASCAP)
Produced by Randy Scott, Krayon & Jeremy S. King
Piano, Keyboards & Programming – Jeremy S. King
Synth Bass, Rhodes, Piano & Keyboards – Krayon
Saxophone – Randy Scott

(9)
Serenity
Written by Randy Scott
(Scott Jam Publishing ASCAP)
Produced by Randy Scott
Bass – Terrance Palmer
Background Vocals – Pam English
All other instruments – Randy Scott

(10)
Side Steppin'
Written by Randy Scott
(Scott Jam Publishing ASCAP)
Produced by Randy Scott
All instruments – Randy Scott

(11)
Jade Mountain
Written by Randy Scott
(Scott Jam Publishing ASCAP)
Produced by Randy Scott
Guitar – Darryl Dixon
All other instruments – Randy Scott

(12)
Make Me Over
Written by Randy Scott
(Scott Jam Publishing ASCAP)
Produced by Randy Scott
Guitar – Brett Farkas
All vocals – Randy Scott
All other instruments – Randy Scott

Further review:

90 Degrees At Midnight