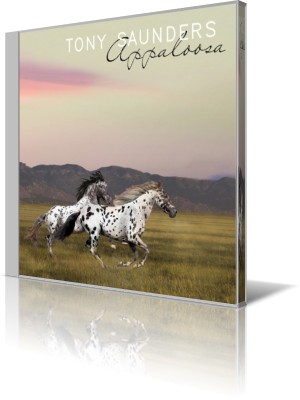 His life can be overridden by "too busy for a solo career". Bass player and producer Tony Saunders has worked and recorded for a plethora of musical legends such as Eric Clapton, ABBA, Ringo Star, Joe Sample, Chaka Khan, and many more.
Like a whale hits the surface, appeared from time to time a solo album. He Lifted Me Up was an anointed Gospel album in 2005, followed in 2011 by Romancing The Bass. Finally in 2014 he pleased us with his album Appaloosa.
Bassist Saunders shares recording duties with Matt Clark and Sylvester Burks (piano, strings, synthesizers), Bill Hampton (guitar), Darian Grey, Big Ed and Dante Roberson (drums), Angelo Luster (sax), Fred Ross, Sakai (vocals) and many more.
With Sandy Shores Of Monterey Saunders sets the well-known founder and president of www.smoothjazz.com a monument. He takes the lead on bass in the style of Wayman Tisdale. His performance is filigree and elegant.
The love ballade The Question Is features singer Fred Ross and Sakai. Both win with their powerful and attractive timbre. On Romancing My Life Saunders unfolds his great empathy for captivating melodies perfectly accompanied by Tom Politzer on sax. Howard Hewett sings My First Love. He has not forgotten anything since I Commit To Love.
Sakai is a vocal revelation on We Belong Together. A bass is a bass, but such a divine voice. Very nice harmonies also offers What Is This featuring Lawrence Matthews. A tribute to the late Walter Hawkins. Appaloosa is a song by Gino Vanelli from his album Brother To Brother (1978). The pop rock character of the song is very strongly emphasized in the interpretation of Bill Champlin.
Derick Hughes, known by his co­operation with Roberta Flack, is the featured singer on Falling In Love. With the instrumental Blue Nickels Saunders sets the contemporary jazz flag. The sax is fiercely performed by Melecio Magdaluyo, a much sought-after instrumentalist on the Bay Area music scene.
Santana's front man Tony Lindsay shines with a guest appearance on I Heart You. Interlude in Paris sees a duet between Saunders and sax icon Rock Hendricks. You can listen to this sax player on albums of Paul Hardcastle, Gabriel Mark Hasselbach, Jeff Lorber, Victor Bailey, and more.
Rod Temperton wrote The Lady In My Life for Michael Jackson (Thriller). A pleasant reunion with this wonderful song. With This Love Of Mine Saunders presents a final percussive bass firework.
It can be done. Appaloosa is the best prove that Tony Saunders is a prolific song­writer, producer and bassist. He has more than a few surprises up his sleeve. Knowing the past means powering the future.





Album Information

Title:

Appaloosa


Artist: Tony Saunders
Year: 2014
Length: 0:60:21
Genre: General Jazz
Label: San Francisco Records

Tracks:

01 Sandy Shores Of Monterey [4:34]
02 The Question Is [5:01]
03 Romancing My Life [5:04]
04 My First Love [4:20]
05 We Belong Together [4:14]
06 What Is This [4:59]
07 Appaloosa [4:49]
08 Falling In Love [4:34]
09 Blue Nickels [4:22]
10 I Heart You [3:52]
11 Interlude In Paris [4:30]
12 The Lady In My Life [6:44]
13 This Love Of Mine [3:20]