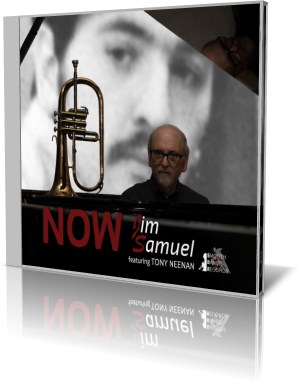 Keyboardist Jim Samuel had a great time as musician and composer in the 60's and 70's performing with Bob Brady and the Conchords. After a couple of hit records he decided to leave music and pursue a career in business.
Now is the prove that Jim is still infected by the music bug. Last year he released Smooth Covers, Smooth Dance featuring arranged cover songs. Jim has realized that the music world has changed since he left it years ago. But he has accepted the challenge.
Jim has invited as guest musicians Gerald Albright (sax), Rob Tardik (guitar), and Tony Neenan (trumpet).
The album starts with Mr. Magic originally performed by the late sax legend Grover Washington Jr. Many musicians have covered this wonderful song in the past, for example Jason Miles featuring Maysa with a emotional vocal approach or Doc Powell with a contemporary Benson­like version. Samuel creates a slower soulful interpretation with a horn segment contrasting to Albright's saxophone solo.
When I heard Binney Street for the first time, I thought the disco time has broken out again. Jim Samuel is obviously cleaved to his time loop. Rob Tardik lends his guitar to a Spanish flavored Serena. But Jim can also contemporary with the upbeat Off the Tracks. Gerald Albright and Tony Neenan let fly the sparks on their instruments and Jim's contribution on organ is striking too.
Come What May delivers dreamy moments with an exceptional Tony Neenan on trumpet. Also the slap bass sets strong accents. Don't Know Why impresses with a beautiful melodic line. However, I would have left out the sugary synth voices that sound old fashion nowadays. The title track links a variety of modern music styles into a convincing result of sound entertainment. The album closes with the gentle ballad Now That You're Gone featuring Neenan in the lead.
Jim Samuel's album Now offers a wholesome menu that leaves a positive mood even after a second listening.




Biography

Website


Buy the album

Album Information

Title: Now
Artist: Jim Samuel
Year: 2014
Length: 0:32:28
Genre: General Jazz
Label: CDBaby


Tracks:

01 Mr. Magic (Featuring Gerald Albright) [4:37]
02 Binney Street [3:40]
03 Serena (Featuring Rob Tardik) [4:24]
04 Off the Tracks (Featuring Gerald Albright) [2:42]
05 Come What May (Featuring Tony Neenan) [3:54]
06 Don't Know Why [4:50]
07 Now [4:17]
08 Now That You're Gone (Featuring Tony Neenan) [4:04]