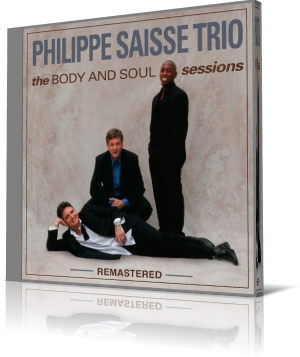 Philippe Saisse took Steely Dan's invitation Do It Again at their word when he had remastered the album The Body And Soul Sessions by Colin Leonard. The album was originally released in 2006, but thirteen years later Saisse is re-releasing it under his own label, because good things should be brought back to light.
The Philippe Saisse Trio consists of Philippe Saisse (piano, keyboards, vibraphone, marimba), Skoota Warner (drums), and David Finck (acoustic bass).
Do It Again was Steely Dan's breakthrough hit presenting a phenomenal contrast between sinister lyrics and high melodic popular in the true sense music. Perfect to the core, this song became an instant classic. As a master of the keys Philippe uses the main melody to give this song a noble finish.
EWF are also leading the way for their generation and September is certainly their guiding anthem. The trio gives the song a jazzy Midas touch. The group succeeds The Beatles' back to rock piece Lady Madonna into a swinging bundle of energy.
The song Harley Davidson was written by Serge Gainsbourg and was first released by Brigitte Bardot in 1967. The text, which is not exactly profound, nevertheless conveys the feeling of freedom and departure of that time. Saisse, on the other hand, is concerned with the melodious approach, which he knows how to make excellent use of.
Bill Wither's Lovely Day (1977) is a mainstay on many festivals. David Finck's solid acoustic bass plays a prominent role on this rendition. Another outstanding song that has found its way into the all-time song collection of mankind is James Taylor's Fire & Rain. The combination of Finck's acoustic bass and Saisse's piano leaves impressions as deep like the Mariana Trench.
Constant Rain is an uplifting tune by Jorge Ben, originally released by SÚrgio Mendes and Brasil '66 on the Bossa Nova album Equinox (1967). Saisse transforms the timeless melody to a contemporary jazz tune of a special kind.
Luiz Mainzi da Cunha Eša was a Samba and Bossa Nova pianist from Rio De Janeiro, who created the jazz standard The Dolphin. The Philippe Saisse Trio follows in the footsteps of Stan Getz, Bill Evans and Denny Zeitlin.
Comment Te Dire Adieu is the second tune by the French composer Serge Gainsbourg, who adapted the instrumental song It Hurts To Say Good Bye by Arnold Goland and added the French lyrics for Francoise Hardy in 1968. Saisse shines on this cover with a superb keyboard solo.
Body & Soul is a jazz standard by Johnny Green, written in 1930. David Finck's crunchy bass intermingles with Saisse's piano mastery. When Finck climbs to the high notes his bass nears the area of piccolo bass offering another attitude and altitude.
We're All Alone by Boz Scaggs was a bigger hit for Rita Coolidge than for Boz, who recorded it for his album Silk Degrees (1976). If you are searching for an instrumental equivalent than Saisse's version if first choice.
Quincy Jones booked Leon Ware as songwriter and performer for two songs off Jones' Body Heat album (1974). One of the songs was the hit If I Ever Lose Heaven. Saisse's interpretation presents the ideal combination of sonic mastery and ingenious flow.
The Body And Soul Sessions by the Philippe Saisse Trio is one of my all-time favorites. The revisit of the remastered album has clearly illustrated the reason to me. An absolute hearing pleasure of the quite rare nature.





Buy the album in all stores

Album Information

Title: Philippe Saisse Trio
Artist: The Body And Soul Sessions (Remastered)
Year: 2019
Genre: Smooth Jazz
Label: Bandar Log Music


1) Do It Again (3:23)
2) September (3:25)
3) Lady Madonna (2:50)
4) Harley Davidson (3:12)
5) Lovely Day (4:23)
6) Fire & Rain (3:02)
7) Constant Rain (2:44)
8) The Dolphin (4:53)
9) Comment Te Dire Adieu (3:45)
10) Body & Soul (4:08)
11) We're All Alone (4:45)
12) If I Ever Lose Heaven (4:41)