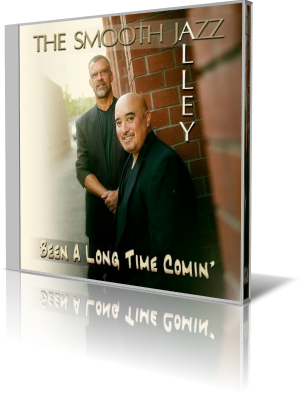 The Smooth Jazz Alley is the result of musical inclinations and fateful encounters. Keyboardist Marco Montoya and guitarist Stanley Evans first met in the Latin band Grupo Caribe. Already infected by the smooth jazz virus Marco suggested Stanley to create this formation.

The proposal striked fertile soil and Stanley helped to shape the sound with his guitar. Their album Been A Long Time Comin' (2016) encompasses original tracks by the duo, two in collaboration with Mona Attia. Both are joined by fellow musicians Kenny Franklin (bass), Miguel Melgoza and Eric Mendez (drums), Lawrence Beamen & Mona Attia (vocals), and Bill Ortega, Jr. (trumpet) on selected tracks.

The harmonious synergy of the duo displays for the first time in C-Funk. A crispy tune with fresh guitar and keyboard implementations of a high addictive degree.

The subtle nuances of Always and Forever underlines this impression of smooth magic. The duo perfectly reach the audience with an incredibly well balanced and sonic tune. The title song charms with a catchy upbeat melody holding the theme in constant repetition.

Midnight Groove levels the album with a tasteful and hooking melody, which has the emotional power of a classic like Night And Day. That way the duo is keeping the smooth jazz genre alive. On Eternal the band let the melody develop adding notes and layers. The song fades out when both mutually fire up to solos.

Peter White once stated in an interview: "So the style will come out of the songs, otherwise I think I could get too involved with style over substance!″ Singers Lawrence Beamen & Mona Attia are featured in the song Why. To describe the song as Pop or R&B wouldn't nearly meet its quality, it's just pure vocal beauty.

When a song is personalized with a female name, musicians connect with it a high emotional value. The Latin tinged Christina shines with blistering guitar sound and Bill Ortega, Jr. on muted trumpet. Subway takes the A train to an up-tempo musical switch. The harmonically driven Morning Jog offers a vibrant groove with the best the group stands for, guitar and keys in pulsing energy.

When the word "Groove" is very often used in this review, there is a reason. The title Stan's Groove aptly describes Stanley Evans' guitar performance in the center of musical activity.

Among countless new releases in the smooth jazz genre Been A Long Time Comin' stands out with stellar quality in musicality and scintillating play, distinguished arrangements and creativity. Smooth Jazz Alley is the road to a new musical dimension.




Album Information

Title:

Been A Long Time Comin'
Artist: Smooth Jazz Alley
Year: 2016
Genre: General Jazz
Label: Independent


Tracks:
1. C-Funk
2. Always and Forever
3. Been A Long Time Comin '
4. Midnight Groove
5. Eternal
6. Why
7. Christina
8. Subway
9. Morning Jog
10. Stan's Groove