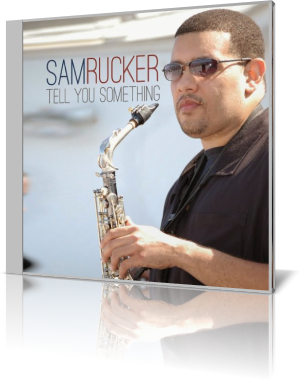 Saxophonist Sam Rucker released his debut album Heat from the Heavens in 2011. This album is still available as download at Amazon.com or iTunes. His new album Tell You Something (2014) is supported with stronger promotion.
At the new project musicians are involved with veritable names: Norman Connors produced several songs, also credited are Carlton Savage (guitar), Brian Eubanks (bass), Greg 'Termite' Rich (piano), Bobby Lyle (keyboards), Duke Jones (trumpet) and many more.
Rucker starts the album with the title song showcasing a special affinity for a sophisticated horn arrangement. With a tenor saxophone in the lead he he designs his melody line with dynamic blowing.
The Frankie Beverly hit Before I Let Go is polished up in an instrumental version. Compared to the original on a contemporary technically matured level. Rucker intonates his sax very emotionally. A Million Ways offers a melodious theme with a popular rhythm. Sheila Johnson adds an attractive female vocal component.
You Are My Starship was a chart topper of Norman Connors featuring singer and bass player Michael Henderson. Bobby Lyle shines on keyboard on this remarkable interpretation. With Be True 2 Who U R Rucker underlines his skills as arranger and sax player. Overdubbing is the magic word.
Ain't Nothing Like It is a cooperation between Rucker and singer Tonya L'bert. Great R&B with a slight hip hop injection. Stuff for dreamers is the soulful piece Footsteps In The Dark. That was a great hit of the Isley Brothers and a precious follower. Brighter Day starts with an impressing sax solo before the song drifts into a vivid hip hop scenery.
No Other Way develops a bass affine melody, which gives the sax interpretation a special adjoining. The song is also a good example for Rucker's sophisticated sax arrangement. Love's Melody opens the heart of all romantics. On Long Way To Go Rucker enriches his sax lead with additional keyboard sound. Rucker expands his performance to some jazzy improvisation. Final tune is an extended version of the title song.
Tell You Something offers good beginnings, a professional musicianship and exquisite arrangements.




Biography

Website

Buy the album in all stores

Album Information

Title: Tell You Something
Artist: Sam Rucker
Year: 2014
Length: 0:58:26
Genre: General Easy Listening
Label: Favor Productions

Tracks:

01 Tell You Something [3:40]
02 Before I Let Go [5:38]
03 A Million Ways [4:07]
04 You Are My Starship [5:10]
05 Be True 2 Who U R [3:26]
06 Ain't Nothing Like It [3:55]
07 Footsteps In The Dark [6:01]
08 Brighter Day [4:19]
09 No Other Way [4:05]
10 Love's Melody [4:24]
11 Long Way To Go [4:52]
12 Tell You Something [8:50]