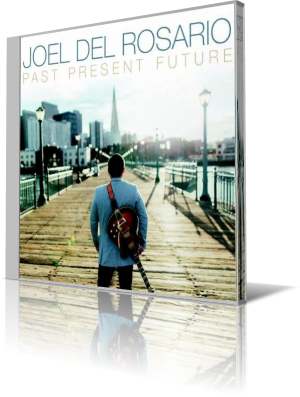 Under the influences of George Benson, Earth Wind & Fire and Stan Getz guitarist Joel Del Rosario makes his fortune in the smooth jazz genre. All started with All Him (2005), followed by Calm In The Storm (2006), Coast To Coast (2011) and this year Past Present Future.

Guest musicians on his new album are flutist Ragan Whiteside and trumpet player Melvin Miller, who is the featured artist on the first tune Summer Song. Joel allows the summery airy melody to take flight on his guitar and Melvin adds his personal note on trumpet.

This Is How We Roll gives relaxing an acoustic facelift. The eclectic pulse come

s

from the flute and the guitar wraps it nicely. The title song has a Pat Metheny approach, a sign for great music. Technically proficient and sonically touching.

Delicious Vinyl evokes musical images of the past and Ragan Whiteside clarifies on flute that they are the better ones of the time. Sunrise On The Sunset gives the horns a place before Joel brings with easy finger style his guitar to the forefront.

Gettin It is not cocktail hour jazz. The melody is sometimes repetitive, but in between Joel lets his guitar flow. On The City Joel is really stretching out with a rocky attitude. A stellar way to step aside the smooth jazz genre.

Coastside is an organic return to smooth jazz flavored guitar music designed for a ride along the coast line. Something for your sweetheart? Kates Lullaby offers a rich ambient sound with great emotional impact. Delicious Vinyl Outro is a variation of Delicious Vinyl. Try to find the difference.

For those, who likes the sound of Joel Del Rosario's guitar, Past Present Future accurately sums up Joel's skills as state of the art guitarist and composer. Joel's talent continues to grow and I am his follower.





Album Information



Title: Past Present Future
Artist: Joel Del Rosario
Year: 2016
Length: 0:45:50
Genre: General Jazz
Label: Independent

Tracks:
01 Summer Song Featuring Melvin Miller [4:13]
02 This Is How We Roll [4:41]
03 Past Present Future [4:52]
04 Delicious Vinyl Featuring Ragan Whiteside [4:03]
05 Sunrise On The Sunset [4:02]
06 Gettin It [4:21]
07 The City [4:33]
08 Coastside [6:13]
09 Kates Lullaby [4:53]
10 Delicious Vinyl Outro [4:00]