The Rippingtons - Modern Art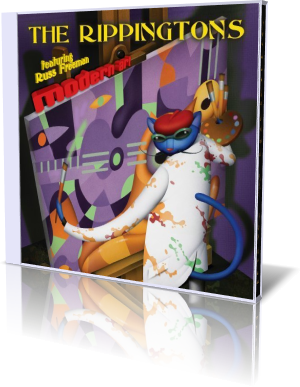 The Rippingtons are a formation with a high impact on the smooth jazz genre. No other group has gained such a great popularity in the last twenty years. Guitarist and band leader Russ Freeman formed the group in 1986. Current members beside Russ are Dave Karasony (drums), Bill Heller (piano), Ricardo 'Rico' Belled (bass) and in addition a sax player.
Eric Marienthal, Paul Taylor, Jeff Kashiwa, Brandon Fields, Dave Koz and Kenny G were all former members of the group. On the new album Jeff Kashiwa returns to the project. While the group played on their earlier albums contemporary or fusion jazz they have performed since 1999 more smooth jazz.
Obvious reason for this development was the previous success and prosperity of this genre. Some critics awaited with the 18th album a return of the group to the contemporary jazz scene. Although the new album is a step to more ambivalence, which is certainly a positive aspect, The Rippingtons are still a band listening to the audience and the market.
All songs were composed, produced and arranged by Russ Freeman. He had even hands on the mixing and recording process. Russ explained in an interview with Shannon West his strong influence: "This time I decided that what I would submit to them was the finished guitar tracks. All the guitar tracks were completely done first and they played to them."
Russ Freeman entitled the first track and his album Modern Art after his interest in modern arts. "I love the works of Franz Kline and Kandinsky. I like the Hudson River School style of Thomas Cole and Albert Bierstadt, and the vintage poster style of Roger Broders," comments Russ. "Whether it's music, art, web design, photography, I love it all. I study hard and Iím going for it." So consider his music as kind of a master piece. Jeff Kashiwa and Russ Freeman are guarantors for the continuity of the signature Rippingtons sound.

On Paris Groove Russ Freeman travels with us to the capital city of France. The intimate French flair is delivered by Bill Heller's accordion. On Black Book the band shines with magical and exotic instruments like the sitar.
With Pastels On Canvas Russ picks up again the artistically aspect of his music. Russ delivers some Flamenco flavors while Jeff adds the smooth jazz elements. One Step Closer is the band's approach to more live sound. A propelling part of the song is Rico Belled's bass. Rico is an experienced musician who already performed with artists like Gregg Karukas, Eric Marienthal, Steve Lukather and more.
I Still Believe is Russ defiant answer against all odds. Love can heal and solve so much problems. Russ and Yaredt Leon show the way with this beautiful ballade. Body Art is the funky alternative with Jeff's creative sax solo and Russ' energetic guitar riffs drifting into the rock phrase. Keep that on air!
Age Of Reason showcases the romantic and melodic side of the group with a beautiful pairing of Russ on acoustic guitar and Kashiwa's sax. Bill Heller paints some awesome harmonies on his keys.
Yaredt Leon is married with Russ Freeman. Initial for this come together was their collaboration on Wild Card which is now also the prolific ground for their collaboration on this album. Yaredt composed Sweet Lullaby. She is designated for such sweet melodies.
Jet Set is the musical expression of an almost perfect balance between easiness and depth for its time. Bill Heller and Russ Freeman concur with terrific solos. Love Story is featuring Rick Braun on muted trumpet. He is a master of this instrument and I would like his voice on Sade's next album which is scheduled for this year.
Modern Art comprises the essence of what smooth jazz is and should be all about. Captivating melodies wrapped in a perfect musical package that's what the audience wants and The Rippingtons blissfully deliver.



Bio

The Rippingtons - Website

Further reviews

Buy the album in


Album Information
Title: Modern Art
Artist: Rippingtons Featuring Russ Freeman
Year: 2009
Length: 0:48:00
Genre: Smooth Jazz
Label: Concord Music Group


Tracks:

01 Modern Art [4:17]
02 Paris Groove [3:40]
03 Black Book [3:59]
04 Pastels On Canvas [4:55]
05 One Step Closer [4:42]
06 I Still Believe [4:38]
07 Body Art [4:40]
08 Age Of Reason [4:28]
09 Sweet Lullaby [4:23]
10 Jet Set [4:15]
11 Love Story [4:04]